PA Power Switch
In 1996, Pennsylvania deregulated its electricity market, giving residents the opportunity to choose their own electricity provider. To help, the Pennsylvania Public Utilities Commission (PUC) created the electricity shopping website PA Power Switch. This page will go into more detail on what that means and why you may want to choose an alternative way to shop rates.
Shop Electricity Rates in Pennsylvania and Switch
Here are current rates available to Pennsylvania residents by utility. To see all rates, enter your zip code into our free Rate Comparison tool found at the top of this page.
Duquesne Light Electricity Rates
Learn more about Duquesne Light
Met-Ed Electricity Rates
Pike County Light & Power (PCLP) Electricity Rates
PECO Electricity Rates
PPL Electric Electricity Rates
Pennsylvania Electric Company (Penelec) Electricity Rates
Penn Power Electricity Rates
West Penn Power Electricity Rates
Learn more about West Penn Power
What is PA Power Switch?
PAPowerSwitch.com is the Pennsylvania PUC's official energy comparison platform. The Pennsylvania PUC created it to help you compare energy providers in your area.
By typing in your zip code, you will receive hundreds of options to choose from. This is the main benefit, and the main drawback, of using PA Power Switch. While you get to see a bunch of options, not all those options are created equal. PA Power Switch can feature plans with hidden fees and charges that may inflate your energy costs. PA Power Switch's platform can also be overly complicated and confusing at times.
This is why you should consider an alternative electricity shopping platform like ElectricityRates.com.
Why Choose An Alternative To PA Power Switch?
While PA Power Switch has a large number of options to choose from, they only have them because any licensed provider can place their offers on PA Power Switch, no matter its reputation. In other words, the low electricity rate you see may be filled with hidden charges and fees.
To add to this confusion, PA Power Switch's platform can be overly complicated. Getting the information you actually need requires you to cut through a lot of unnecessary information.
If you use an alternative electricity shopping website like ElectricityRates.com, you can avoid all these issues. ElectricityRates.com's platform provides straightforward plans from reputable providers and a streamlined experience that makes switching easy.
How To Compare Pennsylvania Electricity Rates
There are many factors to consider when comparing Pennsylvania electricity rates. First, you should do your research. Reading our comprehensive guide to electricity shopping in Pennsylvania is the best way to get an overview of everything you need to know.
To compare and switch plans on ElectricityRates.com, follow this simple three-step process.

Enter your zip code – Enter your zip code to see providers available in your area.
Compare electricity suppliers – Pay attention to each plan's terms and conditions, rate, and length.
Switch electricity suppliers – After you find the right plan for you, select it, fill out the necessary information, and switch.
After that, your new electricity provider takes care of the rest. Your new provider will take over within one to two billing cycles.
Pennsylvania Energy Deregulation
By the year 2000, Pennsylvania had deregulated both its electricity and gas markets. This gave residents the opportunity to choose energy providers.
Before that, Pennsylvania had what is often referred to as a "traditional energy market." In this type of market, the utility provider (the entity that delivers electricity to your home) controlled your energy supply. The Pennsylvania PUC determined your rate.
In a deregulated market, the consumer gets to choose their own retail electricity provider. This forces providers to compete on price. It also gives the consumer more options on where their energy comes from.
In Pennsylvania's deregulated market, you can still use your utility provider's electricity supply and the Pennsylvania PUC still determines that rate. The difference is that utility providers must now compete with other electricity providers.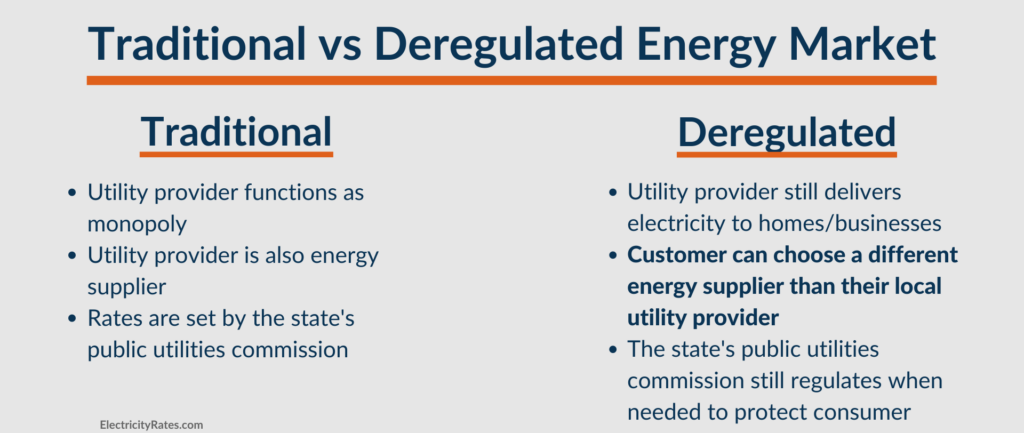 PA Power Switch in Popular Pennsylvania Cities
Learn more about energy choice in the popular Pennsylvania cities.
PA Power Switch for Business Electricity Rates
PA Power Switch also has options to compare electricity rates for your small business in Pennsylvania. Similar to our residential electricity options, ElectricityRates.com provides a great alternative for business owners to take control of their energy expenses by working with leading providers.
To get started, submit a request for a quote on our business electricity rates page.
Ready to find a better electricity rate in Pennsylvania? Enter your zip code below and see rates available in your area!