How to Find the Best Electricity Provider in 2021
When shopping for energy rates, it's essential to choose your provider carefully. With so many options to choose from, this can be a daunting task – especially if you're unfamiliar with Energy Choice.
The best electricity providers bring their customers more than just the lowest rates. They provide a customer-first experience, including access to the best energy products, stellar service and notable contributions to their local communities. This is why we've created the Provider Score™ rating system to help you make the most confident choice.
Provider Score™ Summary
| Provider | Provider Score | Energy Options | Service Areas |
| --- | --- | --- | --- |
| Constellation | | | CT, GA, IL, OH, MA, MD, NJ, NY, PA, TX |
| TriEagle Energy | | | TX |
| Direct Energy | | | CT, IL, MA, MD, NH, NJ, NY, OH, PA, TX, DC |
| Tomorrow Energy | | | PA, NJ, MD, OH, TX |
| Starion Energy | | | CT, IL, MD, NJ, NY, OH & PA |
| Public Power | | | CT, IL, MD, MA, NY, OH, PA, RI, DC |
| Energy Harbor | | | IL, MD, OH, PA |
| Frontier Utilities | | | TX, NJ, PA & OH |
| First Choice Power | | | TX |
| Spark Energy | | | CT, IL, MA, NJ, NY, PA & TX |
| Pulse Power | | | TX |
| Verde Energy | | | CT, MA, NJ, NY, OH, PA & DC |
Electricity Plans

Natural Gas Plans

100% Renewable Plans

Business Electricity

Smart Home Bundles
Provider Score™ Rating System Overview
To help bring more transparency to energy consumers, ElectricityRates.com created the Provider Score™ rating system which takes into account dozens of unbiased data points to rate electricity providers on a 5 point scale. Rating categories include the following:
Product Offering & Innovation
How innovative are the energy products that the provider offers? Do they offer renewable energy plans, smart-home devices or home energy solutions?
Accessibility & Support
How accessible are the electricity provider's bill payment and customer support options? Do they offer online bill pay, online chat and a 24/7 customer service phone number?
Business History & Community Outreach
How reliable is the electricity provider? Have they been in business for a long time? Are they accredited by the Better Business Bureau (BBB) and do they have a positive impact in their community through charitable work?
Customer Reviews
What kind of ratings does the electricity provider have from its customers? Do they get mostly positive feedback and proactively address complaints?
Best Electricity Providers for 2021
If you live in an area with Energy Choice, you can switch energy providers and realize potential savings on your electricity bill. Or, if you live in Texas, you are most likely required to shop for your electricity supply.
The most crucial factor for most people is pricing and paying the lowest rate possible, resulting in a lower bill. However, to make the best possible decision, there are a few other factors to keep in mind.
Plan Length: Are you able to lock in a longer-term fixed rate that will protect you from fluctuating market-rates and potentially save you more over time?
Savings: Are there savings available over what you're currently paying for your default service?
Renewable Energy: Do you care about the environment and purchasing 100% renewable energy?
Special Offers: Are there offers for smart-home products or any other special incentives that come with the plan?
Terms and Conditions: Are there any early termination fees or other terms you should know about?
On ElectricityRates.com, you'll find great rates from leading providers that clearly outline all of these considerations for you. To see rates in your area, enter your ZIP Code at the top of the page.
There are hundreds of electricity providers in the United States. Follow the links below to learn more about different electricity providers and what they offer.
How do Retail Electricity Providers Work?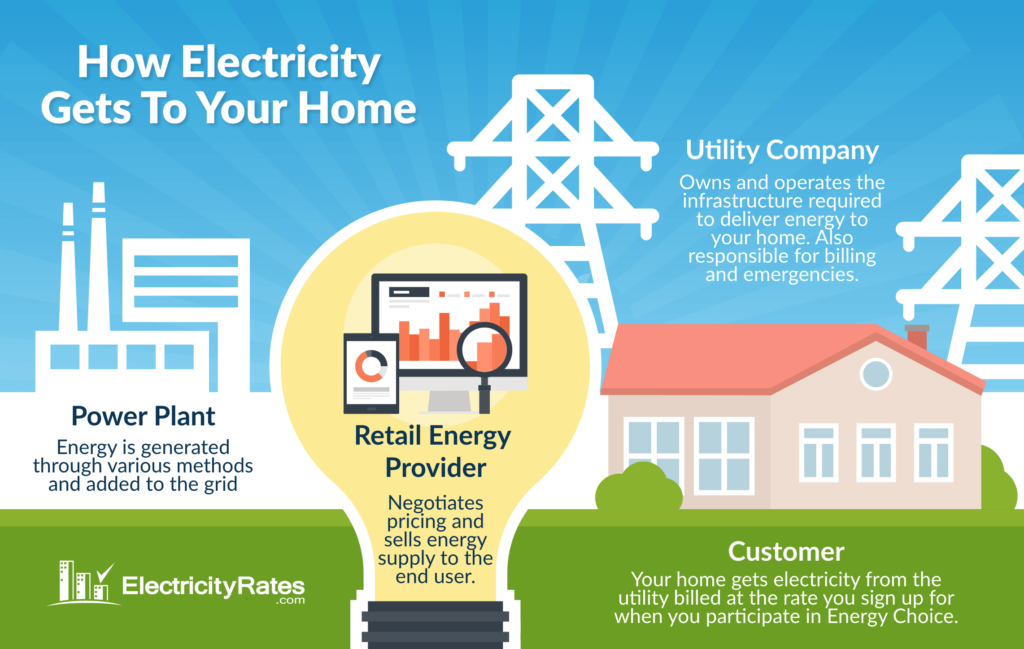 There are several steps when it comes to how electricity reaches your home or business. First, electricity is generated through various methods and enters the grid. Once energy reaches the grid, there are two primary things that happen: energy supply and energy transmission or delivery. Electricity providers are responsible for the supply portion.
Electricity Providers (Supply)
Negotiate Rates
Provide customer service and additional energy solutions
Sells energy to the end user
Local Utility (Transmission & Distribution)
Maintain energy infrastructure
Respond to power outages & emergencies
Provide default supply service for customers who don't switch providers