Renewable energy has gained significant traction as a sustainable and environmentally-friendly alternative to traditional energy sources. Below we'll provide an overview of renewable energy options for powering your business and highlight the benefits of adopting renewable energy solutions. We will also touch upon notable statistics about the increasing use of renewable energy to power business operations.
Your Small Business Deserves BIG Savings
Make the switch. Shop competitive rates from leading providers in minutes.
Make The Switch In Minutes Through Our Simple & Secure Process
Renewable Energy Options for Businesses
Amazing innovations in renewable energy are under development all over the world. Solar wind, algal biofuels, body heat, dance floors, and jellyfish are just a handful of the exciting ideas for clean energy production. The use of renewable energy sources continues to grow and power homes across America.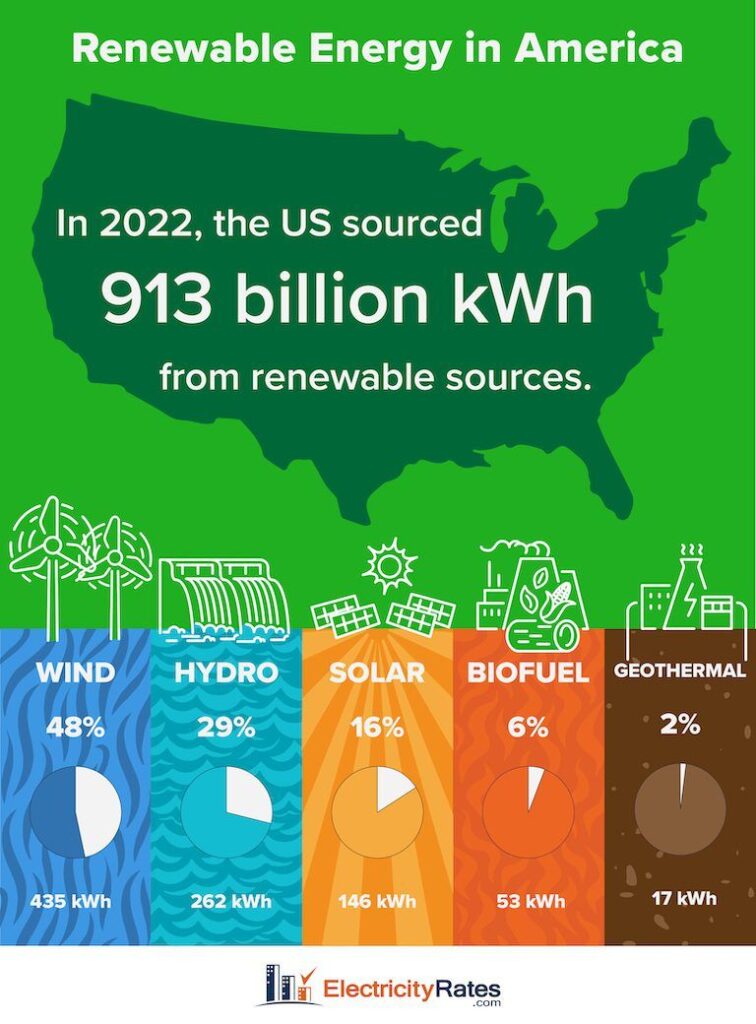 Source: U.S. Energy Information Administration
At the moment, however, these are the most promising and established sources for renewable energy for businesses:
Solar Panels
Solar energy harnesses the power of the sun through photovoltaic (PV) panels or solar thermal systems. Businesses can install solar panels on rooftops, over parking areas or in other open areas to generate electricity and reduce dependence on grid power. If you're curious why solar power is exploding in popularity in recent years, you can find more reasons behind the rapid increase in solar power integration here.
Wind Power
You've probably seen them steadily spinning in massive, imposing arrays in rural areas as you drive down the interstate. Although they're not the only technology that harnesses wind power, they are the most popular. As you'd expect, wind turbines convert wind energy into electricity. Businesses situated in regions with consistent wind flow can consider installing wind turbines on their premises to generate clean and reliable power.
Biomass Energy
Biomass energy utilizes organic matter, such as agricultural waste, wood pellets, or dedicated energy crops, to produce heat or electricity through combustion or other processes. This renewable energy option is particularly suitable for industries that generate substantial organic waste.
Geothermal Energy
Geothermal power taps into the natural heat beneath the Earth's surface. By using heat pumps or geothermal power plants, businesses can extract this energy for heating or cooling applications, reducing energy costs and carbon emissions.
Hydropower
Hydropower harnesses the energy from flowing or falling water to generate electricity. While larger-scale hydropower projects may not be feasible for most businesses, micro-hydropower systems can be installed in areas with suitable water resources.
Why Your Business Should Switch to Renewable Energy
There are numerous compelling reasons why your business should switch to renewable energy, the least of which is the dramatic change in climate the planet's currently undergoing, which is directly linked to human-caused greenhouse gases. Here are several more facts about renewable energy as your business considers choosing renewable energy.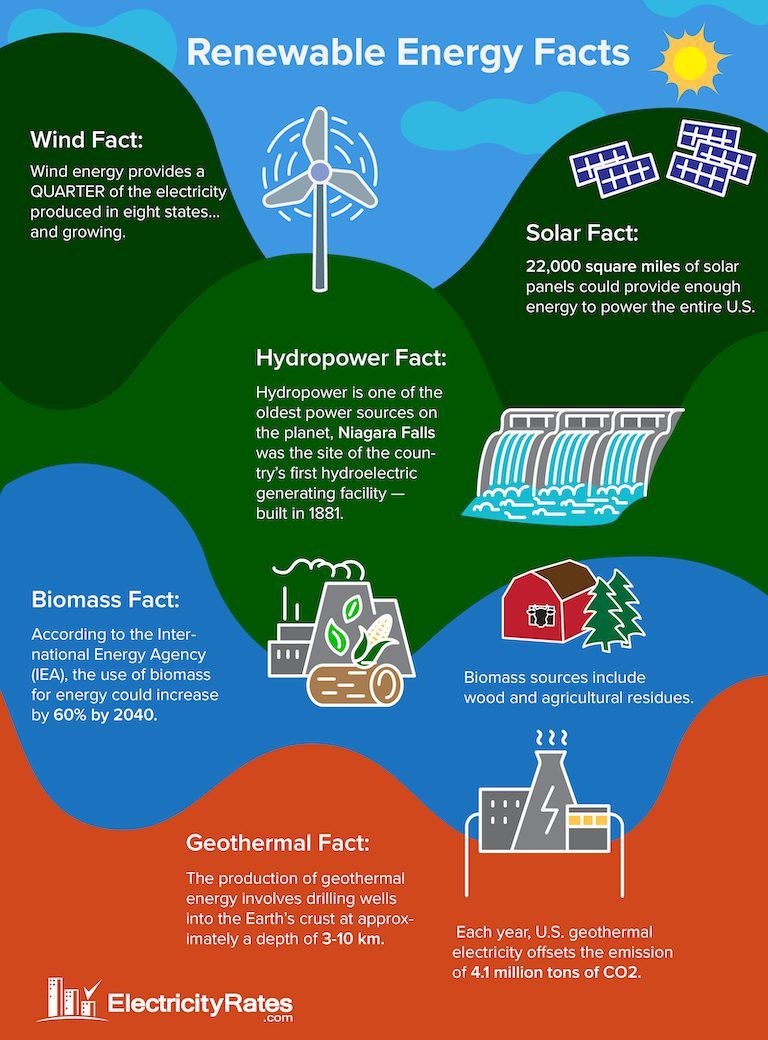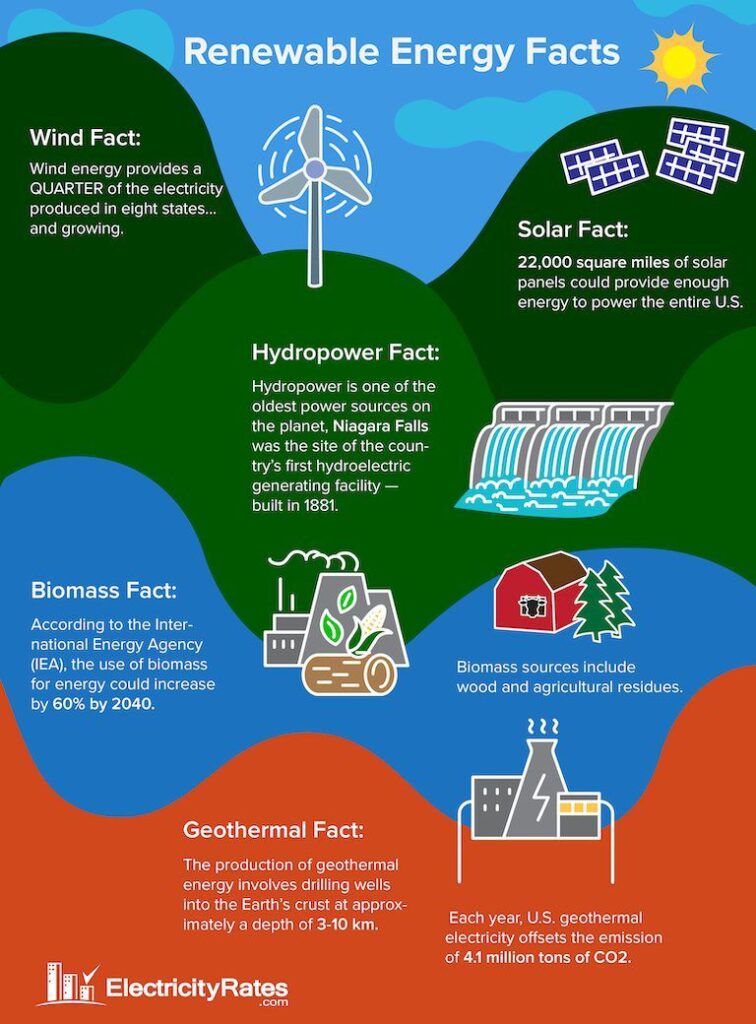 Sources: MarketWatch, American Clean Power, AltEnergyMag, Energy.gov and University of Michigan
1. Cost Savings
By investing in renewable energy sources, businesses can reduce their reliance on expensive fossil fuels and potentially generate electricity on-site, leading to long-term cost savings and even profits by selling surplus electricity back to the grid.
2. Environmental Sustainability
Renewable energy significantly reduces greenhouse gas emissions, helping businesses minimize their carbon footprint and contribute to a cleaner and greener future. This commitment to sustainability can also enhance a company's reputation and attract environmentally-conscious customers.
3. Energy Independence
Generating renewable energy on-site provides businesses with greater energy independence and protection against fluctuating energy prices. It also ensures a more reliable power supply, particularly during grid outages or disruptions. Having onsite green energy production, in particular, can help companies from future energy price shocks.
4. Government Incentives
Many governments offer financial incentives, tax credits, grants, and other support to businesses that adopt renewable energy solutions. These incentives can help offset the initial investment costs and make renewable energy projects more financially viable.
5. Consumer Perception
Consumers are increasingly conscious of environmental issues and are more likely to support businesses that align with their values. By using renewable energy, businesses can attract environmentally conscious customers, differentiate themselves from competitors, and strengthen brand loyalty.
How do Renewable Energy Credits Work for Businesses
Rather than tapping directly into power generated from one of these renewable energy sources mentioned above, businesses can also purchase renewable energy credits. Also known as Renewable Energy Certificates (RECs), renewable energy credits are earned by power companies for every megawatt-hour of electricity they generate from a renewable energy source like those outlined above. (One REC equals one megawatt-hour of renewable energy.)
Businesses that purchase RECs from their energy provider may not be receiving electricity that was directly produced by renewable sources; however, the revenue created by the sale of RECs promotes further development of clean energy sources in the future.
Renewable Energy Electricity Providers
Service Areas
CT, GA, IL, OH, MA, MD, NJ, PA, TX
Provider Bio
Constellation is the nation's leading provider of carbon-free energy with a commitment to be 100% carbon-free by 2040. They serve over 2.5 million residential and business customers across the United States.
Service Areas
CT, IL, MA, MD, NH, NJ, NY, OH, PA, TX, DC
Provider Bio
Serving nearly 4 million residential customers, Direct Energy is one of the largest electricity, natural gas and home services providers in North America. They are also one of the largest commercial and industrial electricity with over 240,000 business electricity customers.
Service Areas
PA, NJ, MD, OH, TX
Provider Bio
Tomorrow Energy is a retail electricity and natural gas supplier with a mission of creating a positive impact in the world by giving customers more clean Energy Choices. Their electricity plans are backed by 100% National Wind Renewable Energy Certificates. All natural gas plans are backed by 100% carbon offsets.
Provider Bio
TriEagle Energy has been a well-respected leader in the Texas retail energy industry for to 20 years. Their focus is delivering value through energy cost savings, instilling trust by understanding the energy needs of its customers and providing customized solutions and products.
Service Areas
CT, IL, MA, NJ, NY, PA & TX
Provider Bio
Spark Energy was found in 1999 in Houston, Texas and was an early pioneer in the retail energy market. Spark Energy prides itself on 3 specialties that set them apart from the rest: energy savings knowledge, customer service and community support.
Provider Bio
GoodCharlie's residential electricity plans offer perks for dog owners, known as Pack Benefits, which include $750 toward emergency veterinary care, 24/7 video call access to licensed veterinarians, and bill roundups to support dog rescue programs that come at no cost to the customer.
Provider Bio
Rhythm is a Texas electricity provider that provides renewable energy plans sourced from Texas wind farms. The company prides itself on its selection of plans with straightforward pricing and no hidden fees or gimmicks.
Service Areas
IL, MA, MD, NJ, NY, OR, PA & TX
Provider Bio
Green Mountain Energy is the oldest renewable retail electricity provider. Since its founding in 1997, Green Mountain Energy has expanded into seven electricity markets, with its customers avoiding nearly 100 billion pounds of carbon emissions through its renewable energy plans and services.
5 Facts That Should Energize You About the Growth of Renewable Energy
1. Renewable energy creates up to 5x more jobs than fossil fuels.
Renewable energy sources are much better job creators than fossil fuels. For every 1,000 jobs in the gas and coal industry, there are 5,000 jobs available in the renewable energy industry. (When oil is included, it's closer to 2.5x more in renewables than fossil fuels.)
However, an important difference between these jobs is that renewable energy jobs tend to be far more local whereas jobs in the fossil fuel industry are often overseas, strengthening some other economy rather than one closer to home.
2. One wind turbine can power up 1,500 homes in a year.
And that number goes up to more than 3,300 homes per year when considering offshore wind turbines, which create even more electricity due to their advantageous positioning. With the average wind turbine lasting 20 to 25 years, just imagine what a single wind turbine could do for your business over the long term.
3. Solar power could be the world's top power source by 2050.
Currently, the third-leading renewable energy source behind wind and hydropower, solar power now produces about 3 – 4% of total electricity worldwide. However, according to the International Energy Agency, solar power could be the world's leading power source not just for renewables but for all energy sources by 2050.
The dramatic rise in solar power adoption is due to several factors, including technological advancements that are drastically cutting the costs of adoption, the abundance of suitable locations for installation, and the fact that both businesses and residences can set up their own solar power units.
4. Some countries have already achieved or are approaching 100% renewable energy production.
Iceland, Albania, Bhutan, the Democratic Republic of Congo, Costa Rica, Ethiopia, Namibia, Nepal, Norway, Uruguay and Paraguay all domestically generate nearly 100% of their power supply from renewable energy sources. This isn't to say that these countries don't import any electricity generated by fossil fuels from elsewhere to meet their total energy needs. However, a number of the nations listed above, like Iceland, Costa Rica, and Uruguay, meet their energy needs almost 100% through renewable sources.
5. The biggest corporations are getting into renewable energy in big ways.
Many climate activists argue that large corporations, as the biggest consumers of energy and therefore the biggest emitters of greenhouse gases, should lead the way in adopting renewable energy sources. A number of them have risen to the challenge. For example, with windfarms across Texas, Oklahoma, and South Dakota, Walmart as a business is the biggest producer of renewable energy. Similarly, Google has invested in excess of $1 billion in windfarms to power its data centers. And, as of 2021, 94 of the Fortune 500 companies have goals to reach a target of relying on 100% renewable energy.
Making the Switch
The increasing use of renewable energy by businesses worldwide highlights the growing recognition of the importance of transitioning to sustainable energy sources. By embracing renewable energy, businesses can contribute to a cleaner planet while reaping the advantages of a more resilient and economically viable energy system.
If your business is ready, ElectricityRates.com is a great place to start your switch to a renewable energy electricity provider. Answer a few questions about your business to get some of the best rates from the most reputable suppliers in your state.