Serving Texans with the power to choose since 2012, 4Change Energy prides itself on offering simple, low-cost electricity and being a steward in their community. Their mission is to be an agent of change and re-invest their profits into causes close to the heart of many Texans including Heroes for Children, American Cancer Society, American Red Cross and Feeding Texas.
Best Electricity Rates
Provider
Plan Name
Length
Rate Per kWh

At 1000kWh avg. usage

Sign Up
4Change Energy
PUCT #10041

Maxx Saver Select 24

24 Mo.
8.9¢
Select
4Change Energy
PUCT #10041

Maxx Saver Select 12

12 Mo.
9.0¢
Select
Plan
Rate Per kWh

At 1000kWh avg. usage

4Change Energy


Maxx Saver Select 24


24 Months
8.9¢
Select
4Change Energy


Maxx Saver Select 12


12 Months
9.0¢
Select
4Change Energy Reviews and Ratings
4Change Energy Provider Score: 4.04/5
4Change has a 4.04/5 Provider Score rating and is an excellent choice for Texas residents with the power to choose their electricity provider. Here is an overview of how 4Change received its excellent rating.
Rate Offering: 3.83/5
4Change Energy has a solid selection of fixed-rate plans at varying contract lengths. On top of this, you can turn any of 4Change Energy's plans into renewable energy plans for a flat fee at the end of every month.
Customer Support: 4.67/5
Customers can access their account online 24/7 for bill pay and basic inquiries. For more support, customers can email or reach their call center which is open 6 days per week.
Business History & Community Outreach: 4.5/5
4Change Energy is a charitable champion; the company donates 4% of its profits to charities in the Texas community. Every year, a portion of 4Change's profits are split between its four partner charities.
The American Cancer Society – The American Cancer Society makes significant investments in cancer research and provides information to those battling cancer.
Heroes For Children – Provides financial assistance to families in Texas with children battling cancer.
American Red Cross – Helps with disaster relief and operates lifesaving blood drives.
Feeding Texas – Fights hunger in Texas by providing meals and resources to those in need. Feeding Texas is the largest hunger-relief organization in Texas.
Online Customer Reviews: 3.37/5
Based on well over 6,000 reviews, 4Change Energy averages a review score of 4.4 stars out of 5 on Google Reviews. Many reviews mention the detailed data they receive about their electricity usage from the company and also highlight 4Change Energy's customer service.
Most notable is their reputation for providing award-winning customer satisfaction. For the last six years, 4Change Energy has earned Escalent's Most Trusted Brand in the Top 10 Most Trusted Texas Retail Electric Provider category.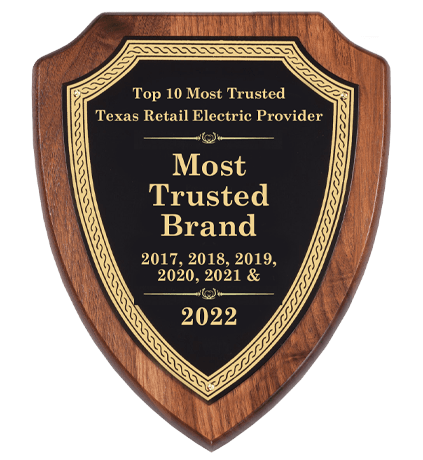 4Change Energy Offerings
4Change Energy offers plans with bill credits for customers who use a specific amount of energy. Here are some of the main 4Change Energy plans available to Texans:
Fixed rate plans: Contracts ranging from 12 to 36 months.
Variable rate plans: Flexible month-to-month plans are offered in portions of Texas
Green plans: The option to upgrade your plan to a renewable energy source
Plan availability and rates are subject to change and depends on location. Each of these plans also has an early termination fee if you cancel before your contract is over. The early termination fee is $20 for each month you have left in your contract.
4Change Energy Renewable Energy Plans
4Change Energy also has a selection of renewable energy plans. With renewable energy plans, the money you spend on your electricity supply supports renewable energy generators. To learn more, check out ElectricityRates.com's post on renewable energy plans in Texas.
How To Compare Texas Electricity Providers and Plans
If you're debating which Texas electricity provider and plan is best for you, it's best to use a comparison website like ElectricityRates.com. Here, you can compare great Texas electricity rates from leading providers and sign-up in minutes through a simple and secure process. To start comparing in seconds, enter your ZIP Code at the top of this page.
Contact 4Change Energy