About TXU Energy
TXU Energy is a retail electric provider that operates in Texas that can trace its origins way back to the late 1800s when they were an energy provider and producer. They have served Texans ever since residents and businesses first gained the power to choose back in 2002. With over one million residential electricity customers in Texas, it's the largest electricity provider in the state. While over 100 other REPs have opened their doors since then, TXU Energy remains one of the most popular options in Texas.
TXU Energy Reviews and Ratings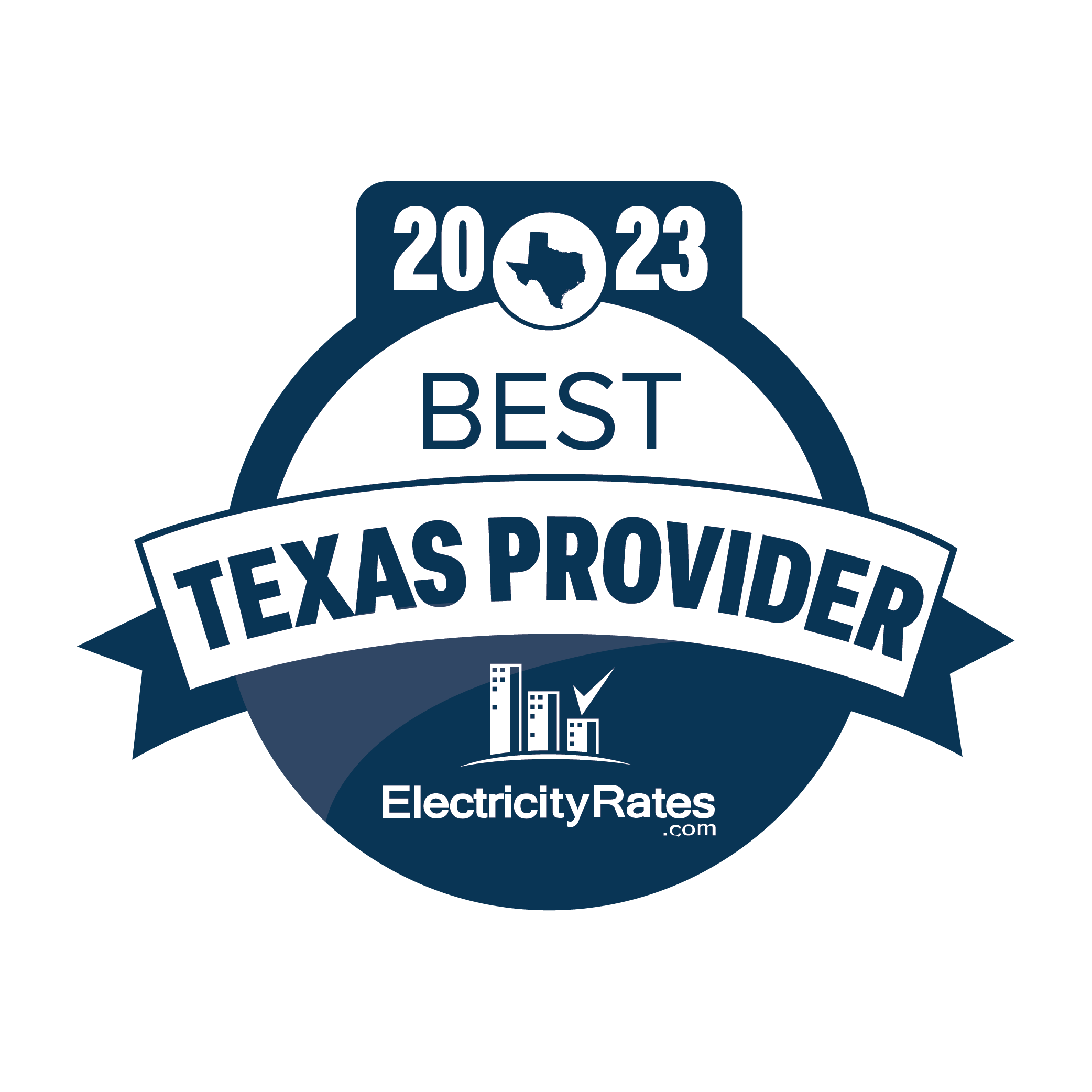 TXU Energy Provider Score: 4.56/5
TXU Energy earned a Provider Score of 4.56/5, making them ElectricityRates.com's 2023 Best Overall Texas Provider. They were dubbed best overall in Texas for their wide selection of electricity plans tailored to every unique customer, whether homeowner, renter, or business.
Rate Offering 4.5/5
In addition to the wide array of plans, TXU Energy offers AC and Heat Protection and whole home protection services to keep you covered when things stop working.
Customer Support 4.67/5
Their account management, log-in bill pay, and customer call centers are easy to access and use.
History and Outreach 4.5/5
Not only does TXU have an A+ rating by the Better Business Bureau, but they are vested in their customers and the communities they serve. They offer various programs and workshops to uplift communities around the state of Texas.
Customer Reviews 4.63/5
TXU Energy has thousands of glowing customer reviews, many of them emphasizing the provider's commitment to customer service. Customer requests and issues are solved quickly and easily. This is part of the reason why TXU has a 5/5 PUCT complaint score, indicating a low rate of complaints to the state.
Energy Offerings
One of the best things about TXU Energy is the fact that they cater their plans to the type of home or business you have. They have electricity plans specifically for homes, apartments, and businesses with pricing and usage structures specific to each application. They also have plans that are specific to renters versus homeowners since there are usually different hoops you have to jump through depending on whether you rent or own. TXU Energy offers a plethora of electricity plans, most of which are fixed-rate. However, each plan is tailored to serve a different need or purpose. Here are a few examples:
Renewable Energy Plans – TXU Energy offers renewable energy plans, many of which are sourced from solar farms in the state of Texas.
Discounted Plans – Fixed-rate plans with discounts based on time of day or year.
Variable-Rate Plan – TXU also has a variable rate plan, where your electricity rate changes from month to month. While these plans often cost you more, they don't have early termination fees like most other plans.
Where is TXU Energy Available in Texas?
Because of how big and popular TXU Energy is, they're available in most parts of Texas. They provide electricity to deregulated cities such as Dallas, Fort Worth, San Angelo, San Juan, Corpus Christi, Houston, and many more. The odds are that if you live in a deregulated part of Texas, which is over 80% of the state, TXU Energy is available in your area.
Why Choose TXU?
We've looked at the fact that TXU Energy has very competitive rates, excellent customer service, and a sterling reputation. However, to make your choice even easier, let's look at a few of the other things that set TXU above other REPs in Texas.
Free Nights and Solar Days
Free night plans are growing in popularity and TXU Energy has been at the forefront. With free night plans, you can use unlimited electricity during certain periods of the evening, usually between 9 PM and 7 AM. So, if you're a night owl, most of your electricity will be free!
With solar days, you have the opportunity to switch from traditional electricity to solar power. Not only will this give you renewable energy, it could also result in pricing discounts.
Rewards Program
The rewards program that TXU Energy offers gives you the chance to get free electricity when you use a certain amount each month. The terms and details will be different based on which plan you use, but the concept is the same, and ElectricityRates.com can help you understand.
Renewable Energy Plans
If you want to support clean energy, a renewable electricity plan is the way to go. These plans ensure that no matter how much electricity you use, an equal amount of renewable electricity will enter the grid.
Each time you pay your bill, that money will purchase renewable energy credits (RECs) that directly support renewable energy generators. TXU Energy and other providers even have options to source from local solar and wind farms based in the state of Texas, so you can have a positive impact on the local economy.
AC and Heat Protection Program
The AC and heat protection program that TXU Energy offers is another great perk and here's what it includes.
Discounted electricity rates during the three hottest days of the year.
You're guaranteed that the rates you pay won't go up throughout the year with the exception of tiered rates where you go over or under your allotted amount of electricity.
Free access to HVAC technicians for repairs regardless of when you need them.
Annual inspections for your air conditioner and heat source from local HVAC professionals.
How to Find Affordable Rates With TXU Energy
The best way to compare TXU's electricity rates with other REPs is with ElectricityRates.com. We make it as easy as possible to examine plans from different electricity companies so that you can make the best and most informed decision.
ElectricityRates.com helps you compare pricing options, but we also help you compare the fine details of various plans. We show you the pricing structure and fine print associated with any plan that's available in your area so that you know exactly what you're getting into. We can help you spot hidden fees, tiered rates, and many other pricing snafus that can lead to a higher than expected electricity bill.
Finding The Right Texas Electricity Plan
No matter who you want to be your electricity provider, it's important to understand the basics of electricity shopping in Texas before you enroll. Failing to do so may end up locking you in a plan that will cost you more down the line.
Here are two general guidelines to follow:
Understand Your Electric Consumption – Your effective electricity rate in Texas is always dependent on how much electricity you use. To make sure that a plan works for your level of consumption, look at the plan's Electricity Facts Label (EFL) before you switch.
Use An Electricity Comparison Platform – Instead of comparing one provider at a time, use an electricity shopping platform like ElectricityRates.com, which allows you to compare multiple providers and plans at once.
In fact, ElectricityRates.com's simple and secure platform makes it easy to find the perfect electricity plan for you. Our AI-powered rate assistant can automatically calculate and help you find the lowest cost plan at your usage faster than ever.
Enter your ZIP Code above to get started.
Contact Information & Billing