About Constellation Energy
Constellation is the nation's leading provider of carbon-free energy with a commitment to be 100% carbon-free by 2040. They serve over 2.5 million residential and business customers across the United States. They specialize in integrated energy solutions from electricity, natural gas, and renewable energy supply to energy efficiency and distributed energy solutions. This creates a one-stop-shop for your personal or business energy needs.
Shop Constellation Energy Rates
Best Electricity Rates
Provider
Plan Name
Length
Rate Per kWh
Sign Up
Constellation

9 Month Home Power Plan

9 Mo.
8.99¢

Save 8%

Select
Constellation

12 Month Home Power Plan

12 Mo.
9.19¢

Save 6%

Select
Constellation

24 Month Green Home Power Plan

24 Mo.
9.79¢
Select
Constellation

36 Month PowerPlug Plan

36 Mo.
9.89¢
Select
Plan
Rate Per kWh
Constellation


9 Month Home Power Plan


9 Months
8.99¢
Select
Constellation


12 Month Home Power Plan


12 Months
9.19¢
Select
Constellation


24 Month Green Home Power Plan


24 Months
9.79¢
Select
Constellation


36 Month PowerPlug Plan


36 Months
9.89¢
Select
100% Renewable Sources

Smart Home System Included
Constellation Energy Reviews and Ratings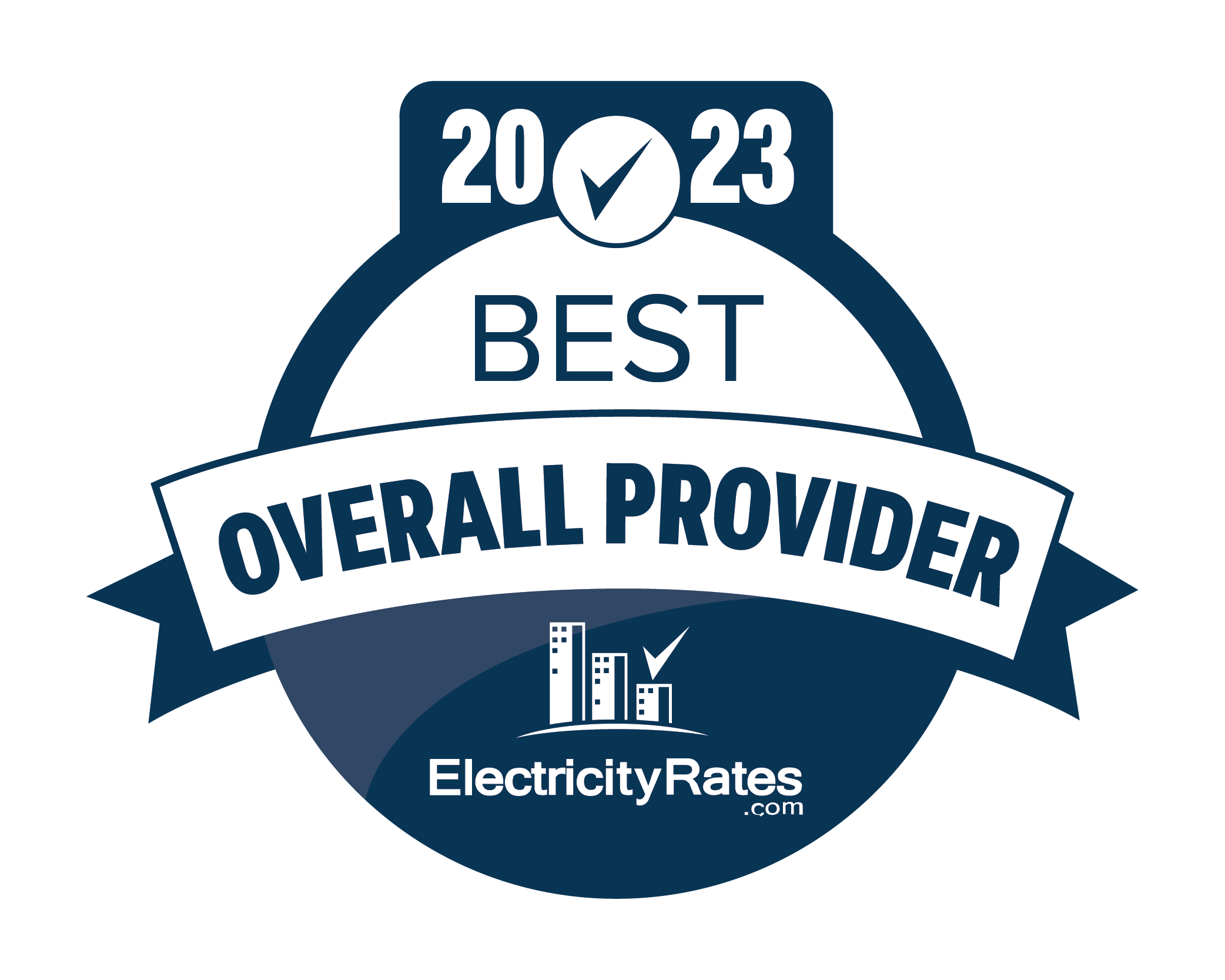 Constellation Energy Provider Score: 4.53/5
Constellation is the Best Electricity Provider for 2023 in ElectricityRates.com's list of the Best Electricity Providers. This results from a 20+ year track record of serving customers across the United States with innovative electricity plans, excellent customer service, and a lasting, positive impact in their communities.
Rate Offering: 4.83/5
Constellation offers a wide variety of energy plans and solutions including low fixed-rate electricity and natural gas plans, 100% renewable plans and smart home bundles. Depending on location, they have solar panel options for residential homes or businesses.
Customer Support: 5/5
When you need them, they are there for you. Day or night. You can reach out to customer support via their call center, live chat or email 24/7.
Business History & Community Outreach: 5/5
Founded in 2001, Constellation has been serving customers across the United States for 20+ years. They also have a significant positive impact in their local communities supporting Habitat for Humanity, E2 Energy to Educate and several other charitable causes. In 2021 Constellation and its employees contributed over $10M to support 4,000 organizations. Employees contributed 68,000 volunteer hours across 34 states.
Online Customer Reviews: 3.32/5
Constellation has a rating of 3.32/5, based on 1,594 reviews across various review sites.
Constellation Energy Options
Low Cost, Fixed-Rate Electricity Plans: 6, 12, 30 and 36-month plans
Electricity Plans with Bundles: Plans that include smart home systems and A/C protection plans
100% Renewable Plans: Plans that support green power and offset energy usage with 100% renewable energy sources
Natural Gas Plans: Lock in a fixed-rate natural gas plan and avoid untimely fluctuations on your gas bill
Small Business & Commercial Electricity: Lower your energy overhead by procuring lower energy rates for your business
*All options subject to availability. Enter your ZIP Code to see available energy products in your area.
Why Choose Constellation?
Constellation is committed to maintaining high levels of customer service, competitive pricing, and working with their local communities to help those in need. You'll get:
Timely, personal responses to any and all of your questions
Continuous feedback for added value to products and services
A user-friendly online experience
Competitive pricing and various payment options
They also regularly partner with groups such as Habitat for Humanity to implement affordable energy options and offer various educational grants.
Residential Energy Service Areas
Contact Information
New Service Sign-Up & Customer Support Phone Number: 855-798-0821
Note: If you're experiencing an electricity outage, contact your local utility company.