How to Find the Best Electricity Provider in 2021
When shopping for energy rates, it's essential to choose your provider carefully. With so many options to choose from, this can be a daunting task – especially if you're unfamiliar with Energy Choice.
The best electricity providers bring their customers more than just the lowest rates. They provide a customer-first experience, including access to the best energy products, stellar service and notable contributions to their local communities. This is why we've created the Provider Score™ rating system to help you make the most confident choice.
Provider Score™ Summary
| Provider | Provider Score | Energy Options | Service Areas |
| --- | --- | --- | --- |
| Constellation | | | CT, GA, IL, OH, MA, MD, NJ, NY, PA, TX |
| Tomorrow Energy | | | PA, NJ, MD, OH, TX |
| TriEagle Energy | | | TX |
| Spark Energy | | | CT, IL, MA, NJ, NY, PA & TX |
| Octopus Energy | | | TX |
| 4Change Energy | | | TX |
| Energy Harbor | | | IL, MD, OH, PA |
| Rhythm | | | TX |
| Direct Energy | | | CT, IL, MA, MD, NH, NJ, NY, OH, PA, TX, DC |
| Payless Power | | | TX |
| Public Power | | | CT, IL, MD, MA, NY, OH, PA, RI, DC |
| Frontier Utilities | | | TX, NJ, PA & OH |
| First Choice Power | | | TX |
| New Power Texas | | | TX |
| Varsity Energy | | | TX |
| Pulse Power | | | TX |
| Verde Energy | | | CT, MA, NJ, NY, OH, PA & DC |
Electricity Plans

Natural Gas Plans

100% Renewable Plans

Business Electricity

Smart Home Bundles
Provider Score™ Rating System Overview
To help bring more transparency to energy consumers, ElectricityRates.com created the Provider Score™ rating system which takes into account dozens of unbiased data points to rate electricity providers on a 5 point scale. Rating categories include the following:
Product Offering & Innovation
How innovative are the energy products that the provider offers? Do they offer renewable energy plans, smart-home devices, or home energy solutions?
Accessibility & Support
How accessible are the electricity provider's bill payment and customer support options? Do they offer online bill pay, online chat and a 24/7 customer service phone number?
Business History & Community Outreach
How reliable is the electricity provider? Have they been in business for a long time? Are they accredited by the Better Business Bureau (BBB) and do they positively impact their community through charitable work?
Customer Reviews
What kind of ratings does the electricity provider have from its customers? Do they get mostly positive feedback and proactively address complaints?
Best Overall 2021 Electricity Provider: Constellation
Constellation receives the highest score and takes the top spot as the best overall provider. The Maryland-based company is one of the largest providers in the United States, serving over 2 million residential and business customers. Constellation is the Best Overall 2021 Electricity Provider as a result of:
Offering flexible plans that fit practically anyone's needs from 100% renewable plans to smart-home and A/C protection bundles
Excellent customer service and accessibility via online chat
Almost 20 years of experience and A+ BBB Accreditation
Easy online bill-pay through MyConstellation and access to customer support via phone or online chat
Outstanding community impact, including work with Habitat for Humanity, the E2 Energy to Educate grant program and more
Best Green 2021 Electricity Provider: Tomorrow Energy
Tomorrow Energy's core mission is to positively impact the world by giving customers more clean energy choices. Tomorrow Energy offers energy options supported by 100% renewable wind power and also partners with the Arbor Day Foundation to plant trees on their customer's behalf for signing up. On top of that, Tomorrow Energy's rates are competitive and usually among the lowest rates available.
Most Charitable 2021 Electricity Provider: Starion Energy
Headquartered in Connecticut, Starion Energy takes the cake for the most charitable provider. Since its founding in 2009, the organization has supported the communities it serves with donations to many nonprofit organizations through the Starion Cares program. Most recently, Starion has provided essential support to those impacted by the COVID-19 pandemic.
The list of organizations that Starion Energy supports includes Connecticut Cancer Foundation, Toys for Tots, Soldiers Angels and Yale-New Haven Children's Hospital.
Electricity Provider with Best Reviews: Spark Energy
With over 2,400 verified reviews across trusted platforms like Consumer Affairs and Google, Spark Energy is the electricity provider with the best reviews and overall customer service track record. Founded in 1999, Spark Energy is a pioneer in the retail energy industry and focuses on three core areas: energy savings expertise, community support, and customer service.
2021 Best Electricity Providers: Best of the Rest
The following providers have been carefully selected by ElectricityRates.com as industry leaders as a result of their competitive rates, customer service track record and impact on their local communities.
How Do You Find the Best Electricity Provider?
If you live in an area with Energy Choice, you can switch energy providers and realize potential savings on your electricity bill. Or, if you live in Texas, you are most likely required to shop for your electricity supply.
The most crucial factor for most people is pricing and paying the lowest rate possible, resulting in a lower bill. However, to make the best possible decision, there are a few other factors to keep in mind.
Plan Length: Are you able to lock in a longer-term fixed rate that will protect you from fluctuating market-rates and potentially save you more over time?
Savings: Are there savings available over what you're currently paying for your default service?
Renewable Energy: Do you care about the environment and purchasing 100% renewable energy?
Special Offers: Are there offers for smart-home products or any other special incentives that come with the plan?
Terms and Conditions: Are there any early termination fees or other terms you should know about?
On ElectricityRates.com, you'll find great rates from leading providers that clearly outline all of these considerations for you. To see rates in your area, enter your ZIP Code at the top of the page. There are hundreds of electricity providers in the United States. Follow the links below to learn more about different electricity providers and what they offer.
How do Retail Electricity Providers Work?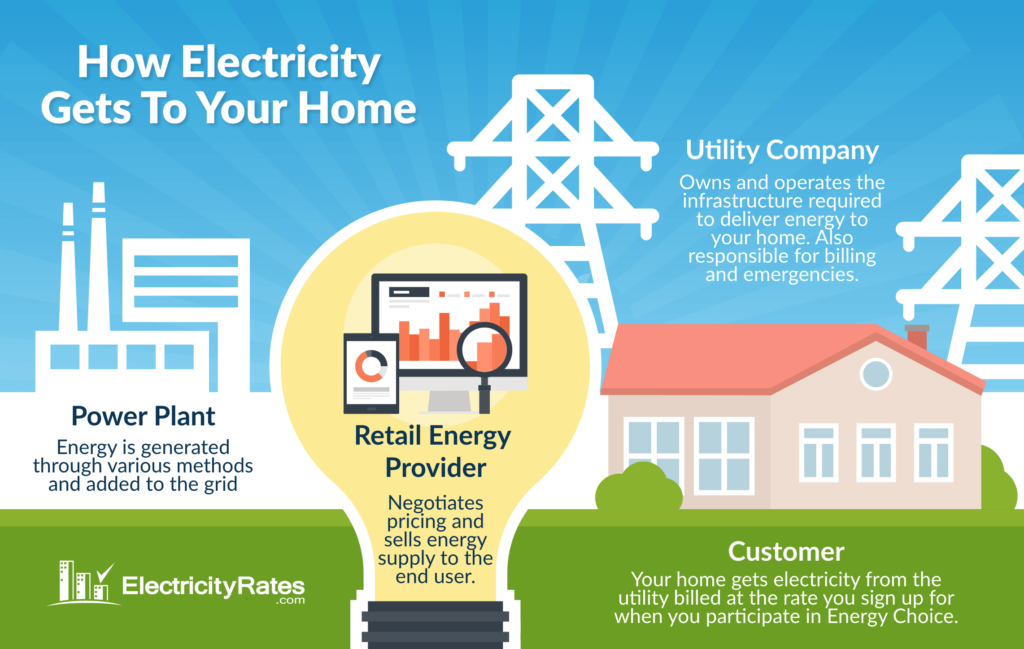 There are several steps when it comes to how electricity reaches your home or business. First, electricity is generated through various methods and enters the grid. Once energy reaches the grid, two primary things happen: energy supply and energy transmission or delivery. Electricity providers are responsible for the supply portion.
Electricity Providers (Supply)
Negotiate Rates
Provide customer service and additional energy solutions
Sells energy to the end user
Local Utility (Transmission & Distribution)
Maintain energy infrastructure
Respond to power outages & emergencies
Provide default supply service for customers who don't switch providers