The best electricity providers bring more than the lowest rates. They offer a customer-first experience, combining a proven track record of delivering the best energy products with stellar customer service. On top of this, the best provider for you may have a mission that aligns with your values or supports causes you care about.
In today's crowded market, finding the provider that checks these boxes can be difficult. That's why ElectricityRates.com created this list of the Best Electricity Providers for 2022. Our Provider Score rating system brings you comprehensive scores you can use to identify the perfect electricity provider for you.
Provider Score™ Summary
| Provider | Provider Score | Energy Options | Service Areas |
| --- | --- | --- | --- |
| Constellation | | | CT, GA, IL, OH, MA, MD, NJ, PA, TX |
| Direct Energy | | | CT, IL, MA, MD, NH, NJ, NY, OH, PA, TX, DC |
| TXU Energy | | | TX |
| Reliant Energy | | | TX |
| Tomorrow Energy | | | PA, NJ, MD, OH, TX |
| Green Mountain Energy | | | IL, MA, MD, NJ, NY, OR, PA & TX |
| Good Charlie | | | TX |
| 4Change Energy | | | TX |
| TriEagle Energy | | | TX |
| Rhythm | | | TX |
| Cirro Energy | | | TX |
| Spark Energy | | | CT, IL, MA, NJ, NY, PA & TX |
| Octopus Energy | | | TX |
| Verde Energy | | | CT, MA, NJ, NY, OH, PA, DC |
| Payless Power | | | TX |
| Energy Harbor | | | IL, MD, OH, PA |
| Frontier Utilities | | | TX, NJ, PA & OH |
| Public Power | | | CT, IL, MD, MA, NY, OH, PA, RI, DC |
| Major Energy | | | NY, NJ, PA, CT, MA, IL, OH, MD |
| Pulse Power | | | TX |
| Discount Power | | | TX |
| New Power Texas | | | TX |
| Varsity Energy | | | TX |
Electricity Plans

Natural Gas Plans

100% Renewable Plans

Business Electricity

Smart Home Bundles
Provider Score Rating System Overview
ElectricityRates.com's Provider Score rating system takes dozens of important data points to bring you comprehensive ratings of leading electricity providers in the US. Rating categories include the following:
Product Offering & Innovation
This category is all about the plans that a provider offers and how those plans fit your needs. It considers whether the provider has renewable energy plans, unique product bundles or other innovative offerings. It also looks at the cost and leniency of the provider's early termination fees.
Accessibility & Support
When you have a problem, you want it solved quickly and easily. The accessibility and support category examines the provider's customer support options, including whether the provider has online bill pay, online chat and a 24/7 customer service phone number.
Business History & Community Outreach
This category analyzes the provider's business reputation and values. It looks at how long the company has been in business, its accreditation by the Better Business Bureau (BBB) and the work it does to positively impact the communities it serves.
Customer Reviews
The customer reviews category allows us to get a full overview of the customer reviews a provider receives. It does this by analyzing reviews from multiple sources including Google, Yelp, BBB and more.
Best Electricity Providers of January 2022
Best Electricity Provider: Constellation
For the second year in a row, Constellation has earned the highest Provider Score and takes the top spot as the Best Electricity Provider.
Why Constellation?
Flexible plans that fit practically any need, including 100% renewable, smart-home and A/C protection plans
Excellent customer service and accessibility via online chat
20+ years of experience serving millions of residential and business customers
Outstanding community work through Habitat for Humanity, E2 Energy grants and more
Best Renewable Electricity Provider: Tomorrow Energy
The Best Renewable Electricity Provider is Tomorrow Energy.
Why Tomorrow Energy?
Affordable renewable energy plans for those that want to go green on a budget
Partnership with the Arbor Day Foundation, helping plant 200,000+ trees in the US
Low early termination fees and great customer service
Most Charitable Electricity Provider: 4Change Energy
With charitable donations ingrained in its core mission, 4Change Energy took the top spot for the Most Charitable Electricity Provider:
Why 4Change?
Electricity Provider with the Best Customer Reviews: Direct Energy
Serving millions over its 2 decades in business, Direct Energy is the provider with the Best Customer Reviews.
Why Direct Energy?
Over 1,500 reviews across multiple sites including Google, Consumer Affairs and more
Glowing customer reviews attest to Direct Energy's superb customer service.
A dedication to addressing negative customer feedback to help them solve their problem
5/5 PUCT Complaint Score, indicating a low rate of complaints
Most Innovative Electricity Provider: Octopus Energy
Founded in 2015, Octopus Energy has earned its reputation as a disrupter and takes the spot as the Most Innovative Electricity Provider.
Why Octopus?
2022 Featured Electricity Providers
Even though a provider didn't win a category doesn't mean it is not worth checking out. Many of the following providers are industry leaders that provide competitive rates, great customer service and more.
How Do You Find the Best Electricity Provider?
For many, the provider that offers the lowest cost plan is the best. But while this is undoubtedly important, there are other factors you should consider.
Plan Length – How long a provider will let you lock in a fixed-rate electricity plan to protect you from market fluctuations and rate hikes.
Electricity Supply Rate – How much you pay for electricity supply from your provider. You can find your current electricity supply rate on your bill.
Renewable Energy – Consider whether you want a renewable energy plan that allows you to directly support clean energy.
Special Offers – Take a look to see if there are any special offers that fit your needs.
Terms & Conditions – It's important to consider any other fees or terms that you should know about.
Provider Score – As we stated earlier, a company's Provider Score will give you a solid overall rating you can use when comparing providers.
Lastly, you don't want to forget about provider reputation. While most providers are reputable, others will hide behind hidden fees and gimmicks that can cost you more down the road. That's why we vet providers on ElectricityRates.com prior to featuring them. This means when you enter your ZIP Code above you'll only see the best of the best.
How do Retail Electricity Providers Work?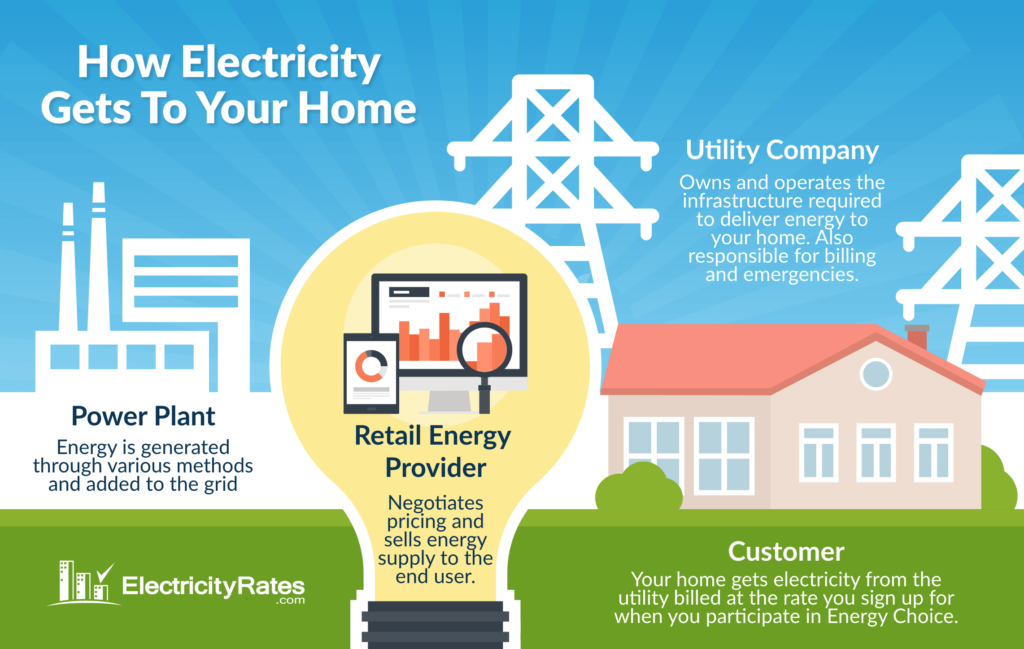 To understand how retail electricity providers work, it's important to distinguish between electricity providers and utility providers.
Utility Providers – These companies are in charge of delivering electricity to your home. You cannot switch utilities, as each utility has a designated service area. The utility provider you have will depend on what utility serves your location.
Retail Electricity Providers (aka Electricity Suppliers) – Electricity providers supply the electricity you use. In states with Energy Choice, you have the option to switch electricity providers.
In almost every state, your utility provider is also your electricity provider by default. You have the option to switch electricity providers if you live in a state with Energy Choice.
Texas is the only state where this is not the case. In Texas, you must choose your electricity provider because most utilities don't supply electricity.
On your electric bill, any charges under "distribution" or "delivery" go to your utility provider. Charges under "supply" or "generation" go to your electricity provider. Distribution/delivery charges are set by your state Public Utilities Commission (PUC), and they will not change after switching electricity providers.
Best Electricity Companies By State
FAQs About Electricity Suppliers