Compare Leading Pennsylvania Electricity Providers
If you live in Pennsylvania, you likely have the option of choosing your electricity provider. This is called Energy Choice and could save you big on your electricity bill if you choose the right provider.
Keep reading to learn the difference between a retail electricity provider and your local utility as well as helpful tips for choosing the best Pennsylvania electricity provider. You can also learn more about comparing Pennsylvania electricity rates here.
Shop Pennsylvania Electricity Rates
Compare featured rates from leading PA electricity providers below.
Best Electricity Rates

| Provider | Plan Name | Length | Rate Per kWh | Sign Up |
| --- | --- | --- | --- | --- |
| Direct Energy | Live Brighter 36 | 36 Mo. | 8.49¢ | Select |
| Constellation | 6 Month Home Power Plan | 6 Mo. | 8.59¢ | Select |
| Constellation | 24 Month Green Home Power Plan | 24 Mo. | 8.69¢ | Select |
| Constellation | 12 Month Home Power Plan | 12 Mo. | 8.69¢ | Select |
| Tomorrow Energy | 12 Month Fixed | 12 Mo. | 8.99¢ | Select |
Plan
Rate Per kWh
Direct Energy


Live Brighter 36


36 Months
8.49¢
Select
Constellation


6 Month Home Power Plan


6 Months
8.59¢
Select
Constellation


24 Month Green Home Power Plan


24 Months
8.69¢
Select
Constellation


12 Month Home Power Plan


12 Months
8.69¢
Select
Tomorrow Energy


12 Month Fixed


12 Months
8.99¢
Select
What Does Your Local PA Utility Do?
Pennsylvania utility companies are responsible for the distribution and physical delivery of electricity to the homes or businesses in their service area. They also supply electricity by default at a rate known as the Price to Compare. The Price to Compare is what you pay for electricity if you do not switch electricity providers.
Pennsylvania Utility Companies
What is a Retail Electricity Provider?
Before Pennsylvania deregulated energy markets in 1996, residents did not have a choice when it came to their energy supply. The local utility was responsible for both the delivery and supply of energy at a fixed-rate. With Energy Choice, Pennsylvanians can switch from the default supply provided by the local utility to a third-party retail electricity provider.
Retail electricity providers are often able to offer lower electricity rates and more competitive terms than your local utility. This is due to the competition that Energy Choice creates for your business. In other words, when electricity providers compete – you benefit!
Here's a graphic explaining how electricity gets to your home and the roles of different companies in the process.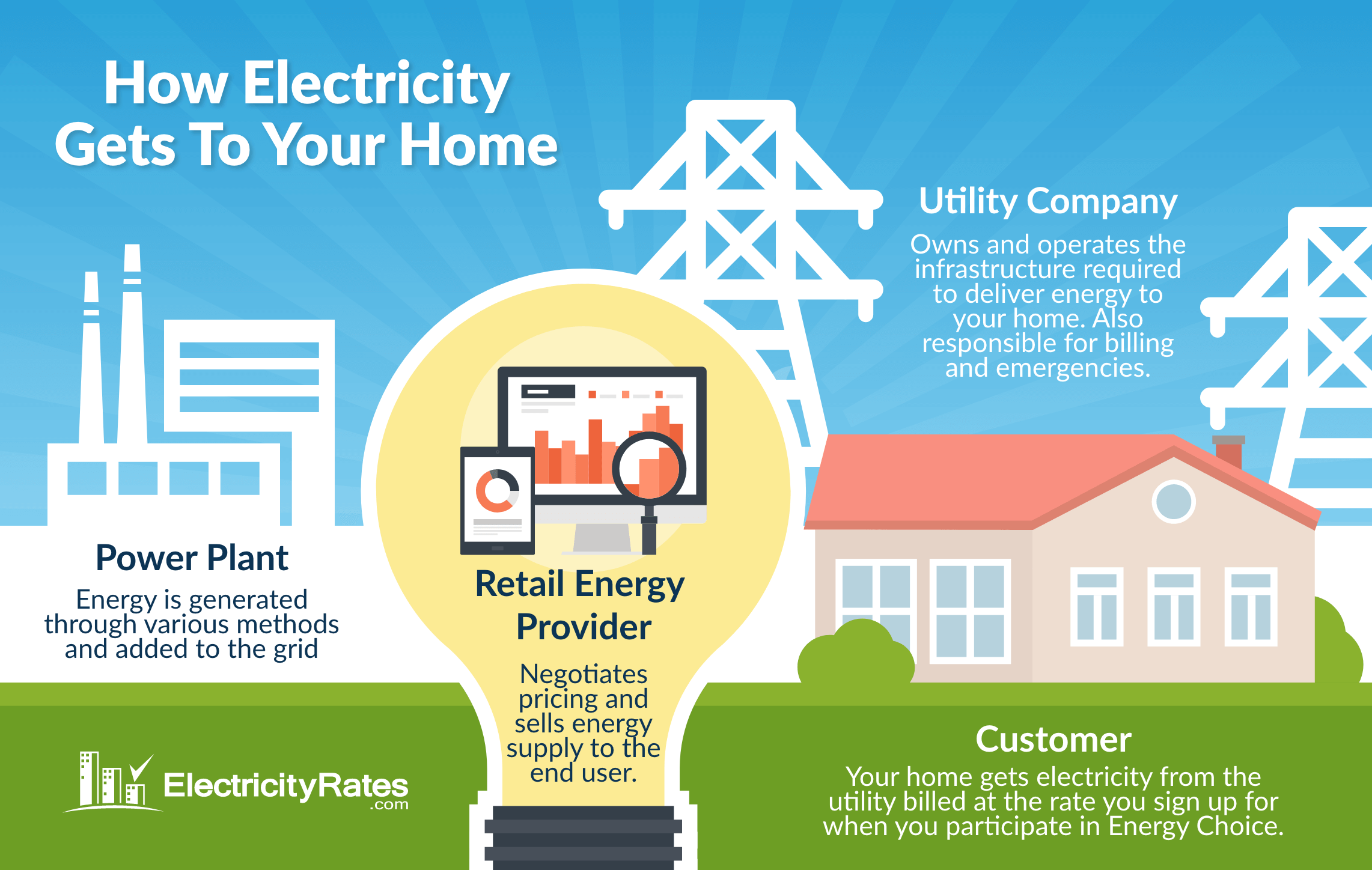 How to Switch Electricity Providers
To switch Pennsylvania Electricity Providers just follow these three simple steps:

Enter your ZIP Code – Enter your ZIP Code to view competing offers from leading Pennsylvania electricity companies.
Compare Providers – Compare and contrast the different plans, terms of service, and rates offered by each provider.
Switch and Save – After you select the best plan for you, switch for free
After you switch, your new Pennsylvania electricity provider takes care of the rest. Your bill still comes from your local utility and your new rate will take effect in one or two billing cycles.
Choosing the Best Pennsylvania Electricity Provider
There are hundreds of energy suppliers licensed by the PA Public Utility Commission. These options can seem overwhelming, especially if you're new to Energy Choice. ElectricityRates.com takes away all of the guesswork and only brings you great rates from leading providers.
Here is a list of featured providers on ElectricityRates.com
Constellation is a leading competitive energy company that helps customers manage their energy through their commitment to innovation, dependability, transparency, and service. Constellation currently supplies approximately 2 million residential, public sector and business customers, including two-thirds of Fortune 100 companies.
Direct Energy is one of the largest retail providers of energy in North America. With nearly four million customers, Direct Energy focuses on energy efficiency, improved functionality, and potential monetary savings.
Verde Energy is one of the top suppliers in Pennsylvania and offers its customers 100% renewable energy. They offer their customers free online energy tools and tips, plus savings on a range of products to improve energy efficiency.
Clearview Energy works towards a WISH – Wind, Solar, and Hydro – for a cleaner tomorrow by supplying 100% Green Energy. Clearview Energy has partnered with several organizations to continue to help others Live Green, such as Greensters and the Arbor Day Foundation.
Starion Energy's mission is to convert their positive energy and use their knowledge to power the lives of its customers. Starion promotes freedom, choice, and customizable offers.
YEP Energy is committed to having the best customer service in the business. They offer a Customer Service Plan that draws on best practices for all and service industries while using the best electronic tools.
Tomorrow Energy aims to create a positive impact in the world by giving customers more clean Energy Choices. They combine the exciting entrepreneurial atmosphere of a start-up with the stability of a business managed by experienced employees.
What Changes When I Switch Pennsylvania Electricity Providers?
If you choose to participate in Energy Choice, your utility stays the same. The main difference is that your selected electricity provider will supply your energy, rather than your local utility company. This gives you control over your plan, your rate, your service, and your type of energy.
If you switch, the only thing that changes is the new rate you selected will appear on your monthly bill. Your chosen retail electricity provider will be responsible for delivering the electricity to your local utility company.