If you call Pennsylvania home, you are one of the lucky ones. Because you have the power of Energy Choice. You live in 1 of the only 15 states that gives you the right to choose your electricity provider.
This is no small privilege. A competitive energy market ensures savvy shoppers, like yourself, can save a lot on their electricity bills and choose a plan that's right for their needs. In fact, as of May 2023, over 1.2 million residents and over 285,000 businesses have already switched to a retail electricity provider in PA. That's more than 55% of all the energy supplied in the state!
Today, we are covering how you too can take advantage of better electricity service and rates. Now, let's review all the must-knows for ensuring a stress-free switch to your perfect energy provider today. Even if you do not switch right away, you will be more prepared to consider your options in the future and have peace of mind about your specific electricity plan.
List Of Pennsylvania Electricity Suppliers
Provider Score™ Summary
| Provider | Provider Score | Energy Options | Service Areas |
| --- | --- | --- | --- |
| Constellation | | | CT, GA, IL, OH, MA, MD, NJ, PA, TX |
| Direct Energy | | | CT, IL, MA, MD, NH, NJ, NY, OH, PA, TX, DC |
| Tomorrow Energy | | | PA, NJ, MD, OH, TX |
| Energy Harbor | | | IL, MD, OH, PA |
| Green Mountain Energy | | | IL, MA, MD, NJ, NY, OR, PA & TX |
| Inspire Clean Energy | | | IL, MD, MA, NJ, NY, OH, PA DC |
| Frontier Utilities | | | TX, NJ, PA & OH |
| Spark Energy | | | CT, IL, MA, NJ, NY, PA & TX |
| Public Power | | | CT, IL, MD, MA, NY, OH, PA, RI, DC |
| APG&E | | | MD, NY, NJ, OH, PA, TX |
| SmartEnergy | | | IL, DC, MA, MD, NH, NJ, OH, PA, RI |
| Major Energy | | | NY, NJ, PA, CT, MA, IL, OH, MD |
Electricity Plans

Natural Gas Plans

100% Renewable Plans

Business Electricity

Smart Home Bundles
Learn more about our Provider Score methodology here.
Compare Electricity Rates In PA
Best Electricity Rates
Provider
Plan Name
Length
Rate Per kWh
Sign Up
Constellation

6 Month Home Power Plan

6 Mo.
9.69¢

Save 21%

Select
Public Power

Electric 15 Month Standard Fixed Rate

15 Mo.
9.79¢

Save 21%

Select
Energy Harbor

Safe Harbor 32

32 Mo.
10.48¢

Save 15%

Select
Constellation

36 Month PowerPlug Plan

36 Mo.
10.59¢

Save 14%

Select
Constellation

24 Month Green Home Power Plan

24 Mo.
10.59¢

Save 14%

Select
Plan
Rate Per kWh
Constellation


6 Month Home Power Plan


6 Months
9.69¢
Select
Public Power


Electric 15 Month Standard Fixed Rate


15 Months
9.79¢
Select
Energy Harbor


Safe Harbor 32


32 Months
10.48¢
Select
Constellation


36 Month PowerPlug Plan


36 Months
10.59¢
Select
Constellation


24 Month Green Home Power Plan


24 Months
10.59¢
Select
100% Renewable Sources

Smart Home System Included
Best Electric Suppliers in PA For 2023
Best Pennsylvania Electricity Provider: Constellation
Service Areas
CT, GA, IL, OH, MA, MD, NJ, PA, TX
Provider Bio
Constellation is the nation's leading provider of carbon-free energy with a commitment to be 100% carbon-free by 2040. They serve over 2.5 million residential and business customers across the United States.
For the second year in a row, Constellation has earned the highest Provider Score and takes the top spot as the Best Electricity Provider in Pennsylvania.
Why Constellation?
Flexible plans that fit practically any need, including 100% renewable, smart-home, and A/C protection plans
Excellent customer service and accessibility via online chat
20+ years of experience serving millions of residential and business customers
Outstanding community work through Habitat for Humanity, E2 Energy grants, and more
Best Green Energy Pennsylvania Electricity Provider: Energy Harbor
Service Areas
IL, MD, OH, PA
Provider Bio
Energy Harbor is a retail energy provider specializing in providing clean, carbon-free energy for residents and businesses. They're headquartered in Akron, Ohio and serve nearly one-million customers across Ohio, West Virginia and Pennsylvania. Safety, reliability and sustainability are outlined as Energy Harbor's core values.
The Best Green Electricity Provider for 2023 is Energy Harbor.
Why Energy Harbor?
Most Charitable Pennsylvania Electricity Provider: Direct Energy
Service Areas
CT, IL, MA, MD, NH, NJ, NY, OH, PA, TX, DC
Provider Bio
Serving nearly 4 million residential customers, Direct Energy is one of the largest electricity, natural gas and home services providers in North America. They are also one of the largest commercial and industrial electricity with over 240,000 business electricity customers.
Serving people and communities at its core, Direct Energy took the top spot for the Most Charitable Electricity Provider:
Why Direct Energy?
$5 million commitment to expand the Texas Children's Heart Center at Texas Children's Hospital
Their Neighbor-to-Neighbor Bill Assistance program helps relieve up to $700 annually to low-income customers who qualify for the program
$10,000 donated to Bike for Students to kids in local TX communities
Meals for Families raised over $8,000, prepared over 13,000 meals, and packed 600 boxes of food for local citizens and families
Most Innovative Electricity Provider: Green Mountain Energy
Service Areas
IL, MA, MD, NJ, NY, OR, PA & TX
Provider Bio
Green Mountain Energy is the oldest renewable retail electricity provider. Since its founding in 1997, Green Mountain Energy has expanded into seven electricity markets, with its customers avoiding nearly 100 billion pounds of carbon emissions through its renewable energy plans and services.
Green Mountain Energy takes the spot as the Most Innovative Electricity Provider for their diverse plan portfolio, which offers unique plans and perks suited to a wide array of customers.
Why Green Mountain?
Being the pioneer of the renewable energy market, their energy plans have helped its consumers avoid nearly 100 billion pounds in CO2 emissions since its founding
Their 67 solar farms and 8 wind farms across the country allow customers to opt for wind or solar energy plans, with the option for paperless and auto-pay discounts
A solar buyback program that gives you credit for excess renewable energy produced by your home's solar system
They are a carbon-neutral company and operate their offices using renewable energy and using post-consumer waste recycled paper printed with soy-ink
How To Compare Providers And Plans With PA Electric Choice
ElectricityRates.com makes finding the right Pennsylvania electricity plan for you painless. With our simple and secure platform, you can compare great electricity rates from leading providers side-by-side, then switch providers without ever leaving the site. All you need to do is follow this simple three-step process:

Enter Your ZIP Code – Enter your ZIP Code above to view competing offers from leading Pennsylvania electricity companies.
Compare Providers & Plans – Compare each plan's electricity supply rate and plan length.
Switch In Minutes – After you find the plan that best fits your needs, switch on the site for free in minutes.
After you switch, your new provider takes care of the rest, switching you over to your new plan in one to two billing cycles.
What To Keep In Mind While Comparing Providers In Pennsylvania
ElectricityRates.com makes comparing electricity plans easy, but there are a few things that you should know before switching your PA energy supplier.
Electricity Supply Rate – This is how much you pay for your electricity supply and is the number you use to compare plans to see if you may be able to save by switching. You can find your current electricity supply rate on your most recent electricity bill.
Plan Length – Most plans on our site are fixed-rate plans, which means that your rate will be guaranteed for the duration of your contract. Some providers offer plans that can lock in a low rate for years.
Renewable Energy – Excitingly, a growing number of energy providers in PA (and many others on our site) offer green energy plans. The best part? You don't even need to install solar panels or change how you currently use energy. These power providers buy certified renewable energy credits on your behalf, source the energy, and then send it to your utility company to be delivered to you. Renewable plans are clearly marked in the ElectricityRates.com Marketplace with the green recycle symbol.
Provider Reputation – This is the overall rating of the electricity provider in question. We base it on multiple factors including customer review scores, product offerings, customer support, community outreach, and more.
It's important to have a trustworthy provider who can guarantee energy security for you and your loved ones. Plus, nobody likes signing up with an electricity company only to learn down the road about hidden fees and shady upcharges that kind of nonsense does not fly here.
That is why so many Pennsylvanians use ElectricityRates.com instead of PA Power Switch. Any licensed electric provider in PA can put their plans on PA Power Switch, regardless of the quality of their service. Electric providers must prove themselves first to be listed on our ElectricityRates.com's Marketplace. When you enter your ZIP Code, you can rest easy that you're getting great energy rates from leading providers so you can switch confidently.
Here are a few more crucial questions to consider when shopping for a new electricity provider.
What type of energy plans do they offer? (see more on this below)
What are their average rates over the last 10 years?
How long have they been in business for?
What do customers say about their service?
Where do they source their energy?
Are there any additional or hidden fees?
Do they offer any rebates or discounts for switching today?
To learn more about why PA Power Switch is not your best place to shop and save on Pennsylvania energy, read our article here.
Types of Electricity Plans and Rates in Pennsylvania
Comparing all of the different electricity plan options available can sometimes feel overwhelming. But it doesn't have to. Here is our simple breakdown of the most common plans:
Fixed-Rate Plans
Fixed-rate electricity plans allow you to lock in your rate for the length shown in the contract. This is the most popular type of plan for customers participating in Energy Choice and the one you'll see the most on our site.
Benefits of fixed-rate electricity plans:

Locking in a fixed-rate for the length of your electricity contract
Being able to predict your electricity bill every month
Price protection from rate increases and energy market fluctuations
Variable Rate Plans
With these plans, the cost changes month to month depending on the price of wholesale electricity. It's a highly flexible option for those who are still deciding whether to commit to a long-term plan.
Benefits of variable-rate electricity plans:

Flexibility to switch providers or plans at any time
Typically do not require a contract or early cancellation fees
Indexed Electricity Rates
Indexed plans pair the price you pay for electricity with a variable, such as the market rate for natural gas multiplied by how much of it you use. This plan is for savvy consumers who like monitoring pricing for the best deal at the moment. The freedom to choose the absolute lowest rate in real-time is enticing but beware of sudden price spikes.
Benefits of indexed electricity plans:

Pricing that may outperform fixed-rate plans over time
More control over the price that you pay every month
Ability to speculate on future electricity prices
For more information, see our complete article on all the available rates.
How Does Switching Electric Providers in PA Work?
The great thing about switching is how fast and straightforward it is. When you sign up with a new electricity provider, they will contact your current provider to cancel your plan and switch all the paperwork for you. Also, you do not have to install or change any equipment at your home or business. Your energy will not be disrupted whatsoever.
To understand how switching electricity providers works in Pennsylvania, you need to know the difference between utility providers and retail electricity providers.
Utility Providers: This is the company that delivers electricity to your home and bills you. You cannot switch utility providers. The charges that support your utility provider are under delivery/distribution charges on your electric bill.
Retail Electricity Providers: This is the company that supplies the electricity you use. In Pennsylvania, by default, your utility provider is also your electricity provider. However, unlike your utility provider, you can switch electricity providers thanks to Energy Choice. The charges on your electric bill go to your electricity provider are under supply/generation charges.
Since you cannot switch utility companies, it is still the business that will bill you whether or not you switch electricity providers. This also means that your delivery/distribution charges will not be affected when you switch energy providers. You will only see changes on the supply/generation portion of your electric bill.
For more information on reading and understanding your monthly electricity bill, watch our 3-minute explainer video on YouTube.
About PA Energy Choice What Energy Deregulation Means For You
PA lawmakers gave residents the right to shop for their own electricity supplier with the passing of the Electric Choice and Competition Act in 1997. Utility companies are still responsible for delivering electricity and natural gas to consumers and maintaining power lines. By default, they are also Pennsylvania resident's power provider. However, you can switch to a different energy provider, which generates the energy for the utility company but does not deliver it, to save big on your electricity bill.
The Pennsylvania Public Utilities Commission supervises the state's energy market. Based in Harrisburg, PA, they issue licenses to electricity suppliers allowing them to operate in the state. The PUC also inspects for safety, audits plans, and enforces laws related to energy production and distribution.
Pennsylvania Electricity Companies
There are over 100 electricity providers licensed by the PA Public Utility Commission. Electricity suppliers range from small municipal-based companies to large national providers such as Constellation, Tomorrow Energy, Public Power, and Direct Energy.
Smaller municipal companies are local, so you can generally expect a faster response to outages or issues. Also, your money stays in the local economy, supporting your neighbors. Larger companies typically offer more member benefits and larger areas of service but less plan customization.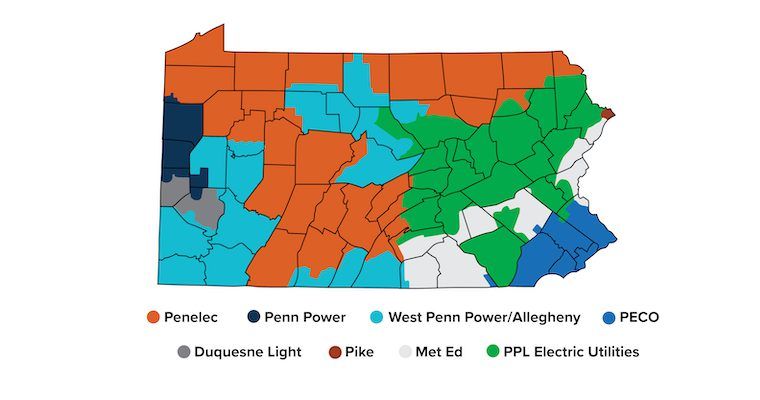 While the open market keeps power prices relatively in check, it can feel overwhelming to research and choose the right power provider for your specific energy needs.
Fortunately, we did all of this time-consuming digging for you. To start shopping and saving, simply type your ZIP Code into our search bar for an easy-to-understand report of all your energy provider options.
Business and Commercial Electricity Rates in Pennsylvania
Business owners can save big through electricity deregulation. However, the switching process is not as simple as typing in your ZIP Code.
That is because the rates available to you are dependent on your electricity usage. The more you use, the lower your rate can get.
To find the best rates for your business, fill out the form on ElectricityRates.com's business electricity page. An ElectricityRates.com representative will then get in contact with you to help you find the right plan for your business.
Find the best energy provider and plan for you with Electricity Rates
You have all the necessary information to make a smart decision about your electricity provider. So, what are you waiting for? Get everything you're entitled to as a Pennsylvania resident.
Enter your ZIP Code to find the best PA electricity provider near you. You will be shocked at how much you save each month on your energy bill!
FAQs About Pennsylvania Electricity Suppliers
Who is the best electricity provider in Pennsylvania?

As of January 2023, Constellation earned the highest Provider Score, both in Pennsylvania and overall. However, it's important to note that the best electricity provider for you could depend on your specific needs.

Who is the cheapest electricity supplier in Pennsylvania?

The cheapest electricity provider in Pennsylvania depends on where you live. It's important to compare multiple plans and providers for your area to find the cheapest electricity provider for you.

How do I change my energy provider in PA?

To change your electricity provider, you'll first want to use an electricity shopping website like ElectricityRates.com to compare multiple providers and plans in your area. From there, you can switch by using the account information found on your electric bill. After that, your new provider will take over within one to two billing cycles.

What electric utility providers are in Pennsylvania?

Electric utility providers are responsible for the distribution of electricity to your home. Pennsylvania utility providers include Duquesne Light, Met-Ed, Pike County Light & Power, PECO, PPL Electric, Penelec, Penn Power and West Penn Power.