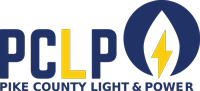 Compare Pike County Light & Power (PCLP) Electricity Rates
Pike County Light & Power (PCLP) is a utility company that serves a small area of Pike County Pennsylvania. If you are one of PCLP's 4,700 customers, you have Energy Choice. This means you can compare Pike County Light & Power electricity rates and switch providers to save on your electricity bill. As of January 2023 just over 1,000 customers have switched to an alternative energy provider according to the Pennsylvania Public Utility Commision.
Percentage based on the total number of customers of regulated electric utilities in Pennsylvania as of 12/31/2022.
Read on to learn more about how you can save through Pennsylvania's Energy Choice program, or enter your ZIP Code above to start comparing.
Get The Best PCLP Electricity Rates
Featured Rates:
Sorry, we don't offer residential electricity rates for the selected options.
For all rates, enter your ZIP Code at the top of the page.
How To Compare PCLP Electricity Plans
ElectricityRates.com makes the electricity shopping process easy and transparent. All you have to do is follow this simple three-step process.

Enter your ZIP Code To see plans and providers in your area.
Compare electricity providers and plans Pay attention to each plan's electricity supply rate and length.
Switch electricity providers After finding the plan you want, select it, fill out the necessary info and switch!
That's it. Your new provider takes care of the rest and your new plan will start within one to two billing cycles.
PCLP Service Area
PCLP serves a small area of Pike County, Pennsylvania including the following towns:
Dingman Township
Milford Township
Millrift Township
Pond Eddy Township
Westfall Township
Choosing the Best Pennsylvania Electricity Provider
There are hundreds of licensed electricity providers in Pennsylvania for PCLP customers to choose from. These range from small, local electricity companies to larger brands like Constellation and Direct Energy.
Using PA Power Switch, PA's official energy shopping site can be overwhelming due to the number of options available. ElectricityRates.com carefully selects every provider and plan to ensure that you're always getting the best rates.
Reading and Understanding Your PCLP Electricity Bill
There are two primary types of charges on your PCLP electricity bill, delivery charges and electricity supply charges. By default, your utility sets the price for both your delivery and supply of electricity. Energy Choice allows you to take control of your electricity supply charges.
PCLP Delivery Charges
Charged by Pike County Light & Power
For the maintenance and transmission of electricity (poles, wires, etc.)
Does not change when you switch electricity providers
Electricity Supply Charges
Charged for the electricity that you use
Based on a rate per kilowatt-hour (kWh)
Can be lower than what you pay PCLP by default
PCLP Price To Compare
PCLP's Price to Compare is the price per kilowatt-hour (kWh) for the default electricity supply. You should use this rate when comparing electricity plans. It can be found on your latest electricity bill.
PCLP Contact Information
Shop Electricity Rates For Other Pennsylvania Utilities
Want to learn more about Energy Choice and comparing electricity? Visit our in-depth page on Pennsylvania electricity rates.