Maryland Electricity Rates
In the most recent report done by the U.S. Energy Information Administration, Maryland residents are currently paying the 10th highest electricity prices in the United States.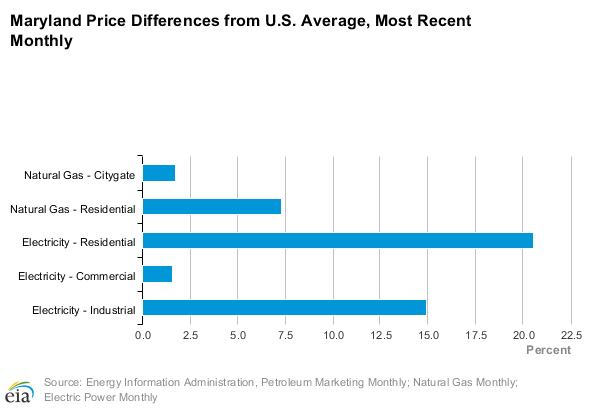 With this in mind, now is a better time than ever for Maryland residents to save on their electric bill. How you may ask? Well it comes down to the ability to compare Maryland electricity rates.
Maryland Electric Choice
Maryland's 1999 Electric Utility Industry Restructuring Act enacted legislation for deregulation of Maryland's electric supply market.  By 2007, the state was fully deregulated – meaning that most customers were no longer forced to purchase their electricity supply from their local utility. Now Maryland customers can shop around and have a number of providers compete for their business.
Maryland Public Utilities
If you are a customer of any one of the utilities listed below, you can compare electric supply rates:
The Maryland Public Service Commission monitors and regulates all of these public utilities.
Maryland Electric Providers
A variety of retail electricity provider companies entered the market in hopes of gaining new customers. Competition among providers increased as their numbers grew. It is this competition that brings lower Maryland electric prices and more innovative products and services to the electricity market.
For more information on current providers, go to our Maryland Electricity Providers page.
Compare Maryland Electricity Rates
There are two main parts of an electric bill: (1) Supply, and (2) Delivery and Transmission. A customer's local utility handles electric delivery and transmission, and this charge doesn't change if a customer switches to a retail electricity provider. The Supply portion of the bill is what customers are able to shop around for.
To view a list of competitive rates from reliable retail electricity providers  in your area, use our FREE Compare & Switch tool located on the ride side of this page. Just type in your zip code and click on the "Search" button.
When deciding on a retail electricity provider, look for the following:
Low Electricity Rates

Find rates that are lower than what you're currently paying, often referred to as the "Price-to-Compare". This can be found on your most recent utility bill and is expressed in cents per kWh.

Contract Terms that Fit Your Needs

Choose between fixed and variable rate plans. Variable plans have rates that can change daily or monthly and fixed plans have rates that are locked in for the duration of the contract.
Choose between 3, 6, 12, 18, and 24-month contract durations or month-to-month variable plans.

Other Incentives to Switch

Renewable and clean electricity source options
Multiple bill-pay options
Smart grid and Smart meter improvements
And more
How to Switch Electricity Providers in MD
After comparing the different providers and electricity rates in Maryland, click on the provider that you would like to sign up with and then on the plan you would like to enroll in on the next page. Then just enter your contact and account information and you will be all set.
Once submitted, there is no need to contact your current utility. This will be taken care of by the Maryland electricity provider you sign up with. Please remember that even though you switch electricity providers, your utility will still send your bill and respond to emergencies and power outages.