Connecticut residents along with many of their northeast neighbors benefit from Energy Choice. This means that you have the power to compare competing offers from energy providers and switch the supply rate on your electricity bill. Why make the switch? There are a ton of benefits including the ability to lock in rates for a long term and support renewable energy.Keep reading to learn more about your energy options in Connecticut and compare rates today.
Average Connecticut Electricity Costs
Connecticut residents are strapped with some of the highest electricity rates in the country. The average rate is 25.43¢ per kWh, which is the 3rd highest average rate in the US. Average electricity consumption is lower than most other states at 711 kWh. However, even though Connecticut residents use less electricity, they still have the 2nd highest average electricity bill in the US at $161.55.

23.50¢

Average Rate per/kWh

711 kWh

Average Usage per month

$161.55

Average Cost per month

HOW DOES THIS COMPARE NATIONALLY?

36th Highest

Average Usage
Connecticut Electricity Rates Trend
Source: Energy Information Administration (EIA)
Basics of Energy Choice in Connecticut
Before energy deregulation, the local energy utility handled all generation, transmission, and distribution in Connecticut. Because of the lack of competition, local utilities had a monopoly on the industry and were able to set energy rates as high as they liked.
Connecticut adopted legislation in May 1998 (PA 98-28) that allowed residents to choose their electric provider. The act required the two electric utilities and the Department of Public Utility Control (DPUC) to establish a competitive market. The law also required the companies to unbundle (separate) their generation components from the rest of their businesses by October 1, 1999.
Switching Made Simple
Compare rates from leading providers and make the switch in only a few minutes.
Make The Switch In Minutes Through Our Simple & Secure Process
How to Compare Connecticut Electricity Rates
ElectricityRates.com lets you compare Connecticut providers and plans side by side in our Electricity Marketplace. All you have to do is follow this simple three-step process:

Enter your ZIP Code This shows you the providers and plans available in your area.
Compare electricity providers and plans Compare available plans and choose the rate, plan length and plan type that is right for you.
Switch electricity providers Select your new rate, fill out the necessary information and make the switch.
After that, your new provider will take care of the rest. There are no interruptions in your service and your local utility provider remains the same. The only thing that changes is your electricity rate.
Connecticut Utilities with Energy Choice
Electricity Plan Options in Connecticut
There are several types of electricity plans to choose from in Connecticut. Here are some of the most common.
Fixed-Rate Electricity Plans
A fixed-rate plan locks in your electricity supply rate for the length of the plan. There are no unexpected rate hikes and your rate does not change because of market conditions. You usually save more money compared to variable-rate plans.
100% Renewable Plans
If you want to feel good about the energy you use, pick a 100% renewable energy electrical planif one is available in your area. Plans marked with "100% Renewable Sources" source all energy from renewable resources. Renewable plans are also usually fixed-rate plans.
Reading Your Connecticut Electricity Bill
Your Connecticut electricity bill splits charges into two separate sections, delivery charges and electricity supply charges. Your supply charges will change when you switch electricity providers and utility or delivery charges will remain the same.
Utility Delivery Charges
These charges mainly ensure the reliable delivery of electricity to your home. Your local utility company and the Connecticut Public Utilities Regulatory Authority set these rates, so they do not change based on your electricity provider.
Electricity Supply Charges
Electricity supply (aka. electricity generation) charges are the charges for the electricity you use. Your electricity supply/generation rate is what you use when comparing electricity rates.
If you get your electricity supply through your local utility, you can use the "Price to Compare" when comparing electricity plans. This is also listed on your bill.
Electricity Rates in Popular Connecticut Cities
Find out more about comparing the best electric rates and companies in the following popular Connecticut cities. Don't see your city? Enter your ZIP Code through our Rate Comparison Tool at the top of the page for available rates in your area.
Connecticut Electricity Providers
There are many electricity providers to choose from in Connecticut. These companies range from smaller local companies to large national providers like Constellation, and Direct Energy.
To make sure you get the best electricity rates and service, ElectricityRates.com works with some of the highest-rated providers in the business. Every one of these electric companies near you is vetted to ensure they are reputable and trustworthy, so you never have to worry about picking the "wrong" provider. That way, you can keep your focus where it should be, on finding the right plan for you.
Learn more about Connecticut electricity providers here.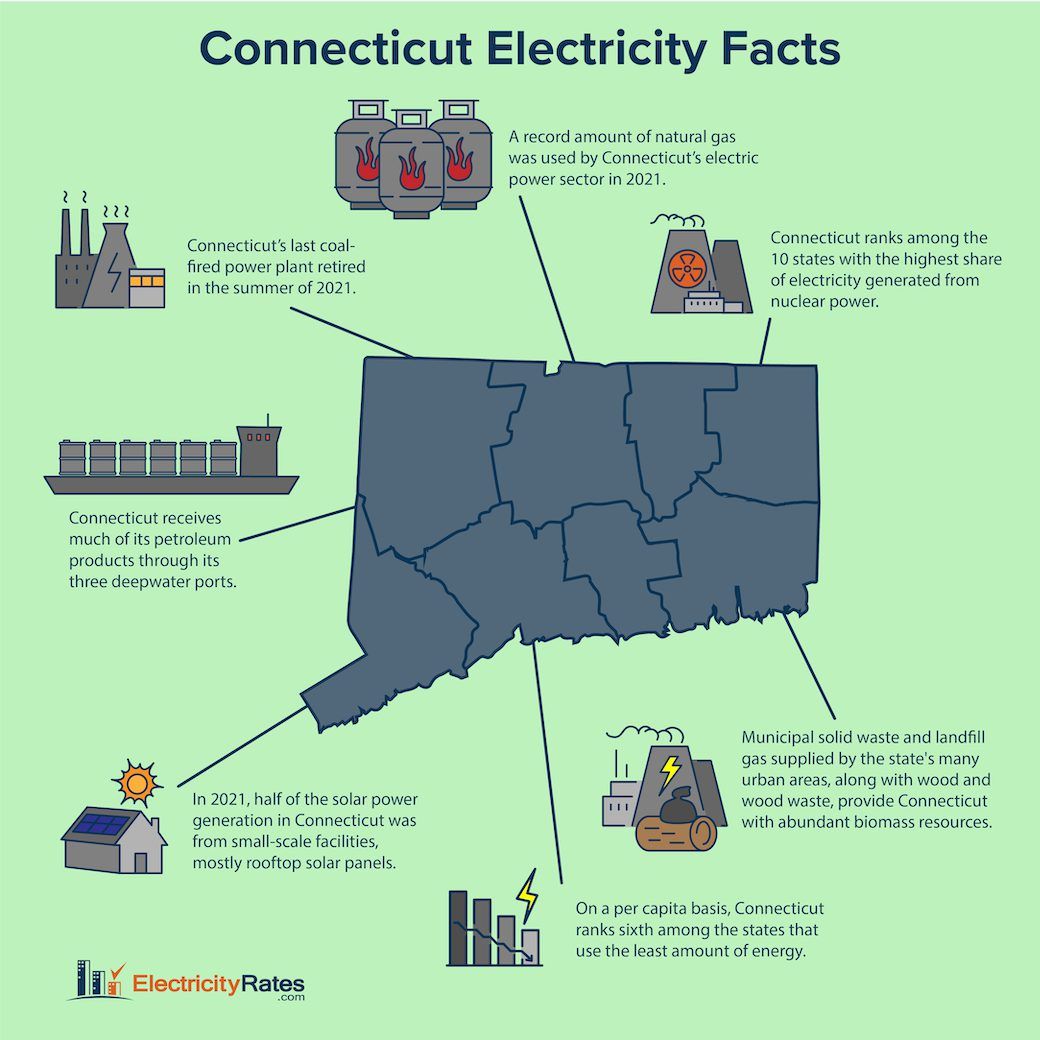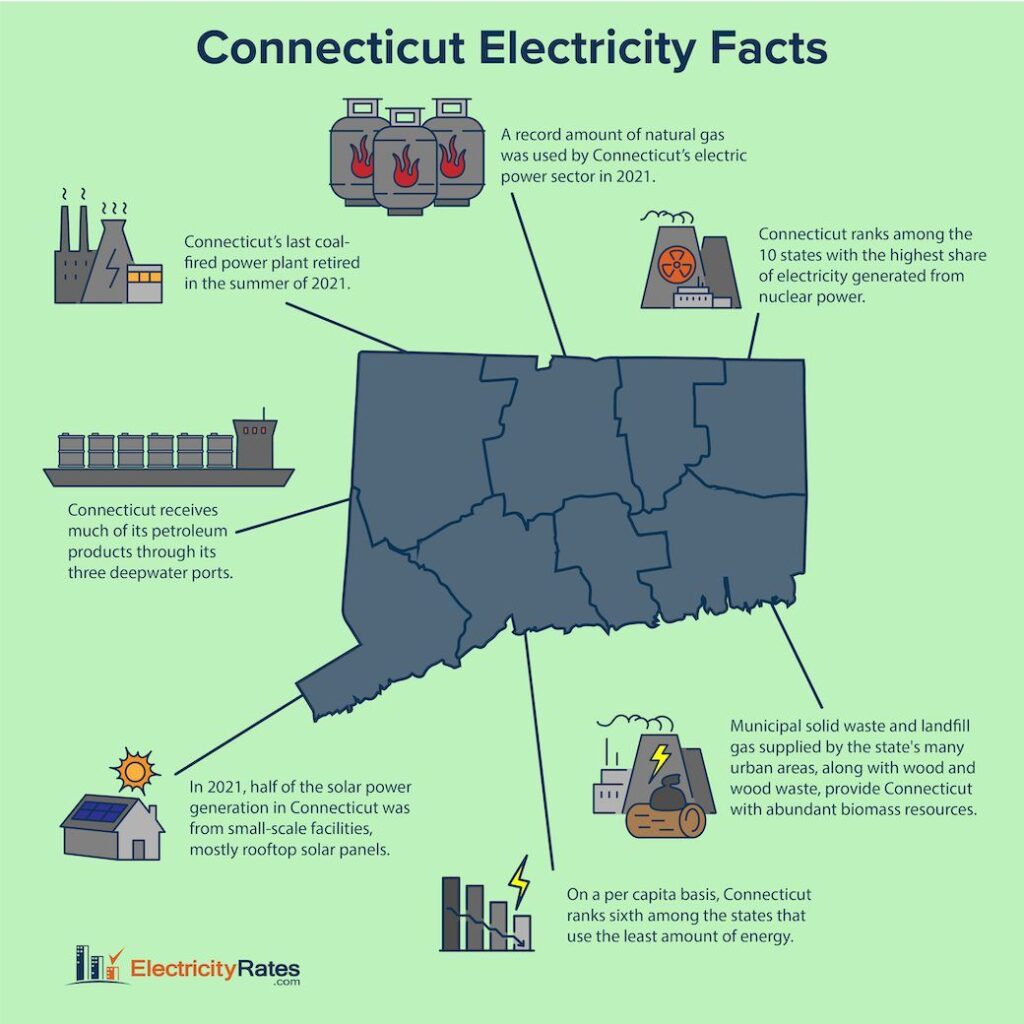 Source: U.S. Energy Information Administration
Business and Commercial Electricity Rates in Connecticut
Businesses in Connecticut can save big with Energy Choice. ElectricityRates.com helps you do just that, with customized commercial rates, energy bill optimization and more. To get a customized quote, complete the quote request form on our business electricity rates page.
Once your information is received, ElectricityRates.com energy advisors will get in contact with you and negotiate with multiple providers to find the best rate. The best part? There's no obligation to you.
Connecticut Electricity Frequently Asked Questions
How does Energy Choice in Connecticut work?

Energy Choice allows businesses and residents in the state to switch electricity providers. It gives consumers more control over their electricity and can help them save money on their electricity bills.

When you switch electricity providers in Connecticut, your utility company still bills you and delivers electricity to your home.

What is the average price of electricity in Connecticut?

According to the EIA, the average cost of electricity for Connecticut residents is 22.71¢ per kilowatt-hour as of May 2023.

Why is electricity so expensive in Connecticut?

Connecticut's electricity is expensive because it is hard to get natural gas to the area. This is mainly attributed to a resistance to build more pipelines. The good news is that CT residents may be able to save by switching electricity providers.

Where does Connecticut's electricity come from?

The breakdown for electricity generation by source for Connecticut is as follows: Natural Gas: 52.8%, Nuclear: 41.7%, Non-hydroelectric Renewables: 2.4%, Hydroelectric: 1.3%. The rest is made up of small percentages of coal, petroleum and other generation sources. Nonhydroelectric renewables consist of biomass, solar and wind energy.

Which utility providers service Connecticut customers?

There are two primary utility providers in Connecticut.

– Eversource – Serves the majority of Connecticut, including the cities of Hartford, Stamford and Norwalk.
– United Illuminating (UI) – Serves towns in southern Connecticut, including the cities of Bridgeport and New Haven.