CenterPoint Energy Electricity Rates
CenterPoint Energy maintains the electric infrastructure including wires, and poles serving over 2.5 million customers in the greater Houston area as well as southwestern Indiana. In Texas, CenterPoint Energy is one of the four utilities that gives its customers the power to choose their electricity provider.
Keep reading to learn more about comparing CenterPoint Energy electricity rates in Houston and be confident in your choice!
Shop CenterPoint Electricity Rates
Here are featured rates for CenterPoint. To see all rates in your area, enter your ZIP Code at the top of the page.
Best Electricity Rates
Provider
Plan Name
Length
Rate Per kWh

At 1000kWh avg. usage

Sign Up
Spark Energy
PUCT #10046

Spark Green Secure 24

24 Mo.
5.5¢
Select
Spark Energy
PUCT #10046

Sure Saver 12

12 Mo.
7.7¢
Select
Frontier Utilities
PUCT #10169

Best Value 12

12 Mo.
10.69¢
Select
Pulse Power
PUCT#10259

Texas Saver

12 Mo.
12.9¢
Select
Pulse Power
PUCT#10259

Texas Saver

24 Mo.
13¢
Select
Plan
Rate Per kWh

At 1000kWh avg. usage

Spark Energy


Spark Green Secure 24


24 Months
5.5¢
Select
Spark Energy


Sure Saver 12


12 Months
7.7¢
Select
Frontier Utilities


Best Value 12


12 Months
10.69¢
Select
Pulse Power


Texas Saver


12 Months
12.9¢
Select
Pulse Power


Texas Saver


24 Months
13¢
Select
How To Compare CenterPoint Energy Electricity Plans
ElectricityRates.com makes comparing rates as easy as possible. All you need to do is follow this three-step process to compare and enroll with a great electricity plan today.

Enter your ZIP Code – Enter your ZIP Code to see suppliers available in your area.
Compare electricity providers and plans – Compare rates from leading Texas electricity companies
Switch electricity providers – After you find the right plan for you, select it, fill out the necessary information and enroll.
It's as simple as that! Your new provider takes care of the rest. There are no interruptions in your electricity. The only thing that changes is your electricity plan.
CenterPoint Energy Service Area
CenterPoint is a large utility company that delivers electricity and natural gas to customers throughout the southern United States. This includes Arkansas, Louisiana, Minnesota, Mississippi, Oklahoma and Texas. In Texas, CenterPoint serves electricity to over 2 million homes and businesses in Houston and the surrounding areas.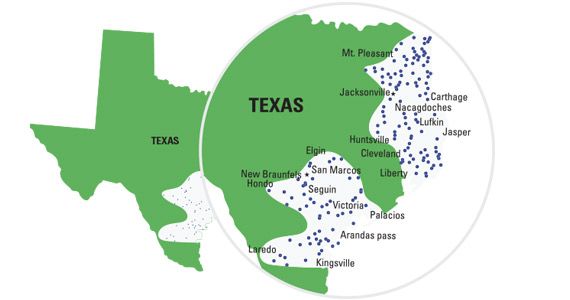 Source: Centerpoint
CenterPoint Energy Electricity Companies
There are 100+ retail electricity providers that CenterPoint customers can choose from ranging from smaller local electricity companies in Texas to larger national providers like Constellation, TriEagle and Direct Energy. ElectricityRates.com only works with leading providers to bring you the best rates so you don't have to worry about making the wrong choice and being stuck in an undesirable electricity contract.
Learn more about Texas electricity companies here.
CenterPoint Energy History
The origins of CenterPoint come from a company that was founded in 1882 called Houston Lighting & Power. In 1999, Houston Lighting & Power changed its name to Reliant Energy.
When Texas's electricity market was deregulated in 2002, Reliant Energy was split into three separate companies, Reliant Energy, Texas Genco and CenterPoint Energy.
Since then, CenterPoint's primary business has been the delivery of electricity and natural gas to homes and businesses.
CenterPoint Energy Delivery (TDU) Charges
CenterPoint Energy has delivery charges that are set by the Public Utilities Commission of Texas. These are charges that help support the reliable delivery of electricity to homes and businesses throughout the Houston area. Since the state sets these charges, they do not change no matter who your electricity provider is.
These charges generally change twice a year. Once on March 1st and once on September 1st. They consist of a monthly base charge and a usage-based charge. The usage-based charge is based on your monthly electricity usage by the kilowatt-hour. You can find the current TDU charges by looking at the Electricity Facts Label (EFL). The EFL can be found in the plan details section under any Texas plan on ElectricityRates.com.
Saving With CenterPoint's Customer Programs
If you're a CenterPoint Energy customer in Houston, you may be unaware of the various programs that can help you save on your energy bills, appliances and more. Here are just a few:
CenterPoint CoolSaver A/C Tune-Up – Recieve a free A/C tune-up through CenterPoint's CoolSaver program.
HVAC Rebates – Receive rebates of up to $3,000 on HVAC upgrades.
Smart Thermostat Coupons – Receive $50 off on your purchase of a smart thermostat.
Take a quick look at CenterPoint's CoolSaver tune-up and its other customer programs to see how you can save.
CenterPoint Energy Customer Service Resources
Shop Electricity Rates for Texas Utilities
Shop for the best electricity rates in your area. Find your TDU provider below to get started.
For more information on finding the best CenterPoint Energy rates, check out our comprehensive guide to Texas electricity rates here.