Texas's power to choose has given millions of Texans better electricity prices, more options and more control of their electricity. However, with so many options and variables to consider, finding the right Texas electricity plan for you can quickly become overwhelming.
We created this page to alleviate some of the confusion. You can use it to better understand the different factors that affect how much you pay each month for electricity. Armed with this information, you can be confident that you're choosing the best electric plan for you.
Your Texas Electricity Bill
To understand how your electricity bill is calculated, you need an understanding of how electricity bills in Texas work. The first thing that you should know is that your electricity bill is split into two sections: delivery charges and supply charges.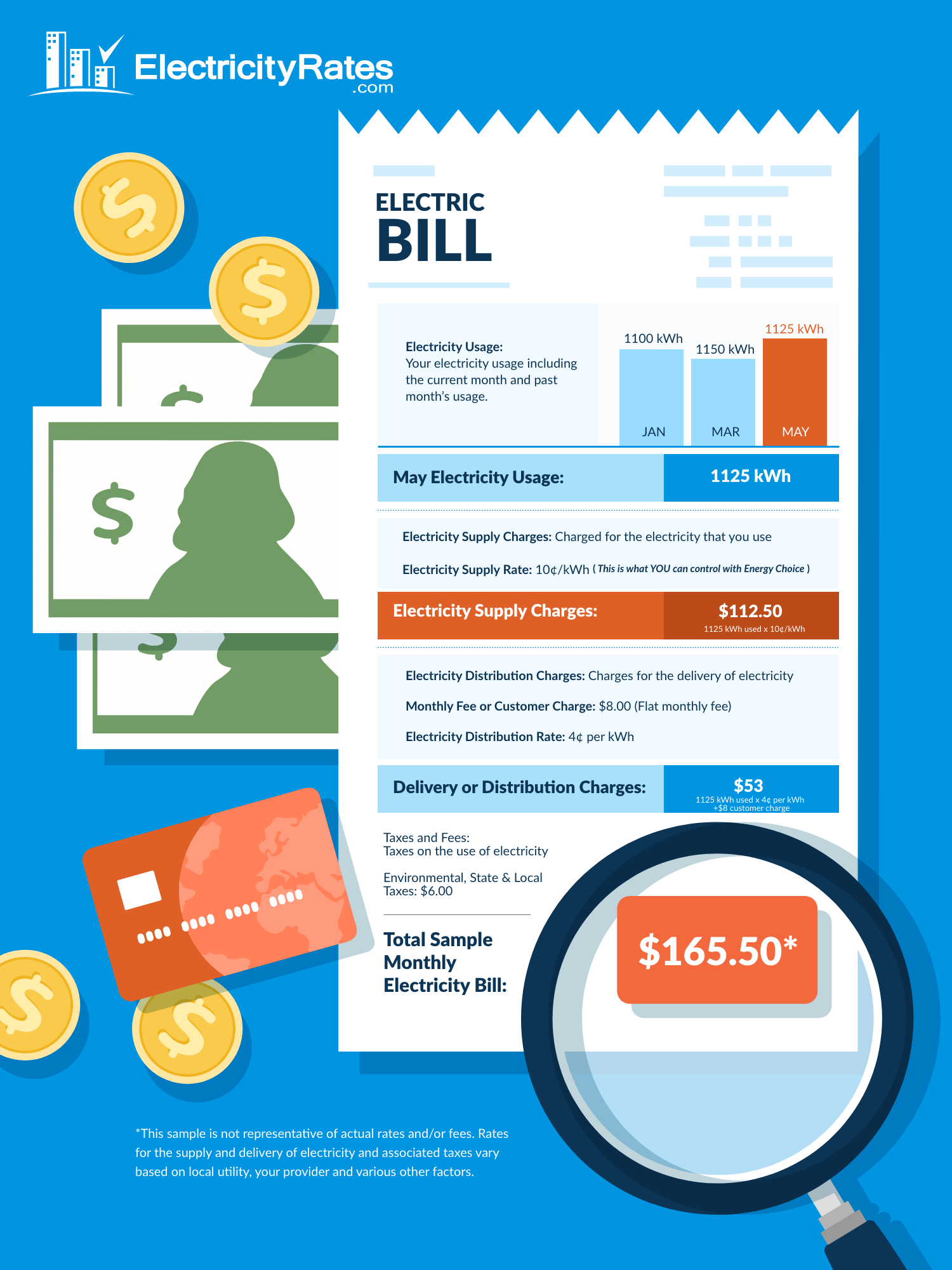 Delivery Charges
Delivery charges go to your Texas utility company, which uses the money to maintain the electric infrastructure and deliver electricity to your home.
There are two main types of delivery charges that you will see:
Delivery Fee – A fixed fee you pay every month no matter how much electricity you use. This fee is usually between $4-$10 depending on your utility company.
Delivery Charge – This is a charge by the kilowatt-hour (kWh) for the amount of electricity you use.
Delivery charges are approved by the state and are the same for everyone under that utility. This means that how much you spend on delivery charges won't change depending on your electricity provider or plan.
Supply Charges
Supply charges are from your electricity provider and pay for the electricity you use. Here are some of the most common charges, fees and credits:
Energy Charge – This is a charge by the kWh for the electricity you consume.
Minimum Usage Fee – This is a fee that's charged to your account if you don't use a minimum amount of electricity within a month. Not all plans have minimum usage fees.
Usage Credits – Money put towards your bill after you use a certain amount of electricity (usually 1,000 kWh) within a month. While this is not a charge, it falls under the "supply charges" section because your electric provider provides this credit. Not all plans have usage credits.
You can find all these chargesincluding delivery chargesfor any Texas electric plan by reading the plan's Electricity Facts Label (EFL).
How To Use This Info To Get The Best Texas Electric Plan
As you can see, your Texas electric bill is not a simple charge based on how much electricity you use. There are many factors that go into the total cost. This is why you will see different rates for different usage levels on a Texas electricity plan.
Most providers advertise their rates at 500 kWh, 1,000 kWh and 2,000 kWh. The problem is that most people don't use these specific amounts, and because of things like usage credits and minimum usage fees, small changes in your electricity consumption can drastically change the cost of a plan.
This is why it's essential to understand how much electricity your home uses throughout the year. You can find this information by looking at your electric bills over the past 12 months. Be sure to take note of usage fluctuations throughout the year. You'll likely use more during the summer months than the winter months. We also have a guide on how you can find your electric consumption if you just moved to Texas and don't know your usage.
Now you know everything you need to know to find the right Texas electric plan for you. However, even with this information, you'll quickly run into another problem. You now have to calculate the cost of each electricity plan at your usage levels, which is a time-consuming endeavor. Thankfully, ElectricityRates.com can help you there as well.
Use Tiler To Find The Perfect Plan In A Fraction Of The Time
At ElectricityRates.com, our mission is to make finding and switching electricity plans in Texas as easy as possible. That's why we created Tiler, your AI-powered rate assistant.
Tiler takes the time-consuming process of calculating how much an electricity plan will cost and does it for you. Enter how much electricity you consume, and Tiler will find the plan that will help save you the most. There's even an easy-to-read graph that estimates how much the plan will cost throughout the year.
With Tiler, you can…
manually input your electricity consumption for each month of the year
leverage his AI programming to estimate your home's usage
answer questions about the type of plan and provider you want
to find the perfect electricity solution for you.
So what are you waiting for? Use Tiler, and switch with confidence today! To get started, enter your ZIP Code above.