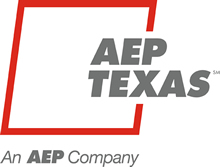 Compare AEP Texas Electricity Rates
AEP Texas serves over one million electricity customers and is one of the four Texas utility suppliers to provide customers with the power to choose their electricity company. This page is here to help you learn more about AEP Texas, giving you the information you need to compare electricity plans and make the best energy decision for you.
Shop AEP Texas Electricity Rates
Compare AEP Texas electricity rates below.
Best Electricity Rates
Provider
Plan Name
Length
Rate Per kWh

At 1000kWh avg. usage

Sign Up
Spark Energy
PUCT #10046

Spark Green Secure 24

24 Mo.
5.4¢
Select
Frontier Utilities
PUCT #10169

Best Value 12

12 Mo.
8.7¢
Select
Pulse Power
PUCT#10259

Texas Saver

12 Mo.
11.1¢
Select
Pulse Power
PUCT#10259

Texas Saver

24 Mo.
11.2¢
Select
Pulse Power
PUCT#10259

Texas Saver

36 Mo.
11.4¢
Select
Plan
Rate Per kWh

At 1000kWh avg. usage

Spark Energy


Spark Green Secure 24


24 Months
5.4¢
Select
Frontier Utilities


Best Value 12


12 Months
8.7¢
Select
Pulse Power


Texas Saver


12 Months
11.1¢
Select
Pulse Power


Texas Saver


24 Months
11.2¢
Select
Pulse Power


Texas Saver


36 Months
11.4¢
Select
How to Compare AEP Electricity Rates
There are many factors to consider when comparing electricity plans. That's why it's important to do your research.  Understanding how electricity plans work will give you the knowledge you need to make an informed decision. Our comprehensive guide to comparing Texas electricity rates is a great place to start. It provides a solid overview of the Texas electricity marketplace in 2021, and shows you how to find the right energy provider for you.
To compare all of your electricity rate options, use ElectricityRates.com's Rate Comparison tool. All you need to do is follow a simple three-step process:

Enter your ZIP Code – This will show you all of the suppliers available in your area.
Compare electricity providers and plans  – Pay attention to each plan's terms of service, rate, and length.
Switch electricity providers – After you find the right plan for you, select it, fill out the necessary information, and switch.
After you switch, your new electricity provider takes care of the rest! You now pay your bill through your new electricity provider at the rate you signed up for. Besides that, nothing changes. You still get the same reliable delivery from AEP Texas.
AEP Texas serves more than one million customers over 97,000 square miles of Texas. AEP Texas is split into two separate branches, AEP North and AEP Central. Each has its own electricity offerings and rates.
AEP Central Service Area
AEP Central serves the southernmost parts of Texas, including cities like Corpus Christi, Laredo and McAllen, Texas.
AEP North Service Area
AEP North's service area runs down from the north and western parts of the state, including cities like Abilene and San Angelo.
AEP Texas History
AEP Texas is a subsidiary of American Electric Power (AEP). AEP is one of the largest utility providers and electricity generators in the United States. Founded in 1906, it has since expanded into one of the largest utility providers and electricity generators in the US.
AEP got into the Texas electricity market in the late 1990s. They purchased the Central and South West Corporation. This included West Texas Utilities which turned into AEP Texas North and then Central Power and Light which turned into AEP Texas Central.
When the Texas electricity market deregulated in 2002, AEP became one of the utility providers that offered Energy Choice.
Electricity Delivery (TDU) Charges
Each deregulated electric utility in Texas has delivery charges (sometimes called TDU charges) set by the state's Public Utilities Commission. They include a base charge and a charge based on your electricity use. It does not change no matter your electricity provider.
Generally, these electric rates change twice a year, on March 1st and September 1st. You can find the delivery charges by looking at an electricity plan's "Electricity Facts Label." ElectricityRates.com puts the Electricity Facts Label in the "Plan Details" section of any Texas electricity plan.
CoolSaver and Other Ways To Save
If you're an AEP Texas customer, switching electricity providers is not the only way you can save on your electricity bills. AEP Texas also has a variety of customer programs that can help you save on energy upgrades and services.
Here's a peek at what you may be able to get as of January 2021:
CoolSaver A/C Tune-Up – Some AEP Texas customers can get $75-$150 off a tune-up that will get your A/C running like new
Residential Standard Offer Program – Get discounts and rebates on everything from LED light bulbs to insulation.
SMART Source Solar PV Program – Cut your initial solar investment by up to $3,000
Check out ElectricityRates.com's post on AEP Texas's customer programs to learn more.
AEP Texas Contact Information
Learn More About Texas Electricity
If you want to learn more about the state of Texas energy market, check out the Compare Texas Electricity Rates page. There, you can find anything you need to know about the major energy players in the state and the best way to choose a Texas electricity provider.