About Direct Energy
Direct Energy is a retail electric provider that first opened its doors in 1986. The company was founded in Toronto, Canada, and currently has more than 4 million residential and commercial customers. Despite being founded in Toronto and currently still serving parts of Canada, a majority of Direct's business comes from deregulated areas in the United States.
In fact, through a series of acquisitions and mergers, Direct Energy eventually became the largest home services retailer in all of North America. While being a retail energy provider is part of what they do, Direct also has subsidiaries that do plumbing, electrical, and heating and cooling work. They also own and operate thousands of oil wells, wind farms, power generating facilities, and gas facilities.
Current Direct Energy Rates
Best Electricity Rates

| Provider | Plan Name | Length | Rate Per kWh | Sign Up |
| --- | --- | --- | --- | --- |
| Direct Energy | Live Brighter™ 12 | 12 Mo. | 10.69¢ | Select |
| Direct Energy | Live Brighter™ 18 | 18 Mo. | 11.09¢ | Select |
| Direct Energy | Live Brighter 36 | 36 Mo. | 11.79¢ | Select |
Plan
Rate Per kWh
Direct Energy


Live Brighter™ 12


12 Months
10.69¢
Select
Direct Energy


Live Brighter™ 18


18 Months
11.09¢
Select
Direct Energy


Live Brighter 36


36 Months
11.79¢
Select
Direct Energy Reviews & Ratings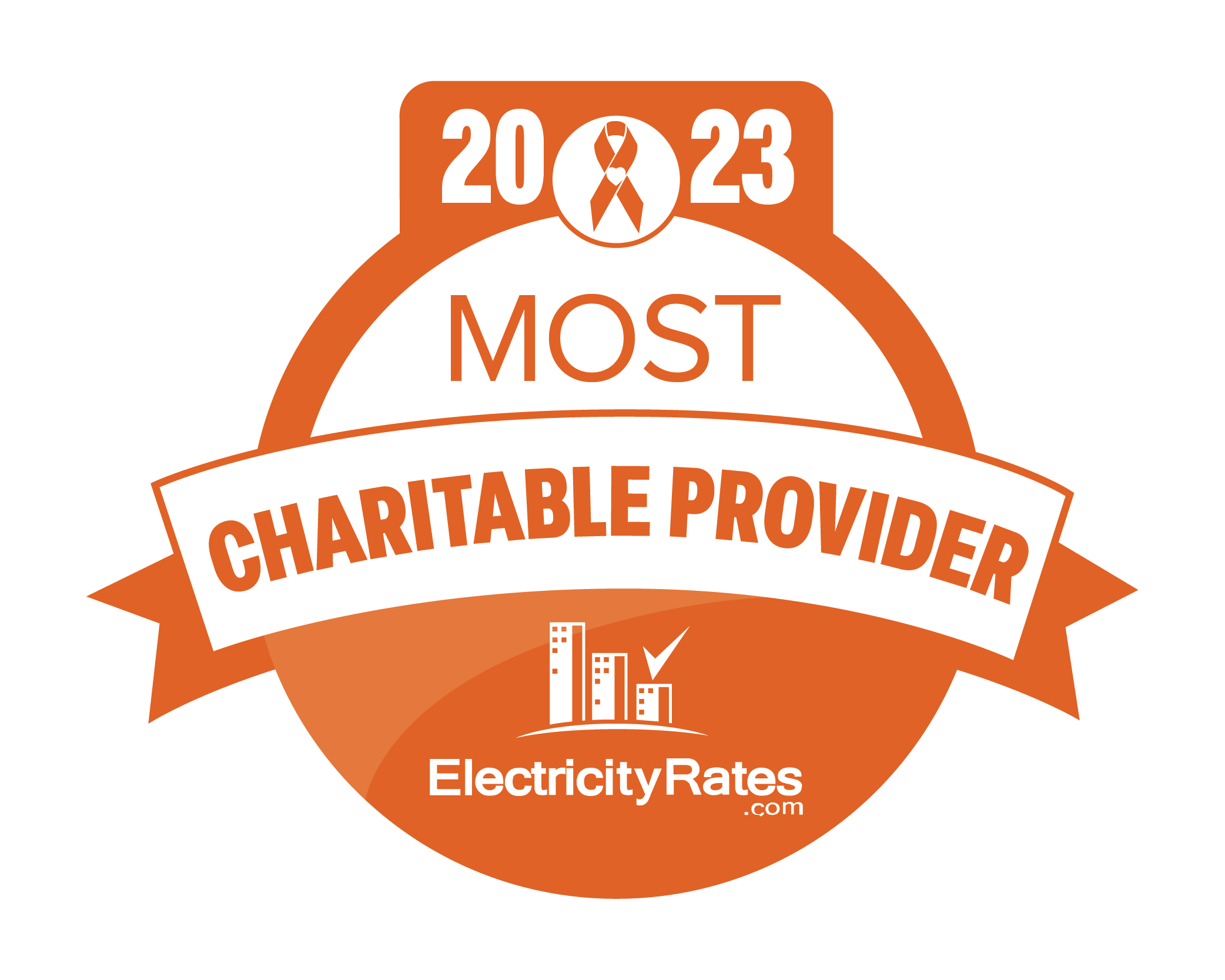 Direct Energy Provider Score: 4.41/5
Direct Energy is a powerhouse energy supplier that offers top of the line energy technologies in order to provide their customers with sophisticated yet simple everyday innovations for their homes and businesses. They have earned 2023 Most Charitable Provider because they believe in the greater good and that contributions big or small go a long way as their corporate philosophy is empowered by environmental policies and involvement in community initiatives and charities.
Product Offering & Innovation: 4.17/5
Direct Energy has a solid array of electricity plans to choose from including renewable energy plans. They offer plans with perks like an auto-pay discount, home protection plans and free nights and weekends.
Customer Support: 5/5
With multiple support options including phone and online chat, customers can get the help they need the way they want it. For Texas customers, Direct Energy makes paying bills quick and easy with their online bill pay.
Business History & Outreach: 4.67/5
With three decades of experience, Direct Energy has grown to be one of the largest electricity companies in North America. They are extensively involved in the communities they serve. Most notable is Texas Children's Hospital as well as other initiatives like Bikes for Students, Meals for Familes and Neighbors Helping Neighbors.
Customer Ratings: 4.06/5
Direct Energy has almost 4,700 customer reviews across trusted review sites, they average 4.2 stars on Google and 4.3 stars on Consumer Affairs. On top of this, Direct Energy's PUCT score is 4/5, indicating only a modest amount of customer complaint rates among Texas electricity providers.
Energy Offerings
Direct Energy offers the following types of electricity plans for customers with Energy Choice. They also offer discounts for signing up for paperless billing and auto-pay. Rate availability is subject to your area and local utility provider.
Fixed-Rate Plans up to 36 Months
Free Nights and Weekends
100% Renewable Energy
How to Compare Direct Energy Electricity Rates
Comparing electricity rates is simple with ElectricityRates.com's Rate Comparison Tool. All you have to do is follow a simple three-step process.

Enter your ZIP Code Enter your ZIP Code at the top of the page to see rates in your area.
Compare providers Compare rates to find the right plan for you.
Switch and save After finding the right plan, select it, fill out the necessary information, and switch.
What Sets Direct Energy Above the Competition?
Selecting an energy provider can seem overwhelming, but Direct Energy offers pricing designed to fit your budget so you can spend your energy on other things. When you choose Direct Energy as your energy provider, you'll have the option to get:
Free Nights and Weekends
Like many other REPs in Texas, Direct Energy offers free nights and weekend plans. You can use unlimited free electricity during select hours in the evening and on weekends. However, it's important to do the math and find out if free nights and weekends will benefit you or not. The rates are usually higher during other parts of the day, which means that if you don't use the majority of your electricity during free hours, you'll end up overspending.
Gift Cards
Another perk Direct Energy may offer new customers when they sign up is gift cards. These cards can be for restaurants, home goods, gas, or anything else that Direct is promoting at the time.
Wide Range of Plans
Finally, Direct Energy has a wide range of plans and pricing structures to choose from. If they're available in your area, each one of these plans will show up at ElectricityRates.com when you enter your zip code into our database.
How to Find Affordable Rates With Direct Energy
The best way to compare Direct Energy's electricity rates with other REPs is with ElectricityRates.com. It's never been easier to discover which Texas electricity rates best fit your needs, as we have created personalized recommendations tailored right down to your home address. Our Free Rate Comparison Tool allows you to examine plans from different electricity companies so that you can make the best and most informed decision. We simply ask you a few questions about your home and preferences allowing you to find a plan in just minutes.
ElectricityRates.com helps you compare pricing options, but they also help you compare the fine details of various plans. We show you the pricing structure and fine print associated with any plan that's available in your area so that you know exactly what you're getting into. We can help you spot hidden fees, tiered rates, and many other pricing snafus that can lead to a higher than expected electricity bill.
While we leave the final decision up to you, ElectricityRates.com makes it as easy as possible to make the right decision on your electricity provider.
Service Areas
Direct Energy serves customers with Energy Choice in the following states. They also offer home protection plans to all 50 states and parts of Canada.
Direct Energy Contact Information
If you're experiencing an electricity outage, please contact the local utility that delivers your electricity or natural gas.