As a Delmarva Power customer, you are able to shop around for your electricity supply in order to find the best rates and plans for your needs.
By default, all customers in the Delmarva Power territory receive both the supply of electricity and the delivery of electricity through utility, Delmarva Power. In order to capture electric prices below that of the utility, customers are able to switch to "retail electricity providers". These providers will charge you for the supply of your electricity, and your electricity will continue to be delivered and serviced with the same reliability by Delmarva Power.
Delmarva Power Service Area
Delmarva Power services more than 506,000 homes and businesses in Eastern Maryland as well as Delaware.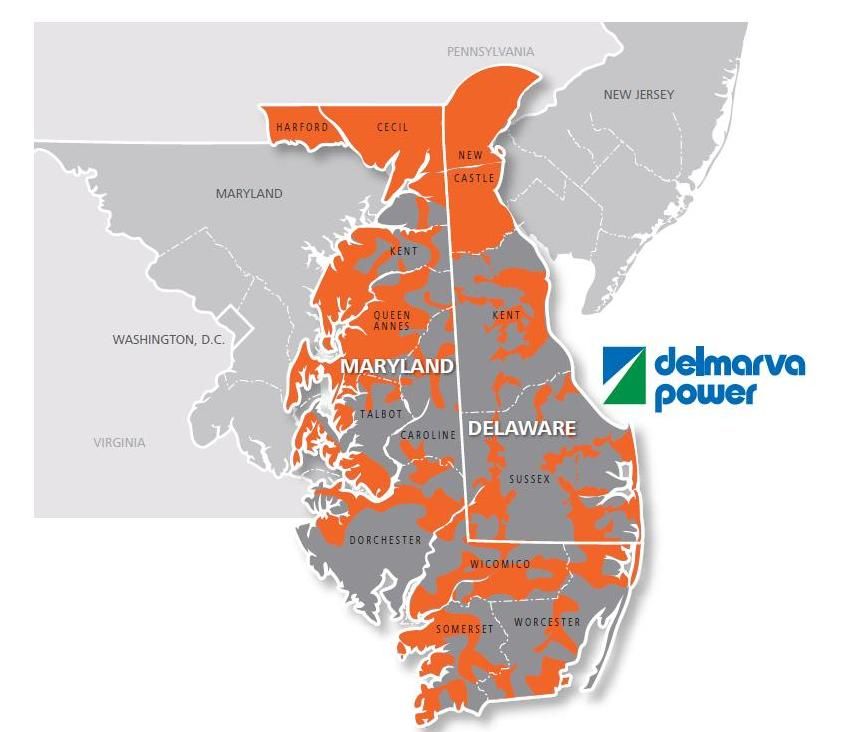 Source: Delmarva Power
Delmarva Power Electricity Rates
On the right side of the screen you will find a free compare and switch tool which will allow you to choose from a number of  Delmarva Power electricity rates and providers. Just enter your zip code, click search and start comparing electricity providers.
Once you've selected the best provider and plan for you, switching is fast and easy:
Locate your Account Number on your most recent Delmarva Power bill.
In the Compare & Switch tool click on your plan of choice and fill out the online form (you can also call the provider and ask to switch).
Confirm the plan and its terms.
Wait one to two billing cycles to see the new rate on your bill.
There's no need to contact Delmarva Power – Your new retail electricity provider will complete the switching process for you.
For power outages, emergencies or billing questions, contact Delmarva Power directly:
Delmarva Power
P: 800-375-7117