If you live in Georgia, you most likely have the power to choose your natural gas supplier, also referred to as energy or gas marketers. To ensure you make the right choice, this page shows you everything you need to know to compare and switch energy marketers.
Shop Georgia Natural Gas Rates
Sorry, we don't offer residential electricity rates for the selected options.
How to Compare Georgia Natural Gas Rates
ElectricityRates.com makes it easy to compare gas rates in Georgia. Comparing and switching your natural gas provider is a simple three-step process:

Enter your ZIP Code– Enter your ZIP Code at the top of the page to see a list of natural gas marketers in your area.
Compare natural gas marketers – Compare marketers for your area. Pay attention to each plan's terms and conditions, rate, and length.
Choose and switch marketers – After finding the right plan for you, select the plan, and make the switch.
After you sign-up, your new provider takes care of everything else. There are no interruptions in your service and your new provider will take over in one to two billing cycles. After your new service begins, your natural gas bill will come from your new provider.
How Does Georgia Natural Gas Choice Work?
Depending on where they live, Georgians can purchase natural gas from three different types of providers including natural gas marketers (aka providers), investor-owned local distribution companies, or a municipal gas system.
Georgia residents served by Atlanta Gas Light enjoy the ability to choose their own natural gas provider pursuant to the Natural Gas Competition and Deregulation Act of 1997. This system allows customers to choose from certified natural gas providers and rates are market-based which drives competition and keeps prices steady.
Residents in Cataula, Harris County, Columbus, and surrounding areas are served by Liberty Utilities, the only local natural gas distribution company in Georgia. Liberty Utilities is fully regulated by the Georgia Public Service Commission.
84 municipal gas systems provide natural gas to all other Georgia residents. Prices for municipal gas service are not subject to PSC regulation.
The Georgia Public Service Commission (PSC) is responsible for the certification of natural gas providers and utility distribution framework. To obtain a certificate, natural gas providers must demonstrate the technical and financial capacity to sell natural gas within the state of Georgia.
Can I Choose My Own Natural Gas Provider in Georgia?
You must be an Atlanta Gas Light customer in order to choose your natural gas provider in Georgia. Atlanta Gas Light serves Atlanta, Marietta, Alpharetta, Savannah, and surrounding areas. Click here for a full map of counties served by Atlanta Gas Light to see if you're eligible.
Understanding Your Georgia Natural Gas Bill
Georgia is also unique when it comes to its gas bill. In every other state, deregulated or not, your bill most likely goes through your utility provider. In Georgia, you pay your bill through your energy provider.
In Georgia, there are two parts to your natural gas bill:
Delivery and distribution charges – These charges go to your utility provider to support the reliable delivery of natural gas to your home.
Supply charges – This pays for the natural gas you use. It's charged by the therm (often labeled as "CCF" on your bill). These charges go to your energy provider.
Sample Georgia natural gas bill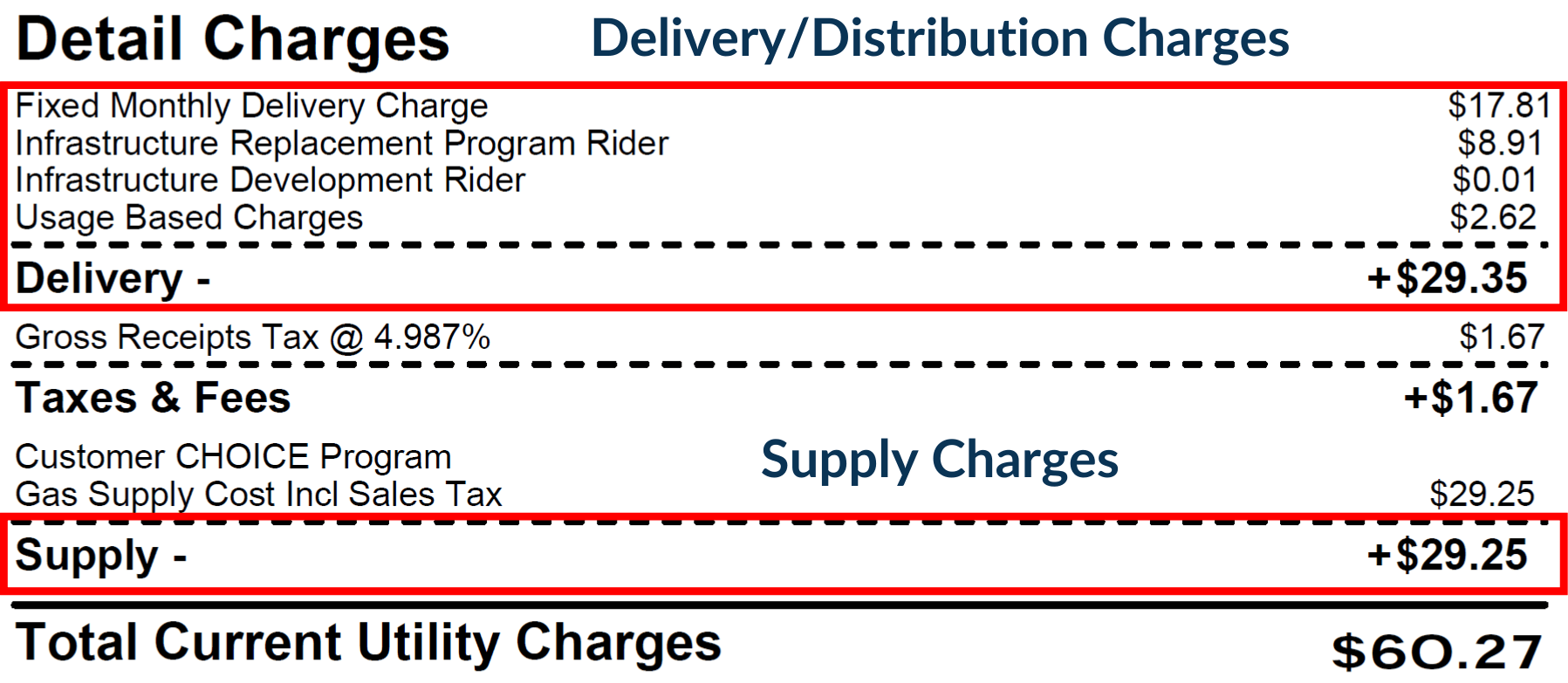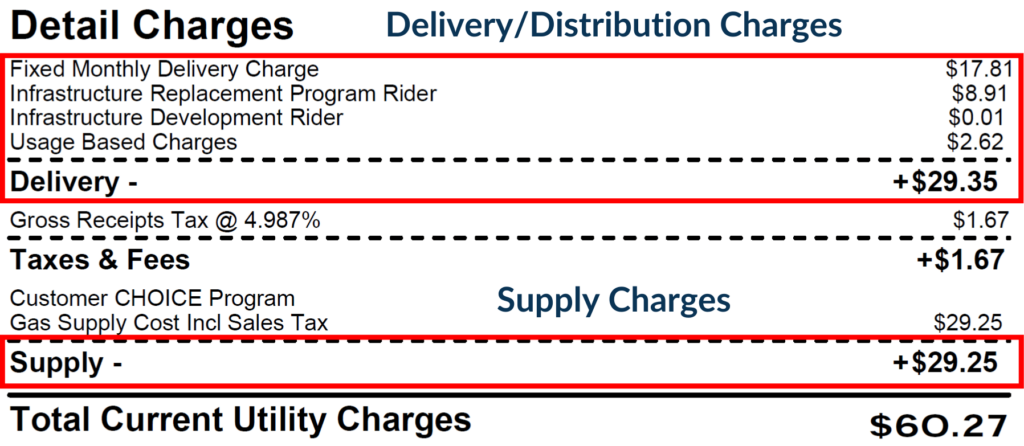 Delivery charges will stay the same no matter which marketer you choose. The energy supply rate is what you should compare when selecting a natural gas provider. This is the rate you pay for natural gas. If you're shopping for a new provider, you can find this rate on your current natural gas bill.
Types of Natural Gas Rates in Georgia
There are two types of natural gas rates available in Georgia – fixed-rate and variable-rate.
Fixed-Rate Natural Gas– A fixed-rate plan ensures your energy supply rate does not change for the length of the plan
Variable-Rate Natural Gas – A variable rate means your energy supply rate can change periodically based on market conditions.
Some like to take advantage of the occasional lower rates variable-rate plans can provide. However, surprise rate increases do happen and usually occur in the winter when natural gas usage is the highest. ElectricityRates.com only offers fixed-rate natural gas plans that protect you from surprise rate increases, so you can be confident in what you will pay each month.
At the end of a fixed-rate plan, your natural gas supply will likely switch to a variable rate through your chosen provider. If you want to continue enjoying the price protection that a fixed-rate gas plan offers, you can compare and choose another plan between 5 and 90 days out from the end of your contract.
Georgia Natural Gas Providers
According to the Georgia Public Service Commission, there are 16 natural gas providers or "marketers" approved to do business in the state of Georgia.
Constellation
Constellation, an Exelon company, is a leading competitive energy company that serves energy markets throughout the United States. They are also involved with organizations like Habitat for Humanity to come up with renewable energy solutions for the future.
Infinite Energy
Infinite Energy is an electricity and natural gas supplier that serves several deregulated markets in the US. Founded in 1994, they were one of the first suppliers serving customers in Georgia.
Colonial Energy
Colonial Energy is an energy marketer headquartered in Savannah, Georgia. They are a subsidiary under the Colonial Group, one of the largest privately held companies in the US.
Fireside Natural Gas
Founded in 2007, Fireside Natural Gas has grown to serve over 23,000 customers in Georgia. Fireside supplies energy to commercial customers.
Gas South
Headquartered in Atlanta, Gas South serves more than 300,000 residential, commercial and government customers. Gas South is deeply involved in the community, pledging 5% of its profits to help children in need.
Generations Energy
Generations Energy is a Georgia-based energy provider. has both fixed-rate and variable-rate plans to choose from.
Georgia Natural Gas
Georgia Natural Gas is a subsidiary of Southern Company Gas which also owns Atlanta Gas Light. Southern Company Gas created Georgia Natural Gas when Georgia's natural gas markets became deregulated in 1998.
Just Energy
Just Energy is a Canadian-based energy retailer serving markets throughout North America, Europe and Japan with over 1.8 million customers.
Kratos Gas & Power, LLC
Kratos Gas & Power is a Colorado-based marketer that serves markets in Georgia, Michigan and Ohio.
Mansfield Power & Gas
Headquartered in Gainesville, Georgia, Mansfield is an energy marketer that serves commercial and industrial customers.
North American Power and Gas
Based in Connecticut, North American Power and Gas serves retail electricity and natural gas throughout the United States.
SCANA Energy
SCANA Energy was founded as a subsidiary of the SCANA Corporation. In January 2019, Dominion Energy acquired SCANA. Currently, SCANA Energy serves 475,000 households and businesses across Georgia.
Stream Energy
Founded in 2005, Texas-based Stream Energy is a subsidiary of NRG Energy. They supply natural gas and/or electricity in Texas, Georgia, Pennsylvania, Maryland, New Jersey, New York, Illinois, Delaware, Ohio and Washington DC.
True Natural Gas
True Natural Gas is an energy marketer in Georgia and is a subsidiary of Coweta-Fayette EMC, which offers wholesale electric power distribution.
Walton EMC Natural Gas
Walton is a Georgia-based energy marketer that supplies the natural gas of over 120,000 Georgia homes and businesses.
Xoom Energy
Headquartered in North Carolina, Xoom Energy supplies electricity and natural gas across North America. This includes 19 states, Washington DC and two provinces in Canada. Learn more about Xoom Energy.
Georgia Natural Gas FAQ's
Who is the best natural gas provider in Georgia?

ElectricityRates.com currently features leading Georgia gas providers including Constellation and Infinite Energy. These companies are known for their great rates and outstanding customer service provided to Georgia customers.

What are the benefits of fixed-rate Natural Gas?

Locking in a fixed-rate Natural Gas plan gives you price protection and peace of mind that your bill will not fluctuate unexpectedly. This allows you stick to your household budget and spend time worrying about things other than your gas bill.

What is the average price per therm for natural gas in Georgia?

Natural gas rates in Georgia currently range between around 40¢ per therm up to over $1 per therm depending on your contract's terms and conditions. Comparing Georgia gas rates and making sure you understand the terms is important to ensure you're getting the best rate!