Don't waste your day analyzing electricity suppliers. Find the best electricity company in Connecticut quickly with our helpful rating system.
To start comparing plans from these leading CT electric providers today, enter your ZIP Code above.
Simple Switch, Big Savings
Compare rates from leading Connecticut power providers and make the switch in only a few minutes.
Make The Switch In Minutes Through Our Simple & Secure Process
Connecticut Electric Company Provider Score Ratings
Provider Score™ Summary
| Provider | Provider Score | Energy Options | Service Areas |
| --- | --- | --- | --- |
| Constellation | | | CT, GA, IL, OH, MA, MD, NJ, PA, TX |
| Direct Energy | | | CT, IL, MA, MD, NH, NJ, NY, OH, PA, TX, DC |
| Spark Energy | | | CT, IL, MA, NJ, NY, PA & TX |
| Public Power | | | CT, IL, MD, MA, NY, OH, PA, RI, DC |
| Major Energy | | | NY, NJ, PA, CT, MA, IL, OH, MD |
Electricity Plans

Natural Gas Plans

100% Renewable Plans

Business Electricity

Smart Home Bundles
Best Connecticut Electricity Providers for 2023
To find the best electricity provider in Connecticut, we created the Provider Score rating system. Our CT Provider Score is a rating that helps choose a provider. It combines over 20 data points and considers factors like product offerings and customer reviews. It's the fastest way to find the best energy supplier in CT.
Learn more about our Provider Score methodology here.
Best Connecticut Electricity Provider: Constellation

Learn More
Service Areas
CT, GA, IL, OH, MA, MD, NJ, PA, TX
Provider Bio
Constellation is the nation's leading provider of carbon-free energy with a commitment to be 100% carbon-free by 2040. They serve over 2.5 million residential and business customers across the United States.
For the second year in a row, Constellation has earned the highest CT Energy Provider Score and takes the top spot as the Best Electricity Provider.
Why Constellation?
Flexible plans that fit practically any need, including 100% renewable, smart-home and A/C protection plans
Offers some of the cheapest electric rates in CT
Excellent customer service support via online chat helps Constellation stand out as the top CT electric supplier
20+ years of experience serving millions of residential and business customers
Constellation and its employees are outstanding contributors to the communities they serve. In 2021 they contributed over $10M to support 4,000 organizations. Employees contributed 68K volunteer hours across 34 states.
Most Charitable Electricity Provider: Direct Energy

Learn More
Service Areas
CT, IL, MA, MD, NH, NJ, NY, OH, PA, TX, DC
Provider Bio
Serving nearly 4 million residential customers, Direct Energy is one of the largest electricity, natural gas and home services providers in North America. They are also one of the largest commercial and industrial electricity with over 240,000 business electricity customers.
Serving people and communities at its core, Direct Energy took the top spot for the Most Charitable Electricity Provider:
Why Direct Energy?
$5 million commitment to expand the Texas Children's Heart Center at Texas Children's Hospital
Their Neighbor-to-Neighbor Bill Assistance program helps relieve up to $700 annually to low-income customers who qualify for the program who qualify
$10,000 donated to Bike for Students to kids in local TX communities
Meals for Families raised over $8,000, prepared over 13,000 meals, and packed 600 boxes of food for local citizens and families
How to Compare Suppliers & Plans
ElectricityRates.com has everything you need to take advantage of Energy Choice in Connecticut. Our simple and secure platform lets you compare suppliers and plans side-by-side, so you can switch with confidence. All you need to do is follow these three steps to find the best CT electric company:

Enter Your ZIP Code – Enter your ZIP Code to view competing offers from leading Connecticut electricity suppliers.
Compare Suppliers & Plans – Compare suppliers and rates side-by-side to find the perfect electricity plan for you.
Switch in Minutes – After you find the plan that best fits your needs, switch on the site for free.
What To Keep In Mind While Comparing Electricity Suppliers In Connecticut
The ElectricityRates.com Marketplace makes comparing electricity plans straightforward, but there are still a few things you should understand before you make the switch.
Electricity Supply/Generation Rate – Your electricity supply rate is how much you pay for each kilowatt-hour (kWh) of electricity you use. It's one of the many different charges that go into your electric bill. This is the number you want to use while comparing electricity plans.
Plan Length – Most plans on ElectricityRates.com have a fixed rate, so your electricity rate stays the same for the whole contract. Some plans allow you to lock in a low rate for years. Remember to check for any early cancellation fees.
Renewable Energy – Many suppliers offer renewable energy plans. These plans ensure that no matter how much electricity you use, an equal amount of renewable electricity goes into the grid. Renewable plans are clearly marked in the ElectricityRates.com Marketplace.
Supplier Reputation – ElectricityRates.com's Provider Score system can help you find the best suppliers in your area. On top of that, ElectricityRates.com vets all electricity suppliers before they're featured on our site to ensure their integrity. When you enter your ZIP Code above, you can be sure that you only see the best electricity providers in CT.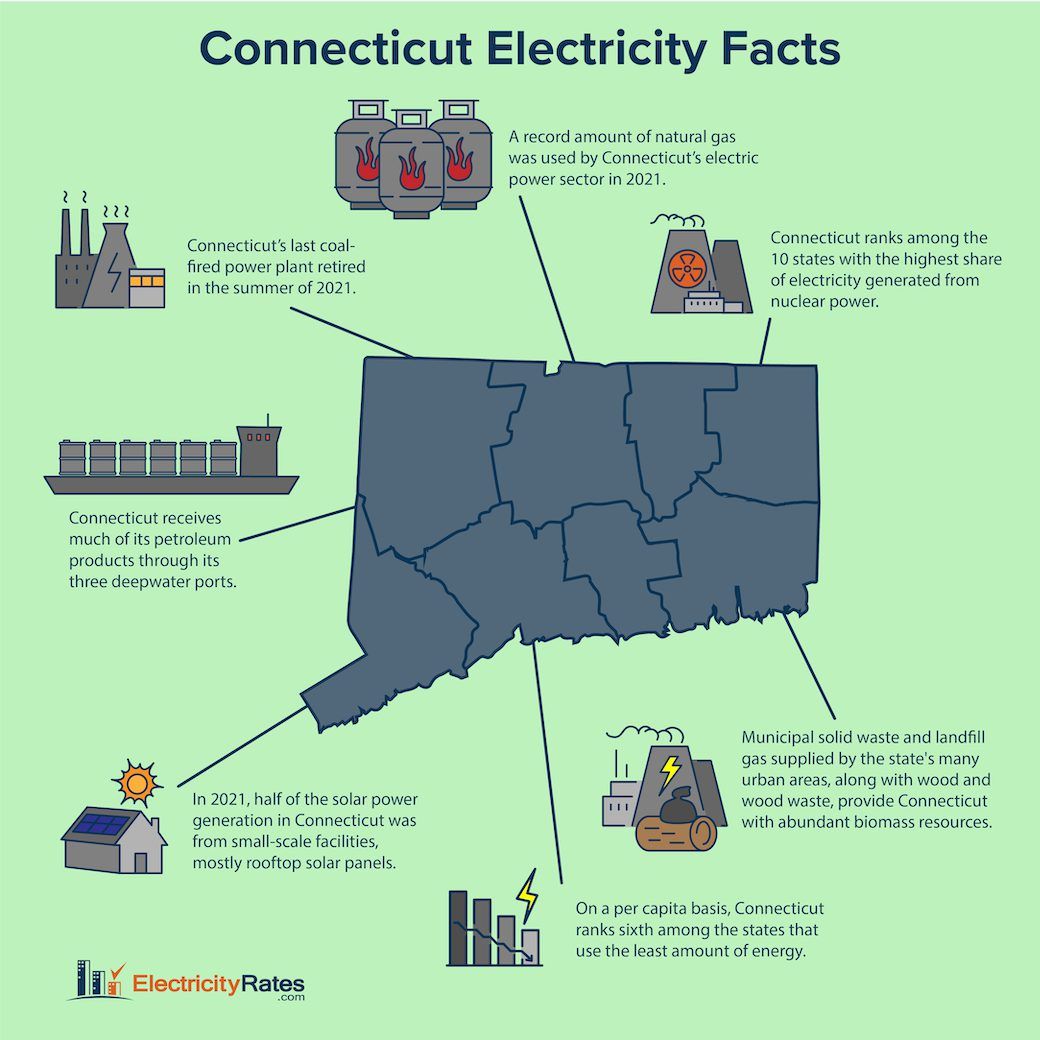 Source: U.S. Energy Information Administration
Electric Companies In CT: Utility vs Supplier
If you're new to Energy Choice in Connecticut, you should know the difference between your electricity supplier and your utility provider.
Utility Provider – This is the company that delivers electricity to you and bills you. The two main utility providers in Connecticut are Eversource and United Illuminating (UI). On your electric bill, charges for distribution/delivery go to your utility provider. You cannot switch utility providers.
Electricity Supplier (aka Electricity Provider) – Your electricity supplier is the company that supplies the electricity you use. By default, your electricity supplier in Connecticut is your utility provider, but you have the option to switch. On your electric bill, the charges that support your electricity supplier are under supply/generation charges.
Since you can't switch utility providers, the distribution/delivery charges will not change when you switch suppliers. The Public Utilities Regulatory Authority (PURA) sets these charges. They are the same for all residents within your utility's service area.
FAQs About Connecticut Electricity Suppliers
How do I choose my electric supplier in CT?

To choose an electric supplier in Connecticut, it's best to use a comparison platform like ElectricityRates.com. That way, you can compare providers and plans side by side to find the perfect plan for you in minutes.

For more information on choosing a supplier and comparing energy rates CT see our article here.

What's the best energy supplier?

Constellation earned the highest Provider Score in Connecticut as of January 2022. However, it's important to note that the best electricity provider for you could be different depending on your needs.

When you compare electric rates in CT make sure to have a clear idea what is right for you. Whether you select Constellation CT, Spark Energy CT, Direct Energy CT or another Connecticut electric company, remember this.

What's the cheapest electric supplier?

The CT energy supplier with the lowest cost depends on where you live. That's why it's important to compare multiple plans, providers, and CT energy rates in your area to find the best CT electric supplier for you.

Are Eversource or United Illuminating (UI) energy suppliers?

Eversource and United Illuminating are your energy supplier by default in Connecticut. Residents and businesses in Connecticut have the option to switch from this standard service by choosing a different supplier.

Are there other ways to save on energy in Connecticut?

There are other ways to save in Connecticut. For instance, you can increase the energy efficiency of your home by purchasing energy-efficient appliances and services. You can even save on these upgrades by applying for rebates and discounts through Energize CT.