Energy Choice is a capability that some U.S. consumers have which allows them to shop for the best electricity rates. Instead of being stuck with their local utility provider's electricity supply, Energy Choice allows these consumers to compare their options and choose their own electricity provider. Increased competition leads to lower prices for consumers. Think of it as part of the consumer's personal toolbox of household budgeting options.
How Does Energy Choice Work?
In areas with deregulated markets, energy providers have the ability to provide a wider variety of choices for service and rates. This concept is similar to the manner in which consumers can select their long-distance phone carrier; deregulation separates the production of energy from its distribution, allowing customers a choice as to where they purchase their power.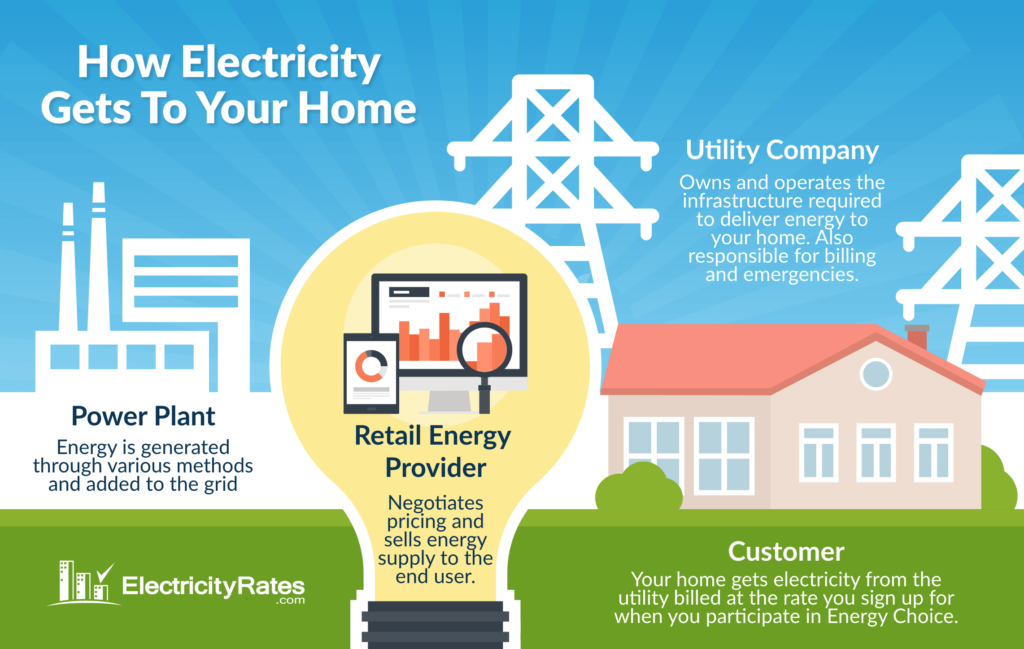 The local utility company still provides power distribution, as they did in the past and continue to do today.
From the customer's point of view, nothing changes. There's no interruption of services or new equipment to install, and the customer's current utility provider still maintains their service and bills the customer's account. In some cases, the consumer may receive a separate bill from the energy provider instead of one bill from their utility company, but the overall expense is lower for the customer if they take advantage of Energy Choice.
In deregulated states, customers have the ability to shop around for the supplier of their natural gas or electricity from retail energy providers and choose a supplier whose rates most appeal to them. If the consumer doesn't take the time to research available suppliers' rates, they receive their energy supply directly from their utility but miss out on potential savings.
Learn more about the difference between public utilities and retail energy providers.
Does Everyone Have Access to Energy Choice?
Energy Choice is a function of energy deregulation, and only consumers in deregulated states have the ability to shop for electricity rates and choose their provider.
Before energy deregulation, the local energy utility handled all generation, transmission and distribution in the United States. This worked well as electricity and gas services were first implemented in America because it provided stability to the energy infrastructure. But because there was no competition, local utilities had a monopoly on the industry and were able to set their rates as high as they liked. These were often referred to as "regional monopolies."
Antitrust legislation and the breakup of monopolies in a number of industries during the last century gave rise to energy deregulation, which changed everything.
Simple Switch, Big Savings
Compare rates from leading providers and make the switch in only a few minutes.
Make The Switch In Minutes Through Our Simple & Secure Process
What is Energy Deregulation?
Deregulation (also known as restructuring) was a response to the lack of competition among energy providers, which led to higher costs for consumers. Deregulation began with the Energy Policy Act of 1992 and represents a series of federal policies that eased restrictions on local electricity markets. As a result of changes in these policies, almost half of the states in the U.S. responded by taking steps towards deregulation.
In areas with energy deregulation, utilities are still regulated by the Public Utilities Commission to ensure customers get safe, affordable, and reliable access to utility services.
What States is Energy Choice Available In?
As of 2020, deregulated markets include Pennsylvania, Texas, Illinois, Michigan, Ohio, Maine, New Hampshire, Massachusetts, Rhode Island, Connecticut, New York, New Jersey, Delaware, Maryland, Oregon, and Washington, D.C.
In states that became deregulated, utilities were compelled to sell off their means of producing natural gas or electricity but were still able to profit from its distribution and transmission. This allowed retail energy providers to sell to the utilities' customers.
Several states provide electricity shopping websites operated by the local public utilities commission including Power to Choose in Texas and PA Power Switch in Pennsylvania. These sites often feature hundreds of electricity providers and thousands of plans to choose from which can be a bit confusing and overwhelming. As an alternative to these sites, ElectricityRates.com only works with the most reputable providers and makes it simple to compare rates in our Marketplace.
Click here for a list of all states that ElectricityRates.com proudly serves.
Benefits of Energy Deregulation
As energy deregulation has become established, more providers have entered markets in different states. This has resulted in even more competition and better choices for energy consumers. Residents and businesses in deregulated states now have more options in comparing price and electricity contract details.
Not everyone agrees that deregulation benefits a state's electricity market. While proponents of deregulation believe that the competition drives down prices, critics argue that prices are not reduced significantly enough to merit deregulation. The critics, however, fail to take into account customers who have not participated in Energy Choice and who are still paying high prices to their utility.
What has occurred since deregulation, is that as more customers do participate in Energy Choice, prices are driven down because retail energy providers are actively competing with each other for customers.
Additional Energy Choice Resources
We've put together a glossary of common energy terms and answered frequently asked questions about Energy Choice to help you understand your options and find the best energy rates for you!
How do I Participate in Energy Choice?
It's simple! ElectricityRates.com partners with the best and most reputable energy providers to bring you the best electricity rates through our simple and secure Rate Comparison Tool. Enter your ZIP Code at the top of the page to compare rates in your area. Switching is free and only takes a few minutes.