Your state's public utilities commission (PUC) is a regulatory body that regulates utilities (electricity, water, gas, etc.) to ensure customers get safe, affordable, and reliable access to utility services.
How Do Traditional Public Utilities Commissions Work?
The main regulatory action traditional PUCs do is set the rates for certain utilities.
In much of the US, utilities are essentially controlled by monopolies, meaning you can't switch your electricity provider or your water provider or gas provider.
Where you live determines your provider.
An uncontrolled monopoly is problematic. Without anyone to stop them, they could charge extremely high prices for their services and their customers would not be able to do anything about it.
That is where the state's public utilities commission steps in.
The PUC is there to protect the consumer to ensure they get reliable utilities at an affordable and fair price. A fair price means that they take the expenses to provide those utility services into account as well.
PUCs also enforce their laws and rules, help resolve disputes between utilities and customers and provide relevant resources to utility consumers in their state.


Public Utilities Commission's Role In A Deregulated Market?
As many states continue to deregulate their electricity and natural gas markets, the role of the PUC changes slightly. It is still very similar to a traditional market, but with various changes in responsibility that will vary from state to state.
In a deregulated market, suppliers compete against one another in a variety of ways. One of the first ways they compete is on price. This competition helps keep energy rates down. It also allows the suppliers to provide specific packages, like a 100% renewable option, for people who prefer it.
In the end, a deregulated market allows the customer to choose their energy supplier.
The PUC in a deregulated state is still watching out for the consumer. They are there in case there are any disputes, or if any suppliers are operating in an unethical manner. In many states, they still have the power to regulate electricity rates if need be.
Who Decides Who Is On A Public Utilities Commission?
The people that run your state's PUC are either elected or appointed. Public Utilities Commissioners are only elected in 11 states, with the rest being appointed. In the states that appoint their commissioner, only two (South Carolina and Virginia) are appointed by general assembly, while the rest are appointed by the governor (or the mayor in Washington DC's case).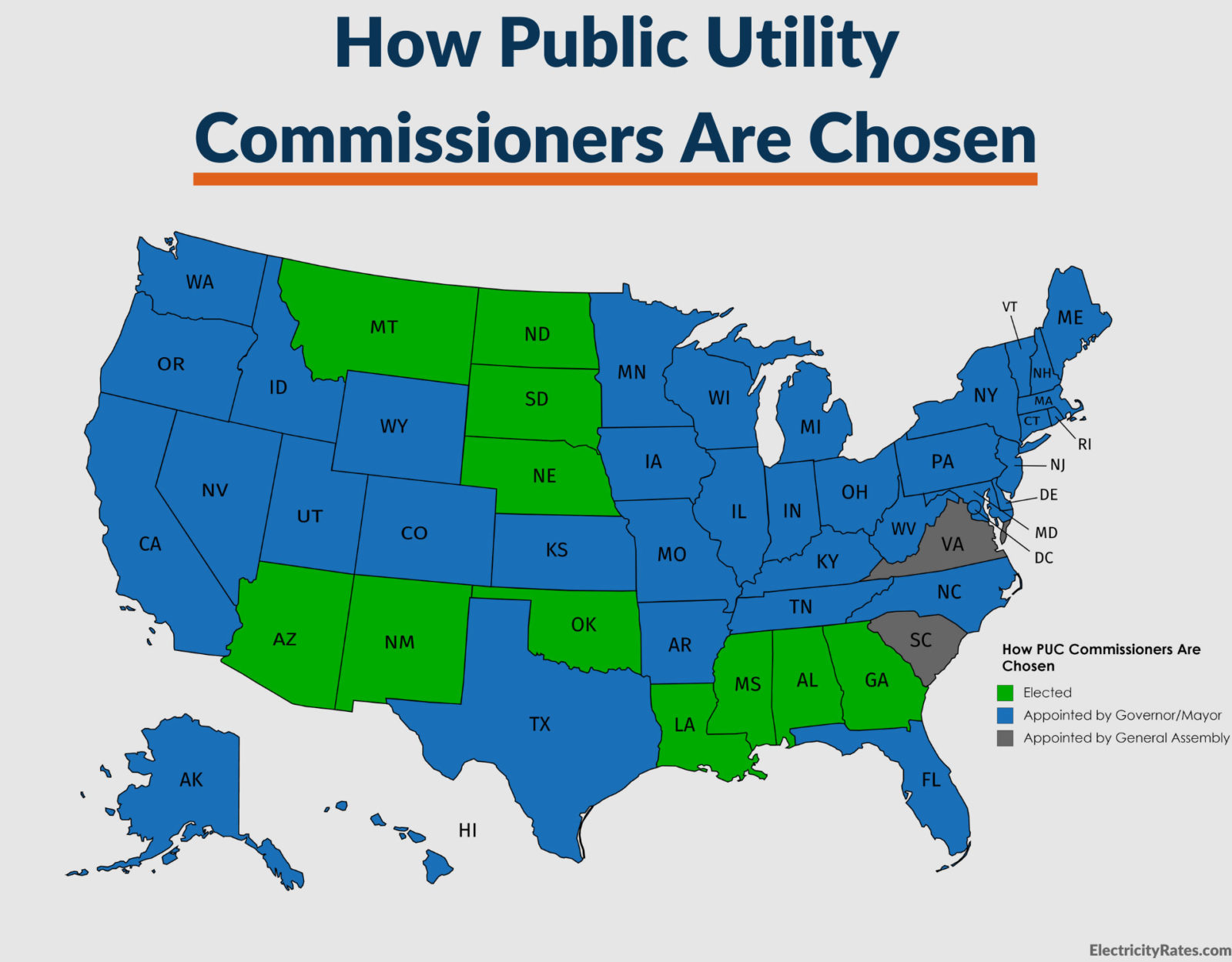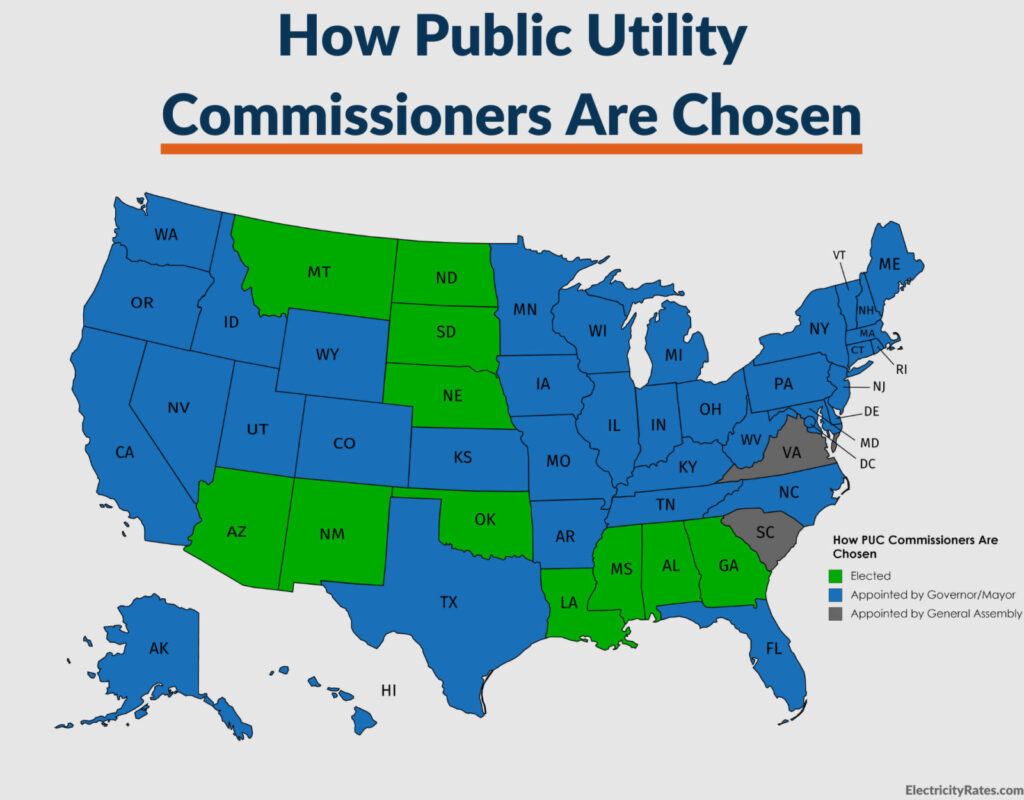 What Does the Federal Energy Regulatory Commission (FERC) do?
The Federal Energy Regulatory Commission (FERC) is the regulatory body that oversees the rest of the PUCs. However, they can't/don't really control what state PUCs do, as it would likely be considered unconstitutional.
FERC does step in whenever there are electricity discussions between states. If a state is exporting electricity or natural gas to another state, they are there to ensure the deal works for both states. It is in a very similar fashion to how state PUCs operate in regard to the consumer to utility relationship.
Without FERC, a state like Pennsylvania could take advantage of a state like Connecticut, since Connecticut relies on natural gas production from the state. FERC tries to make sure both sides get a fair deal.
What Is Your State's Public Utilities Commission?
Again, each state has its own PUC, and it does not necessarily have to be called a public utilities commission. Your state might have a different name for it. You can see what your state's PUC is called and access their respective websites by checking out the list of links below.
Alabama: Alabama Public Service Commission
Alaska: Regulatory Commission of Alaska
Arizona: Arizona Corporation Commission
Arkansas: Arkansas Public Service Commission
California: California Public Utilities Commission
Colorado: Colorado Public Utilities Commission
Connecticut: Connecticut Public Utilities Regulatory Authority
Delaware: Delaware Public Service Commission
District of Columbia: District of Columbia Public Service Commission
Florida: Florida Public Service Commission
Georgia: Georgia Public Service Commission
Hawaii: Hawaii Public Utilities Commission
Idaho: Idaho Public Utilities Commission
Illinois: Illinois Commerce Commission
Indiana: Indiana Utility Regulatory Commission
Iowa: Iowa Utilities Board
Kansas: Kansas Corporation Commission
Kentucky: Kentucky Public Service Commission
Louisiana: Louisiana Public Service Commission
Maine: Maine Public Utilities Commission
Maryland: Maryland Public Service Commission
Massachusetts: Massachusetts Department of Public Utilities
Michigan: Michigan Public Service Commission
Minnesota: Minnesota Public Utilities Commission
Mississippi: Mississippi Public Service Commission
Missouri: Missouri Public Service Commission
Montana: Montana Public Service Commission
Nebraska: Nebraska Public Service Commission
Nevada: Nevada Public Utilities Commission
New Hampshire: New Hampshire Public Utilities Commission
New Jersey: New Jersey Board of Public Utilities
New Mexico: New Mexico Public Regulation Commission
New York: New York State Department of Public Service
North Carolina: North Carolina Utilities Commission
North Dakota: North Dakota Public Service Commission
Ohio: Ohio Public Utilities Commission
Oklahoma: Oklahoma Corporation Commission
Oregon: Oregon Public Utility Commission
Pennsylvania: Pennsylvania Public Utility Commission
Rhode Island: State of Rhode Island Public Utilities Commission and Division of Public Utilities and Carriers
South Carolina: South Carolina Public Service Commission
South Dakota: South Dakota Public Utility Commission
Tennessee: Tennessee Public Utility Commission
Texas: Public Utility Commission of Texas
Utah: Utah Public Service Commission
Vermont: Vermont Public Service Commission
Virginia: Virginia State Corporation Commission
Washington: Washington Utilities and Transportation Commission
West Virginia: Public Service Commission of West Virginia
Wisconsin: Public Service Commission of Wisconsin
Wyoming: Wyoming Public Service Commission