Texas, once synonymous with fossil fuels, is currently experiencing a renewable energy boom. Fueled in part by the lower costs of renewables, the state produced 28% of all wind energy in the US in 2019, and its solar sector is growing fast alongside it. Today, Texans can take advantage of the lower costs of renewables with renewable energy plans.
These plans, which once cost a premium, are now price-competitive with regular electricity plans. On top of that, renewable plans increase renewable energy demand and help support the clean energy transition.
Shop 100% Renewable Energy Plans In Texas
Find your Texas utility below to see 100% renewable energy plans in your area. Switching is easy and only takes a few minutes with no expensive equipment or service interruption required.
Best Electricity Rates
Provider
Plan Name
Length
Rate Per kWh

At 1000kWh avg. usage

Sign Up
Rhythm
PUCT# 10279

Simply Select 9

9 Mo.
13.3¢
Select
Rhythm
PUCT# 10279

Simply Select 16

16 Mo.
14.3¢
Select
Tomorrow Energy
PUCT #10270

24 Month Fixed

24 Mo.
14.4¢
Select
Energy Texas
PUCT #10281

Clean & Green 12

12 Mo.
14.5¢
Select
GoodCharlie
PUCT #10308

GoodGreen 36

36 Mo.
14.7¢
Select
Plan
Rate Per kWh

At 1000kWh avg. usage

Rhythm


Simply Select 9


9 Months
13.3¢
Select
Rhythm


Simply Select 16


16 Months
14.3¢
Select
Tomorrow Energy


24 Month Fixed


24 Months
14.4¢
Select
Energy Texas


Clean & Green 12


12 Months
14.5¢
Select
GoodCharlie


GoodGreen 36


36 Months
14.7¢
Select
Top Renewable Energy Companies In Texas
In Texas, there are many electricity providers that offer renewable energy plans. While not all of the following exclusively sell renewable plans, they all offer these plans at competitive rates.
Service Areas
CT, GA, IL, OH, MA, MD, NJ, PA, TX
Provider Bio
Constellation is the nation's leading provider of carbon-free energy with a commitment to be 100% carbon-free by 2040. They serve over 2.5 million residential and business customers across the United States.
Service Areas
CT, IL, MA, NJ, NY, PA & TX
Provider Bio
Spark Energy was found in 1999 in Houston, Texas and was an early pioneer in the retail energy market. Spark Energy prides itself on 3 specialties that set them apart from the rest: energy savings knowledge, customer service and community support.
Service Areas
PA, NJ, MD, OH, TX
Provider Bio
Tomorrow Energy is a retail electricity and natural gas supplier with a mission of creating a positive impact in the world by giving customers more clean Energy Choices. Their electricity plans are backed by 100% National Wind Renewable Energy Certificates. All natural gas plans are backed by 100% carbon offsets.
Provider Bio
TriEagle Energy has been a well-respected leader in the Texas retail energy industry for to 20 years. Their focus is delivering value through energy cost savings, instilling trust by understanding the energy needs of its customers and providing customized solutions and products.
Provider Bio
Pulse Power is a company powered by Texans, for Texans. Their commitment is to provide convenient, affordable, and hassle-free electricity plans that fit you and your lifestyle. Pulse Power offers the following types of rates in terms ranging from 12-36 months.
Service Areas
CT, IL, MA, MD, NH, NJ, NY, OH, PA, TX, DC
Provider Bio
Serving nearly 4 million residential customers, Direct Energy is one of the largest electricity, natural gas and home services providers in North America. They are also one of the largest commercial and industrial electricity with over 240,000 business electricity customers.
Service Areas
TX, NJ, PA & OH
Provider Bio
Headquartered in Houston, Texas, Frontier Utilities has been providing affordable energy plans to its customers for over a decade. Frontier's mission is to create superior value and service for its customers, employees, communities and investors through the sale and supply of energy and related services.
ElectricityRates.com understands that choosing between so many companies can quickly become overwhelming. That's why providers featured on our site are vetted, so we can help you find the best electricity plans and services available.
How Renewable Energy Electric Plans Work In Texas
Put simply, a renewable energy plan ensures that no matter how much electricity you use in a month, an equal amount of electricity generated from renewable sources entered the electric grid.
For example, if you use 1,150 kWh of electricity on a renewable plan, you pay for 1,150 kWh of renewable electricity that has already entered the electric grid. The money you spend on your electricity supply directly supports renewable energy generators and things called renewable energy credits (RECs) keep track of this whole process.
Having a renewable energy plan does not mean that your home only uses renewable electricity. When renewable electricity is generated into transmission wires, it gets jumbled up with all the electricity from other sources, including fossil fuels. This is why we need renewable energy credits to track the renewable energy entering the grid.
How Renewable Energy Credits (RECs) Work
A renewable energy credit is created when a renewable energy generator (i.e. a wind farm, solar farm, etc.) generates 1,000 kWh of electricity that enters the electric grid. This renewable energy generator can then sell this REC to support its business.
Each REC is unique. It has its own ID number and other information about where it was generated and its source. This allows us to track how much and what type of renewable energy enters the electric grid.
When you have a renewable energy plan, you essentially purchase these RECs through your electricity provider, and in turn, support the renewable energy generator.
Texas's Green Boom
Over the past 10 years, renewable energy has exploded in Texas. Wind energy has primarily driven this boom, with it almost making up 30% of Texas's electricity generation in April of 2020. However, Texas's solar energy capacity is quickly gaining ground as well.
There are three reasons for Texas's renewable energy boom:
Large areas of land that receive considerable sunlight and wind.
Costs of building solar and wind farms have dropped considerably.
Robust transmission lines that go out to the western half of the state where solar and wind farms are built.
With a renewable energy plan, you can be a part of this renewable energy boom and the transition to clean energy. But you don't have to stop there. Texans have other ways that they can support green energy. For instance, Texas has environmental organizations that you can support or become a part of if you want to do more.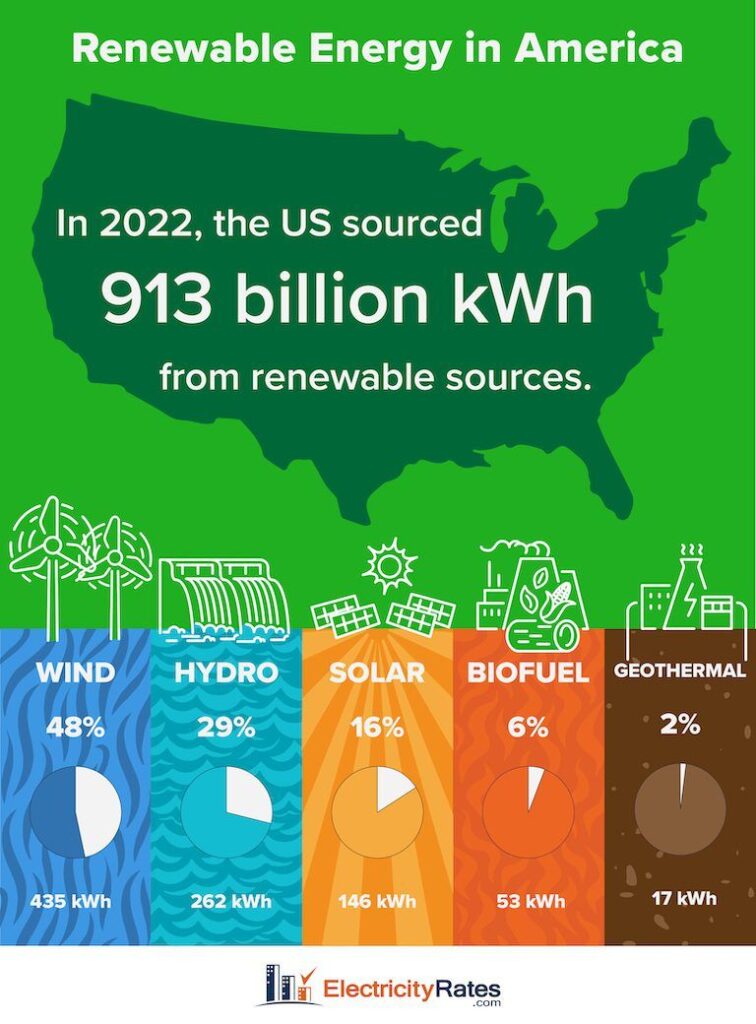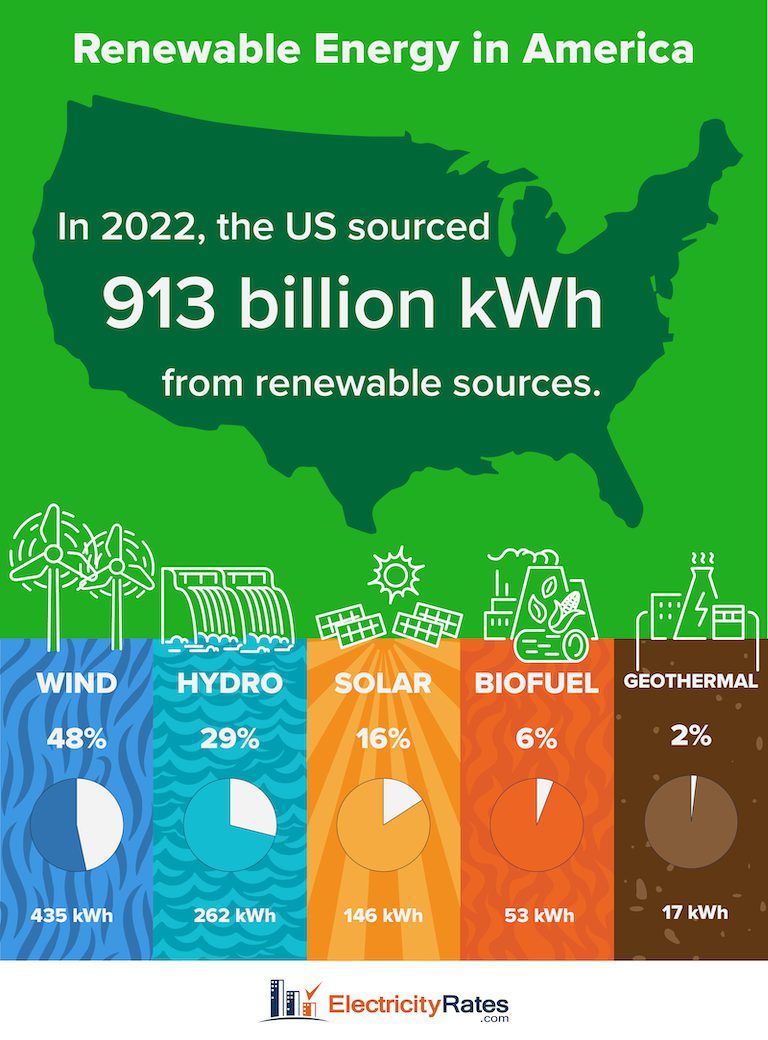 Source: U.S. Energy Information Administration
Learn More About Choosing An Electricity Plan In Texas
If you want to learn more about choosing an electricity plan in Texas, check out our comprehensive page about Texas electricity rates. There you can find information on everything about Texas electricity, including info on the importance of understanding your electricity usage and the types of electricity plans available, so you can be confident in your choice.
Texas Renewable Energy Questions
What's the difference between renewable energy and regular plans?

With a renewable energy plan, your electricity provider offsets your energy usage by purchasing renewable energy credits (REC"s) on your behalf ensuring that more renewable energy is produced and enters the electrical grid.

Do I need to install any equipment when I sign up for renewable energy?

No equipment is required when you sign up for a renewable energy plan. Your electricity is still delivered reliably by your local utility company in Texas. 100% renewable energy plans are a great alternative for you if you want to support the environment but installing solar panels is prohibitive.

How can I tell if a plan is 100% renewable?

All Texas electricity rates come with an Electricity Facts Label (EFL) which includes a plan's renewable contents. On ElectricityRates.com, we also highlight whether or not a plan is 100% renewable in the plan details section for all plans and also allow you to filter plans to only see renewable options.

Are renewable electricity plans in Texas more expensive?

Historically speaking, renewable plans have been slightly more expensive than standard plans. However, there are many renewable plans that are competitive with, if not cheaper than most standard electricity plans due to the proliferation of renewable energy generation in Texas.