Texas, once synonymous with fossil fuels, is currently experiencing a renewable energy boom. Fueled in part by the lower costs of renewables, the state produced 28% of all wind energy in the US in 2019, and its solar sector is growing fast alongside it. Today, Texans can take advantage of the lower costs of renewables with renewable energy plans.
These plans, which once cost a premium, are now price-competitive with regular electricity plans. On top of that, renewable plans increase renewable energy demand and help support the clean energy transition.
Shop 100% Renewable Energy Plans In Texas
Find your Texas utility below to see 100% renewable energy plans in your area. Switching is easy and only takes a few minutes with no expensive equipment or service interruption required.
Top Renewable Energy Companies In Texas
In Texas, there are many electricity providers that offer renewable energy plans. While not all of the following exclusively sell renewable plans, they all offer these plans at competitive rates.
ElectricityRates.com understands that choosing between so many companies can quickly become overwhelming. That's why providers featured on our site are vetted, so we can help you find the best electricity plans and services available.
How Renewable Energy Electric Plans Work In Texas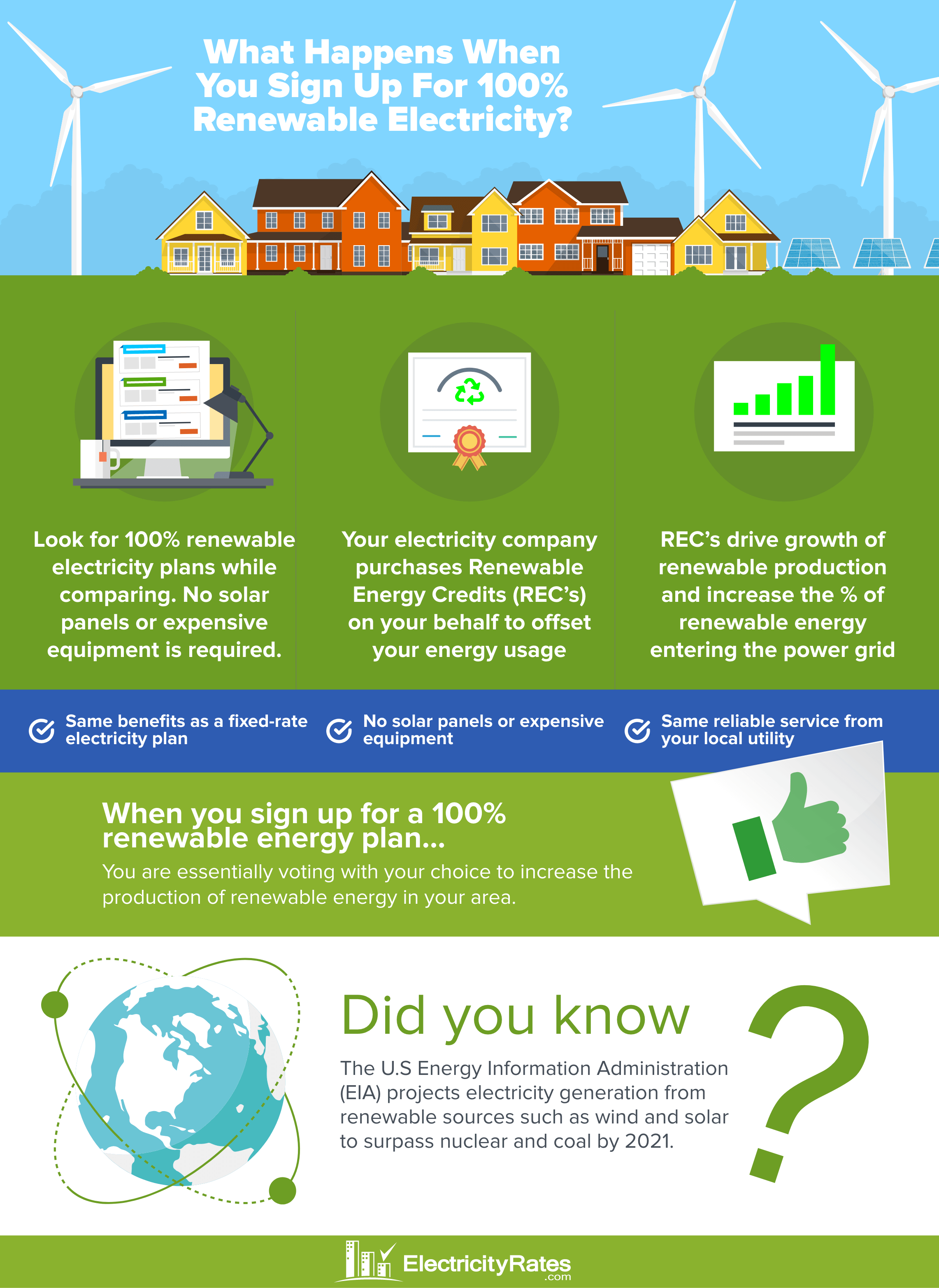 Put simply, a renewable energy plan ensures that no matter how much electricity you use in a month, an equal amount of electricity generated from renewable sources entered the electric grid.
For example, if you use 1,150 kWh of electricity on a renewable plan, you pay for 1,150 kWh of renewable electricity that has already entered the electric grid. The money you spend on your electricity supply directly supports renewable energy generators and things called renewable energy credits (RECs) keep track of this whole process.
Having a renewable energy plan does not mean that your home only uses renewable electricity. When renewable electricity is generated into transmission wires, it gets jumbled up with all the electricity from other sources, including fossil fuels. This is why we need renewable energy credits to track the renewable energy entering the grid.
How Renewable Energy Credits (RECs) Work
A renewable energy credit is created when a renewable energy generator (i.e. a wind farm, solar farm, etc.) generates 1,000 kWh of electricity that enters the electric grid. This renewable energy generator can then sell this REC to support its business.
Each REC is unique. It has its own ID number and other information about where it was generated and its source. This allows us to track how much and what type of renewable energy enters the electric grid.
When you have a renewable energy plan, you essentially purchase these RECs through your electricity provider, and in turn, support the renewable energy generator.
Texas's Green Boom
Over the past 10 years, renewable energy has exploded in Texas. Wind energy has primarily driven this boom, with it almost making up 30% of Texas's electricity generation in April of 2020. However, Texas's solar energy capacity is quickly gaining ground as well.
There are three reasons for Texas's renewable energy boom:
Large areas of land that receive considerable sunlight and wind.
Costs of building solar and wind farms have dropped considerably.
Robust transmission lines that go out to the western half of the state where solar and wind farms are built.
With a renewable energy plan, you can be a part of this renewable energy boom and the transition to clean energy. But you don't have to stop there. Texans have other ways that they can support green energy. For instance, Texas has environmental organizations that you can support or become a part of if you want to do more.
Learn More About Choosing An Electricity Plan In Texas
If you want to learn more about choosing an electricity plan in Texas, check out our comprehensive page about Texas electricity rates. There you can find information on everything about Texas electricity, including info on the importance of understanding your electricity usage and the types of electricity plans available, so you can be confident in your choice.
Texas Renewable Energy Questions