Illinois Electricity Rates
Illinois currently ranks 18th in terms of having the highest average electricity price for residents in the United States according to an Energy Information Report released in October 2015.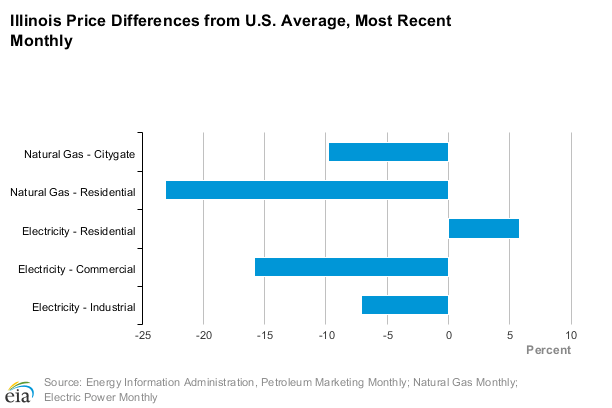 Illinois Electric Choice
Residential customers have been able to participate in electric choice and compare Illinois electricity rates since 2002, but major competition didn't come about until 2007 when the deregulation transition was finalized. Since then, retail electricity providers (also known in Illinois as 'alternative retail electric suppliers' or 'ARES') have been gaining customer by offering rates much lower than the default utilities.
Public Utilities in Illinois
Illinois natrual gas and electric utilities include:
The Illinois Commerce Commission monitors and regulates all public utilities in Illinois.
Electricity Providers in Illinois
With electricity deregulation in Illinois, there are a number of electricity providers for Ameren and Commonwealth Edison. These providers allow for you to compare Illinois electricity rates and compete over the supply rate on your electric bil. This can lead to lower supplier rates for you. Be sure to go to our IL electricity providers page to see which suppliers you currently can select from.
Compare Illinois Electricity Rates
The most important thing to consider when selecting a retail electricity provider is rate pricing. You'll want to find a retail electricity provider that offers a lower rate than what you are currently paying, which is referred to as the "Price-to-Compare" and can be found on your utility bill. This rate is expressed in cents per kWh. Keep in mind, even a slight difference can result in large cost savings.
There are other factors that you will want to consider before switching:
Variable v. Fixed Pricing – Variable pricing can vary by day or month, is based on the market price for the retail electricity provider, and can be very unpredictable. With fixed pricing, customers can pay one low rate that will never change until the contract expires.
Length of the Contract – Contract terms can last for as little as one month or as long as 36 months. Shorter contracts may offer lower rates, but longer contracts lock in low rates for long periods and reduce the risk of high rates when if contract expires. The ICC recommends choosing a 12- or 24-month contract to avoid risk.
Other Switching Incentives –Some providers offer sign-up bonuses, rewards programs, guaranteed savings, and more.
Green/Renewable Electricity – Looking to be more environmentally conscious? Many providers offer partial or 100% renewable electricity options as well as Renewable Energy Certificates (RECs) to residents and small businesses. While the rates are higher than traditional electric sources, the availability of renewable electricity has driven costs down and can often be found for less than the utility's Price-to-Compare for traditional electricity. 
To help you find the best retail electricity provider for your electricity needs, ElectricityRates.com has a FREE Compare & Switch tool, located on the right side of this page. With the tool, you can view the best plans from top electric providers available in your area. Simply type in your zip code to view a list.
How To Switch Electricity Providers in IL
Switching electricity providers is easy. Once you've decided on the contract and provider that's right for you, simply continue the sign up process by clicking on the electricity provider and plan. Then you will be all set after filling out your contact and electricity account information. Once you've switched, it will take one to two billing cycles to start seeing new rates on your electric bill.
When customers switch, the utility still delivers the electricity, sends electric bills, and maintains wires, poles, and other infrastructure. No matter who supplies the electricity, the reliability of service will not change.