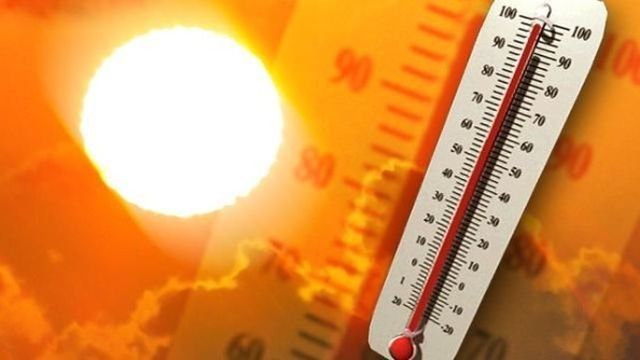 Advertiser Disclosure: At ElectricityRates.com, our number one goal is to help you make better energy decisions. We adhere to strict editorial guidelines, however this post may include references to products offered from our partners.
According to EIA's short-term energy outlook, the average US household will spend $426 on electricity this summer, up 3% over last year.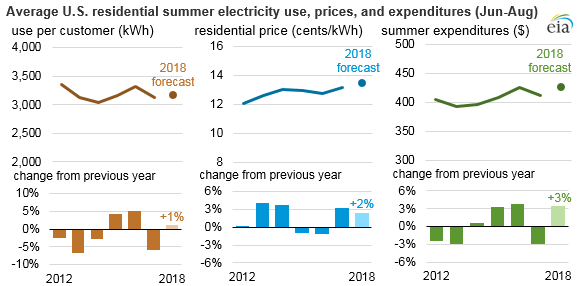 The projected increase is due to higher average electricity rates across the country and a projected warmer summer in 2018.
In most parts of the country, residential electricity usage peaks during the summer months of June, July, and August, when households are using air conditioning to cool their homes.
Based on projections from the National Oceanic and Atmospheric Administration (NOAA), EIA expects cooling degree daysduring the months of June through August 2018 to total about 2% more than during the relatively mild summer of 2017.
However, NOAA expects cooling degree days in summer 2018 to be about 1% fewer than the average of the previous 10 summers.
According to EIA, U.S. residential electricity customer will use about 1% more electricity this summer to cool their homes. NOAA forecasts summer temperatures to be warmer throughout the eastern area of the country, while the western states are expected to experience milder summer weather than last year.
Summer-over-summer changes in average household electricity usage range from 6% less electricity use in the Pacific states to 5% more electricity use in the New England states. Cities including Boston, New York City, Baltimore, and Philadelphia are projected to see the biggest increase in temperatures.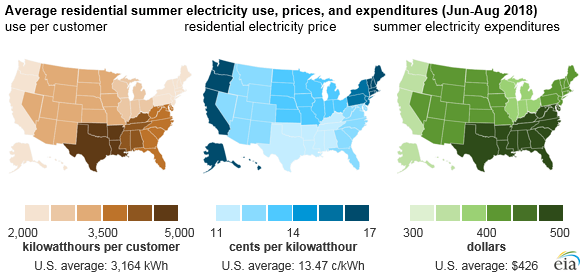 Electricity rates are expected to be higher this summer across the country. EIA is forecasting a 2% increase over last summer bringing the average US electricity rate to 13.5 cents per kWh between June and August 2018. The increase is due to higher fuel costs and utilities investing in infrastructure.
The good news? If you live in a deregulated electricity state you can shop electricity rates now and lock in a lower rate before warmer summer temperatures hit. Simply enter your ZIP Code and see what rates are available in your area. Switching is easy,100% free, and can be done in a few minutes. To compare the rates in your area, enter your ZIP Code here.