WMECO Electricity Rates
WMECo Has been rebranded as Eversource. Click here to learn more about Eversource Massachusetts.
As aWestern Massachusetts Electric Company customer, you have the ability to switch off your utility to a lower 3rd party rate. This can instantly save you money on your electricity bill and is 100% free to do so. Here are some of the top rates available to WMECO customers.
Best Electricity Rates
Provider
Plan Name
Length
Rate Per kWh
Sign Up
Clearview Energy

Clear Guarantee 12

12 Mo.
13.59¢

Save 39%

Select
SmartEnergy

Green 12 Month Fixed Rate

12 Mo.
13.8¢

Save 38%

Select
Constellation

36 Month Home Power Plan

36 Mo.
14.29¢

Save 35%

Select
Constellation

36 Month PowerPlug Plan

36 Mo.
14.79¢

Save 33%

Select
Constellation

24 Month Green Home Power Plan

24 Mo.
14.99¢

Save 32%

Select
Plan
Rate Per kWh
Clearview Energy


Clear Guarantee 12


12 Months
13.59¢
Select
SmartEnergy


Green 12 Month Fixed Rate


12 Months
13.8¢
Select
Constellation


36 Month Home Power Plan


36 Months
14.29¢
Select
Constellation


36 Month PowerPlug Plan


36 Months
14.79¢
Select
Constellation


24 Month Green Home Power Plan


24 Months
14.99¢
Select
100% Renewable Sources

Smart Home System Included
WMECO History
The history of the Western Massachusetts Electric Company goes back to the 1886 formation of the Greenfield Electric Light & Power Company. WMECO continued to grow through 1966 by merging with Connecticut Light & Power to form Northeast Utilities. In 2015 WMECO was re-branded with NSTAR and Connecticut Light and Power as Eversource Energy.


Eversource Energy customers are able to shop for retail electricity providers in order to lower the supply rate on their bill. If you do decide to switch electricity providers, your electricity will continue to be delivered and serviced with the same reliability by Eversource Energy (WMECO), which is regulated by the Massachusetts Department of Public Utilities (DPU).
WMECO Service Area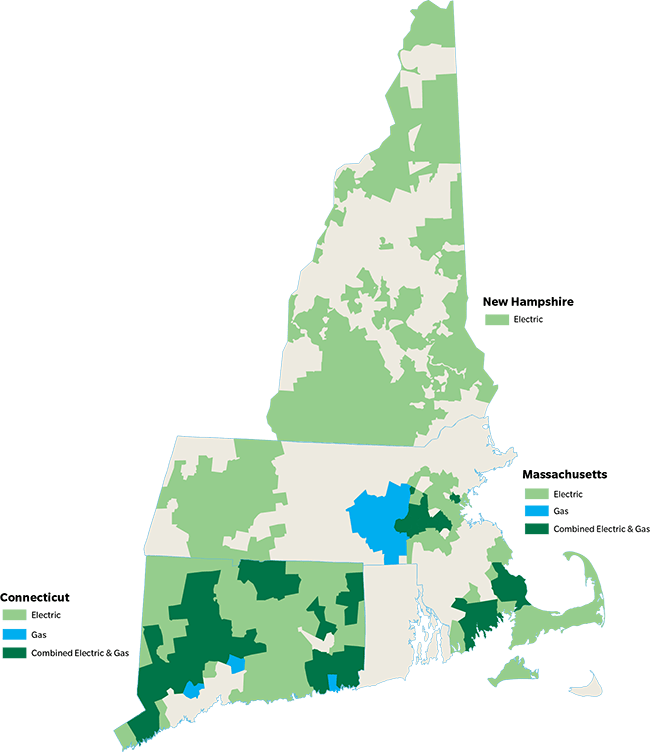 Source: Eversource Energy
WMECO's service area covers 3,192 miles and 140 towns in MA including:
Service Areas
Ashfield
Greenfield
Long Meadow
Easthampton
Windsor
Conway
Pittsfield
Lanesboro
WMECO Electricity Rates
Competition forces retail electricity providers to offer the lowest rates possible to WMECO customers. This allows for individuals to save on their WMECO electric bill. Eversource Energy electricity providers also try to make their electric plans different by offering different terms and options such as renewable electricity plans. With all of these providers and options, customers have more control over their electric bill and a bigger selection of rates and providers than ever before.
Switching WMECO Energy Electricity Providers
When switching electricity providers, all you need is your contact and Eversource Energy account information which can be found on your electric bill. To compare Eversource Energy (WMECO) providers and plan with your current supply rate, type your ZIP Code into our compare and switch tool, at the top of this page. You will then see top providers and rates for your area. After you find a plan that works for you, click select and start filling out the contact and account information to complete your enrollment.
Your new provider will contact Eversource Energy directly so there is no need to call your utility. Typically, it takes one to two billing cycles to see your new provider on your WMECO electric bill.
As noted before Eversource Energy (WMECO) will continue to deliver electricity, send your bill, and maintain all the wires and poles that deliver the electricity. Delivery and transmission rates will not change if you switch to a retail electricity provider.
WMECO Contact Information
For billing inquiries or support please contact Eversource Energy (WMECO) directly:
Eversource Energy (WMECO)