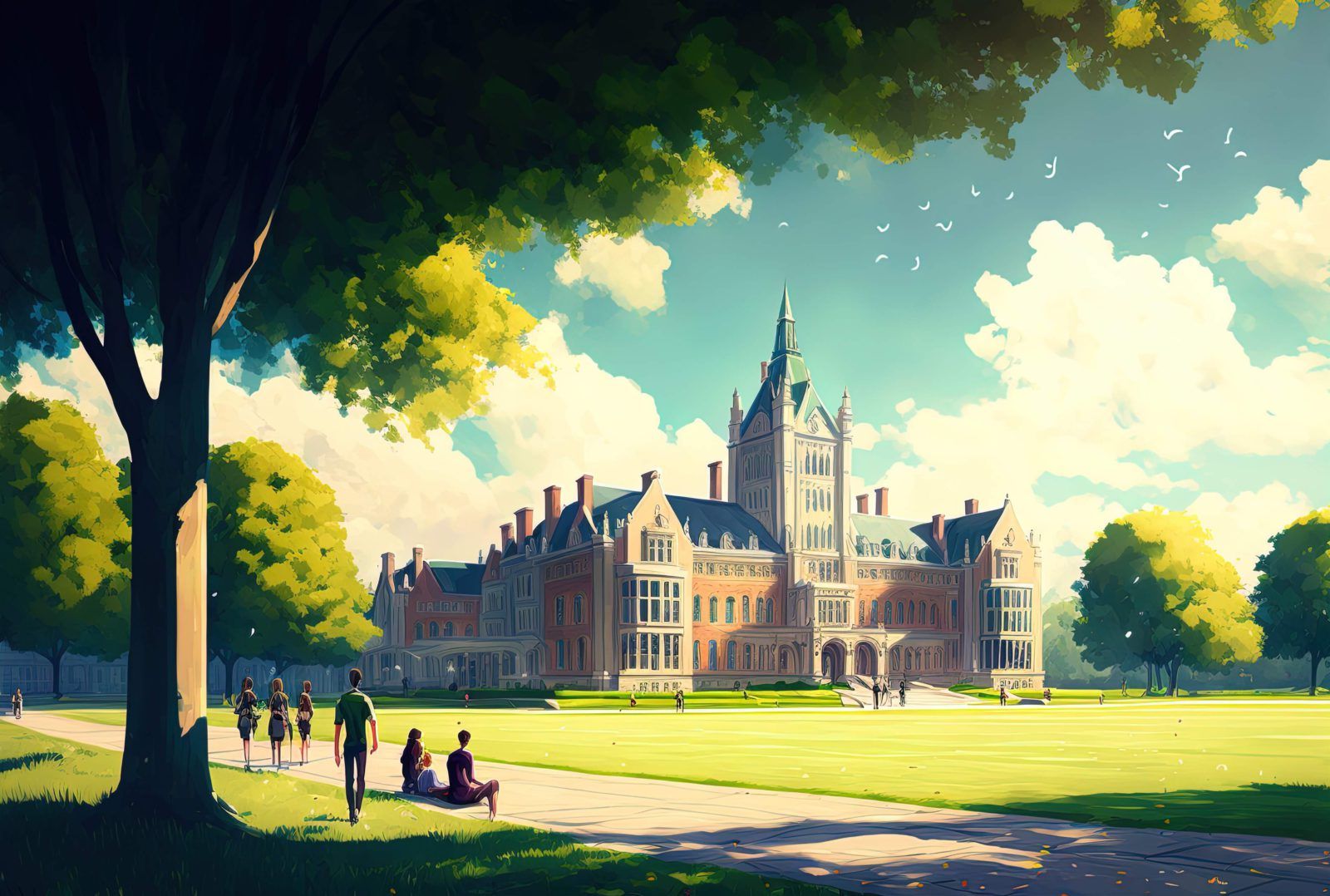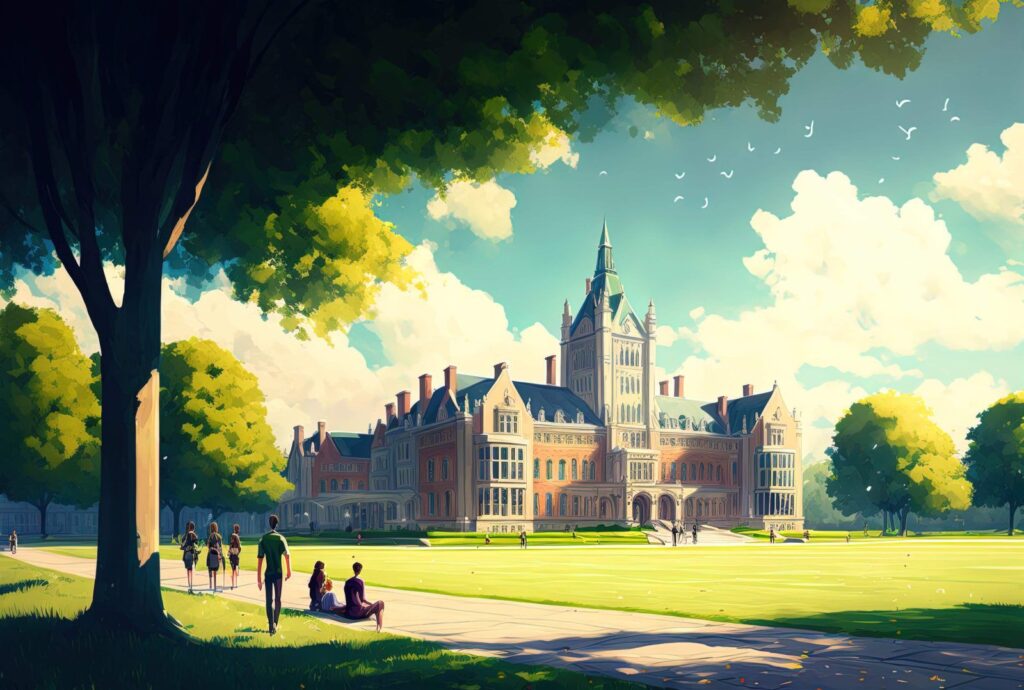 Advertiser Disclosure: At ElectricityRates.com, our number one goal is to help you make better energy decisions. We adhere to strict editorial guidelines, however this post may include references to products offered from our partners.
Are you searching for the most environmentally sustainable colleges? This blog post will explore the top 5 greenest universities, including their eco-friendly initiatives and projects. We are also covering the rating system used to compare green schools.
What Makes A Green University?
In today's world, more and more young people are mindful of the importance of caring for our planet. And that's a great thing!
Aware of this, higher learning organizations ranging from community colleges to research universities seek to become more environmentally sustainable.
But what makes a "green college" actually green?
A 'green university' integrates eco-friendly practices into its operations, infrastructure, and educational programs. Eco-friendly colleges are on a mission to minimize their environmental impact and promote a greener future.
The importance of green universities cannot be overstated. They set an example for other organizations and inspire the next generation of students to embrace environmentally conscious practices.
What Are Common Types Of Green College Programs?
Popular categories of environmentally-friendly university projects include:
Renewable energy programs: Green institutions reduce reliance on fossil fuels and lower their carbon footprint by installing solar panels, wind turbines, and other clean energy sources.
Waste management: Green campuses prioritize recycling and composting bins and programs to minimize waste and divert it from landfills.
Sustainable food options: Many green universities offer locally sourced, organic food in their dining halls. This supports the local economy and reduces transportation emissions.
Green transportation: Encouraging bicycles, electric vehicles, and public transportation reduces greenhouse gas pollution and traffic congestion around campus. Some campuses are even switching to EV buses powered by solar energy.
In the past year, numerous green university initiatives have made headlines, showcasing the dedication of these institutions to environmental responsibility.
National Collegiate Environmental Programs
A growing number of educational institutions are joining the green movement. Here are some exciting projects students and faculty have launched across the country.
Arizona State University's Solar Project Expansion: In 2021, the university expanded its solar portfolio by adding 2.1 MW of solar capacity across four campuses, bringing its total up to 53 MW. Or enough to power over 25,000 Arizona homes. This expansion offsets approximately 21,000 metric tons of CO2 emissions annually.
Harvard University's Climate Action Plan: Harvard announced that it aims to be fossil fuel neutral by 2026. And fossil fuel-free by 2050. The university is also investing in renewable energy projects and implementing energy efficiency measures across campus to reduce its carbon footprint.
University of California's Single-Use Plastic Ban: The University of California system approved a policy to phase out single-use plastics across all ten campuses by the end of 2023. This initiative includes eliminating plastic bags, utensils, and food service items, encouraging reusable alternatives, and reducing waste.
Princeton University's Electric Vehicle Transition: Princeton plans to transition its entire campus fleet of buses to electric. The university is also installing EV charging stations across campus as part of its mission to reach net-zero emissions by 2046.
These projects demonstrate how green colleges and universities are taking bold steps to protect the environment and promote awareness about sustainability.
The STAR System For Rating Green Colleges
There are a few rating systems used to compare green schools. This includes QS World University Rankings, The Princeton Review Green Rating, and the STAR rating system. The STAR rating system is the most recognized system for comparing green universities. STAR stands for Sustainable Transformation Assessment Rating.
This rating system considers factors such as energy consumption, waste management, renewable energy, green architecture, and student engagement. It also examines the number of green initiatives and projects each school has implemented.
Schools are then rated on a scale from reporter to bronze to silver to gold to platinum. This rating system lets you easily see which schools lead the way in environmental sustainability. We reviewed multiple rating systems and reports to find the most sustainable colleges, so you can rest assured you're getting the complete picture.
Top 5 Greenest Universities: Noteworthy Initiatives, Projects, And Other Eco-friendly Facts
When it comes to green universities, a few stand out from the rest. The top five are Stanford, Arizona State University, University of California at Berkeley, Colorado State, and University of Connecticut.
Each of these universities earned a platinum STAR rating, which only 12 out of the 1153 registered institutions achieved. They all have impressive initiatives and projects forging the path for large-scale sustainable development in higher education.
Stanford University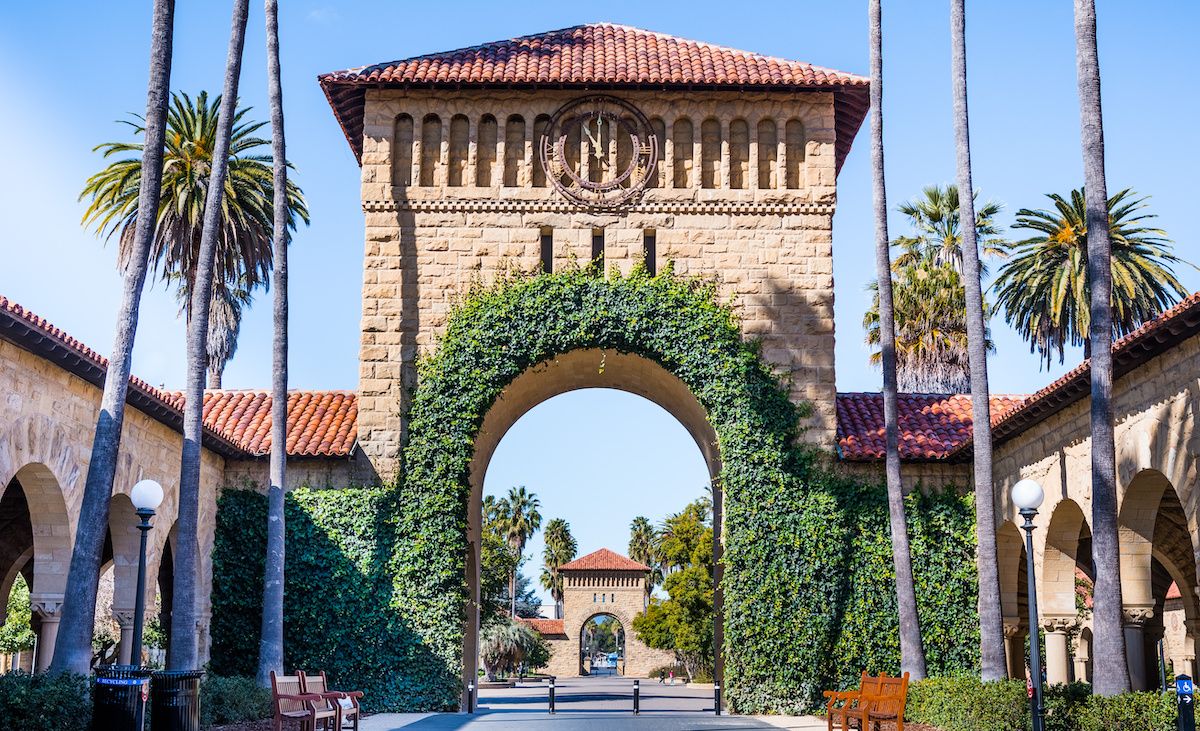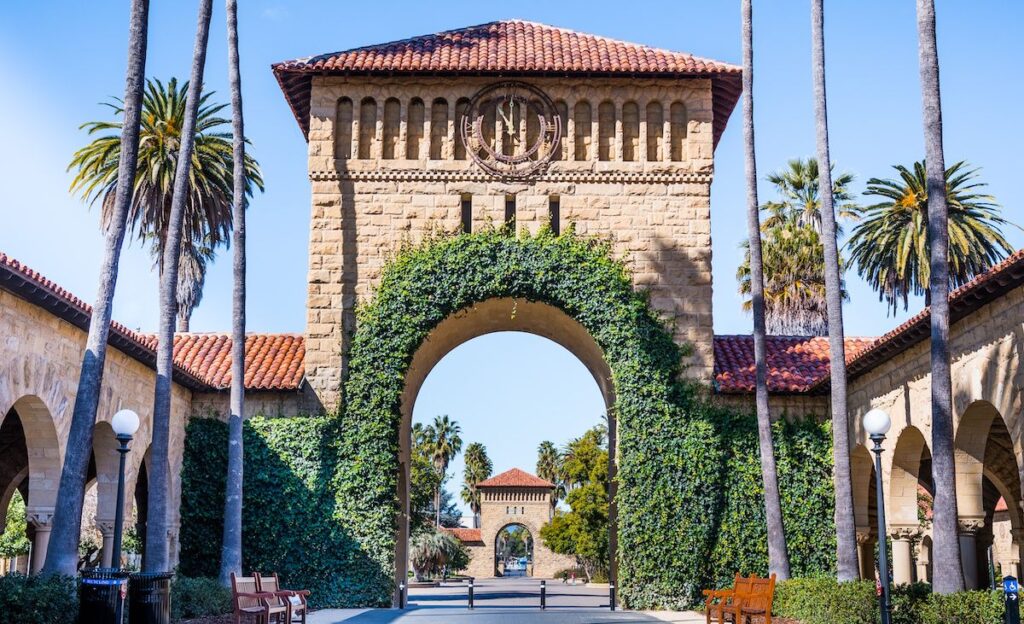 Stanford University has implemented many energy-saving measures, such as LED lighting and solar panels. They also created the Stanford Energy System Innovations (SESI) and the Stanford Energy Storage and Integration Project (SEIP).
Stanford has strong campus sustainability goals. Already generating 100% of the campus' electricity from renewable sources. Stanford is committed to lowering greenhouse gas emissions to 80% below peak levels by 2025. They also have clearly defined goals for reducing campus water use and waste.
In September 2022, Stanford even founded a brand new school of sustainability – The Doerr School of Sustainability. For more than 70 years, they had not inaugurated a new school. They are on a mission to hire dozens of new faculty in critical areas of research, including climate science, energy, and environmental justice. Stanford is developing new academic departments and degree programs where students can develop their passions for sustainability. They also offer accelerator grants and invest in seed funding for eco-focused tech.
Arizona State University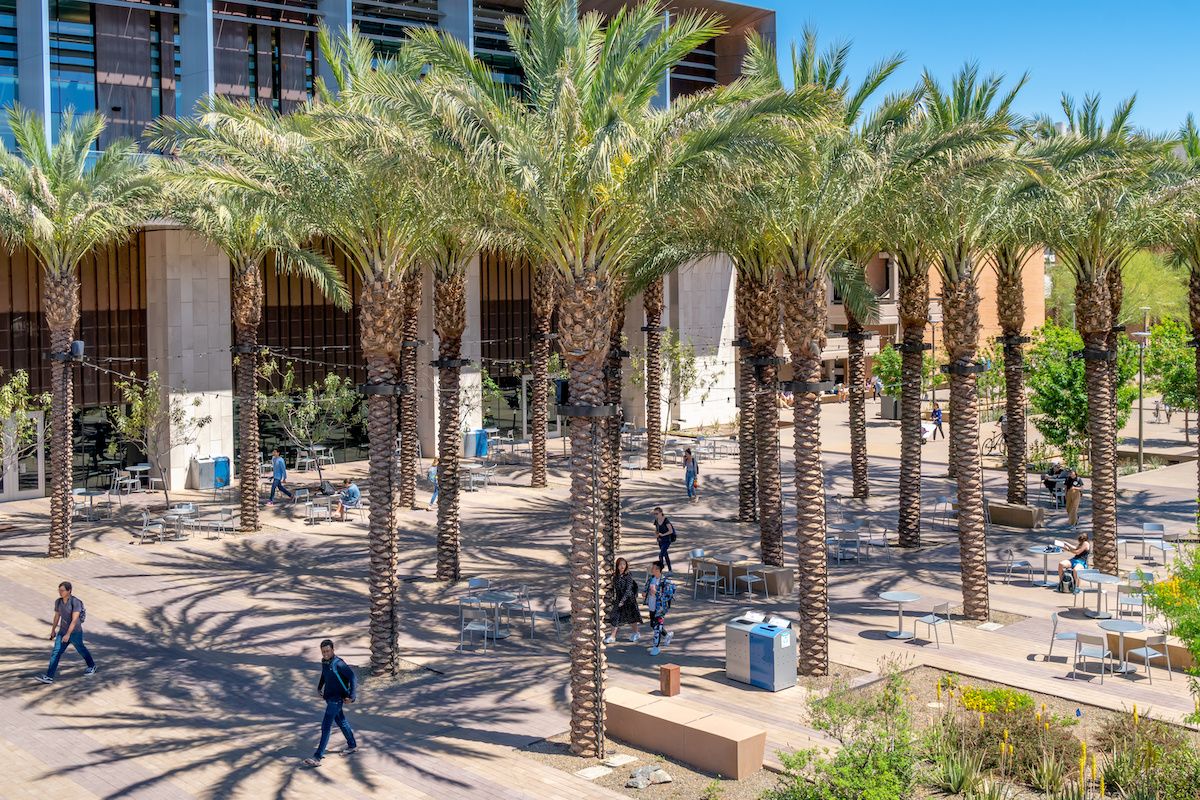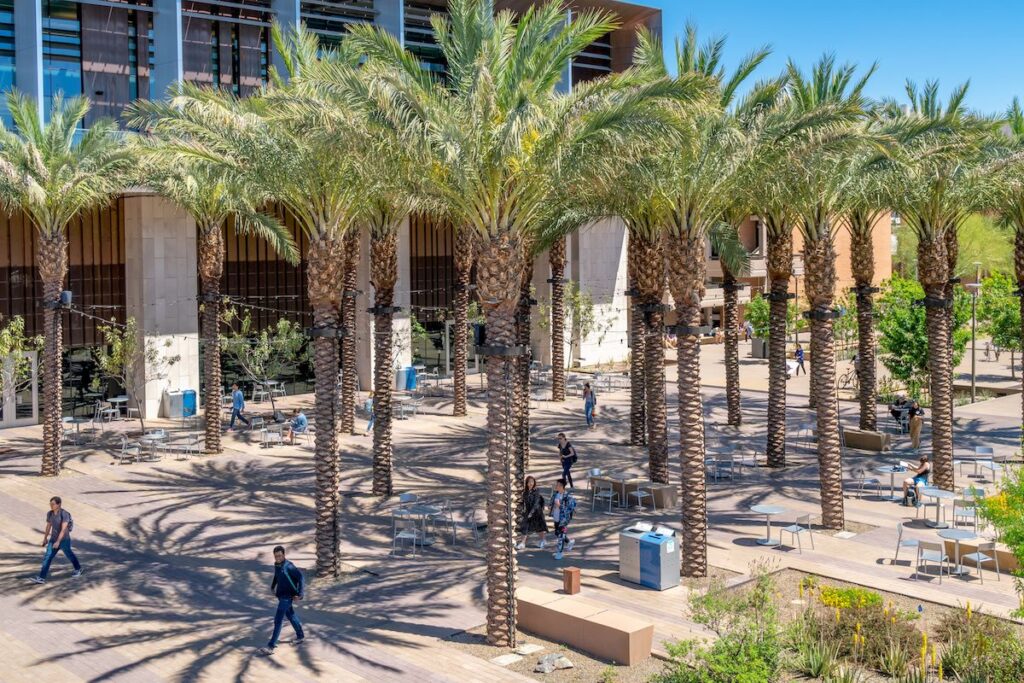 In addition to the examples mentioned above, Arizona State University is a trailblazer regarding environmental programs. ASU hosted many sustainability summits, such as last year's Arizona Food Summit. They bring faculty, students, policymakers, and the community together to discuss food sustainability.
ASU is committed to leading the world by example with the following sustainability goals:
1. Circular Resource System: Promote Zero Waste by maximizing the product's lifecycle before re-entering them into use.
2. Climate Positive: Working towards a net positive impact on the climate.
3. Collaborative Action: Designing and implementing enterprise sustainability solutions require cross-departmental efforts and an interdisciplinary approach.
4. Community Success: Integrating justice, equity, diversity and inclusion principles throughout ASU practices.
5. Food Reconnection: Fostering a more vital awareness of the food cycle, its sources, and its impacts on our planet and educating about plant-forward diets.
6. Optimizing Water: We must aim to use the appropriate quantity and quality of water for clear purposes and at the optimal time.
7. Personal Action: ASU seeks to engage its students, faculty, and staff to focus on their individual energy and carbon habits and their impact.
8. Climate Resilience: Sustaining university growth in the face of climate change.
The University of California at Berkeley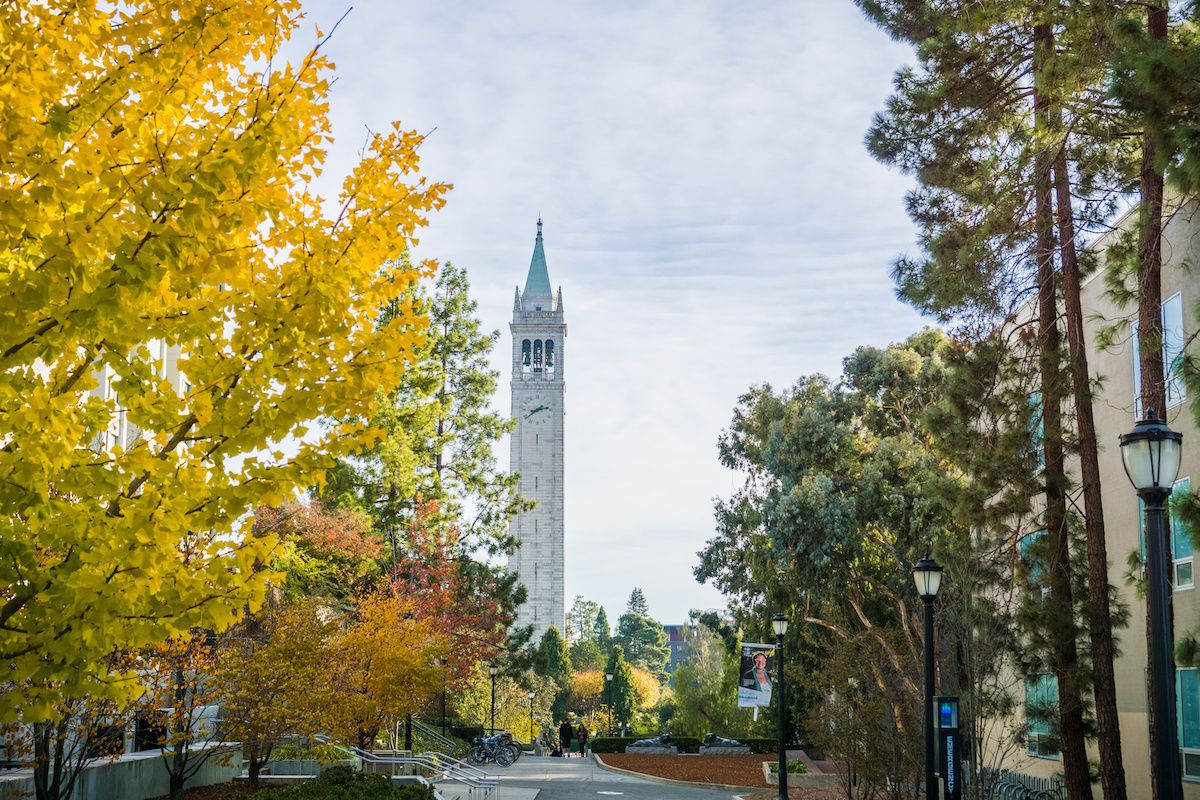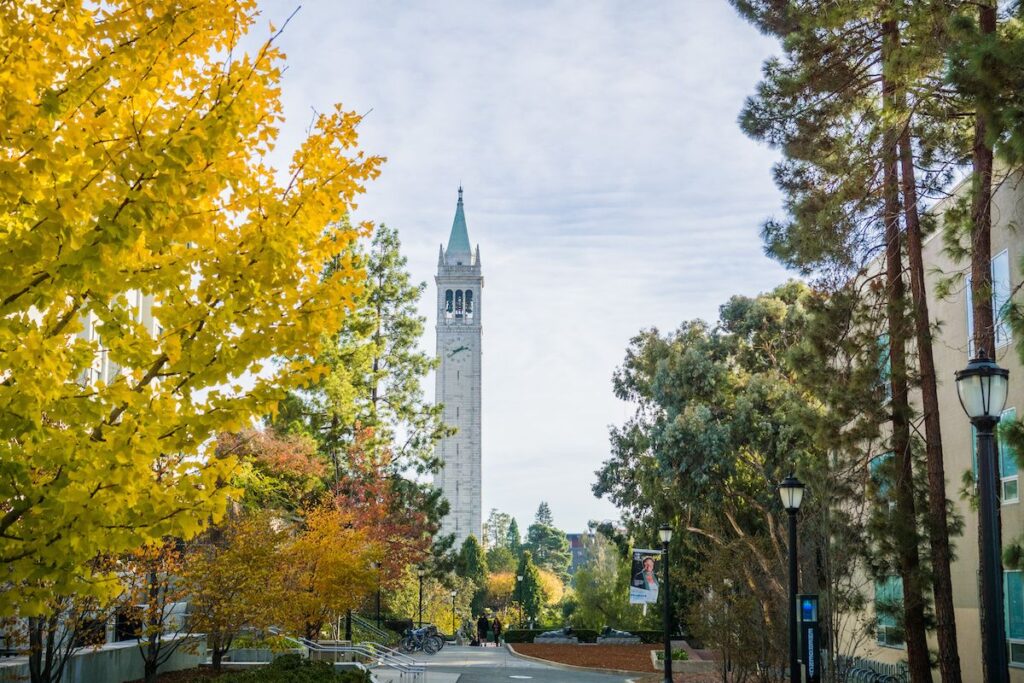 UC Berkeley has been an incubator for sustainable development for decades. Their 2009 Climate Action Plan was a comprehensive plan to educate students on waste management and mitigate campus greenhouse gas emissions. Despite large campus growth, they have successfully reduced carbon emissions to pre-1990 levels.
Then in 2021, UC Berkley looked for more extensive sustainability initiatives with the New UC Berkeley Sustainability Plan. The Plan describes Berkley's commitment to five
core areas: Climate & Resiliency, Built & Natural Environment, Sustainable Services, Health & Sustainability, and Culture & Learning. It outlines steps to meet emission reduction goals and STARS Platinum criteria.
The University of California at Berkley also has the TGIF. No, not the restaurant. The Green Initiative Fund is UC Berkeley's Campus Green Fund. TGIF provides grants for UC Berkeley projects that support campus sustainability efforts, including sustainable transportation, energy & water efficiency, habitat restoration, environmental & food justice, and waste reduction. The fund also funds education outreach, student financial aid, and internships.
Colorado State University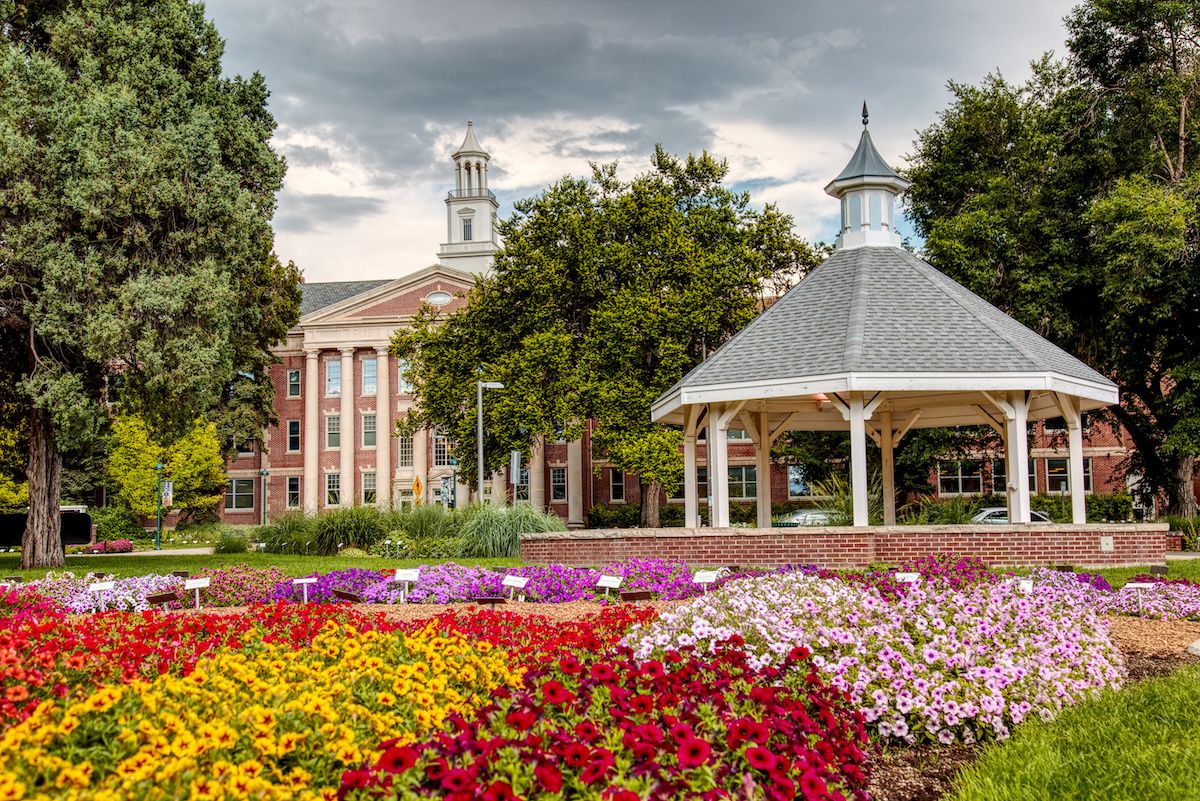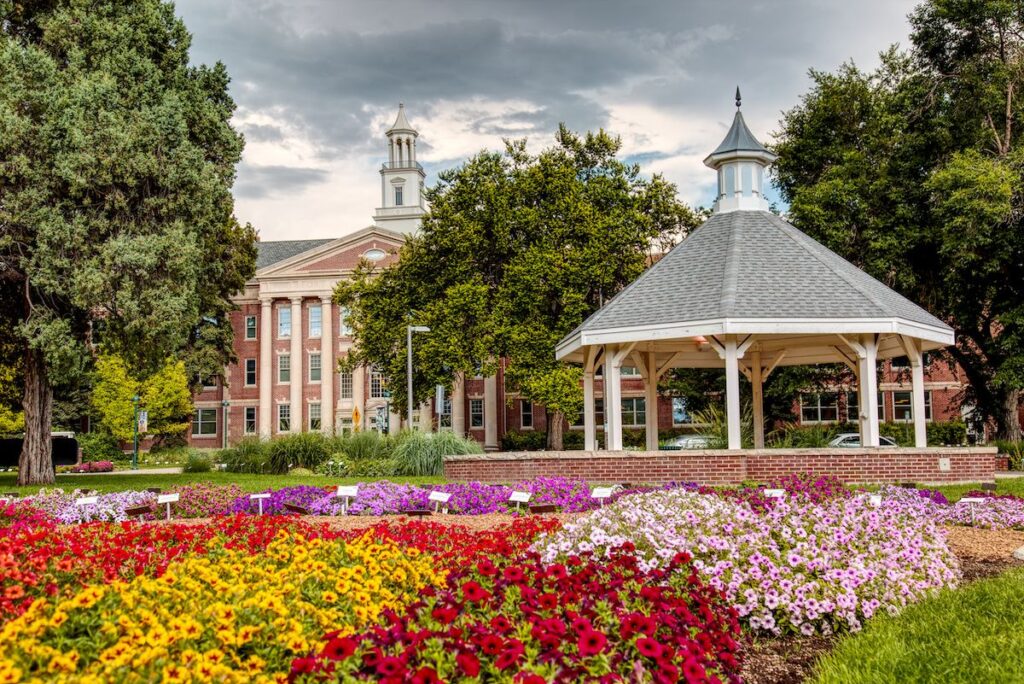 Colorado State University also has a rich history of environmental action and research. They were the first institution in the world to earn a platinum STAR rating. And in 2008, they opened The School of Global Environmental Sustainability. This new school develops student courses and invests in new research focused on sustainability.
CSU adopted its first Climate Action Plan (CAP) in 2010, intending to achieve carbon neutrality by 2050. In 2021 CSU updated this goal to achieve climate neutrality by 2040. CSU also has a plan to utilize 100% renewable electricity by 2030.
The three most significant strategies actioned by CSU to reduce emissions are:
1. Increasing the energy efficiency of both existing and new campus buildings.
2. Boost renewable electricity generated on CSU campuses and purchased from renewable utility providers.
3. Implement beneficial electrification projects. Convert the district heating system from steam to hot water, which uses less energy.
The University of Connecticut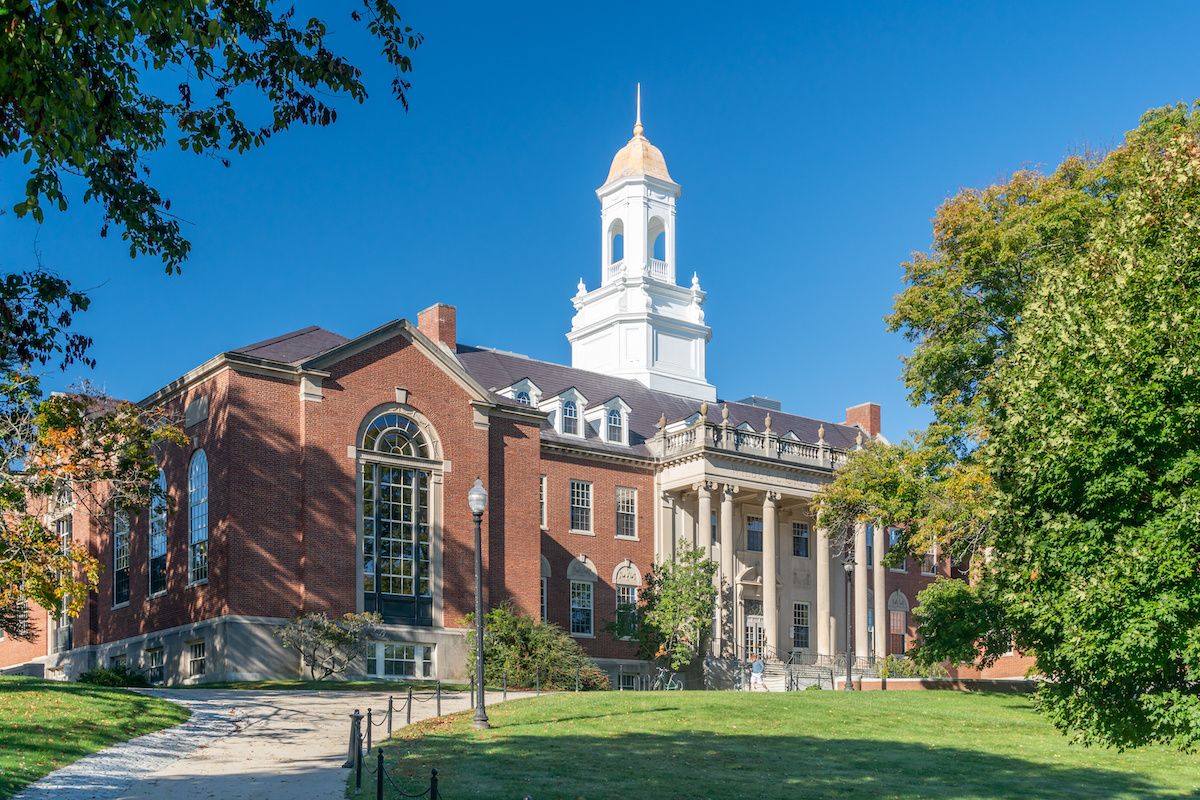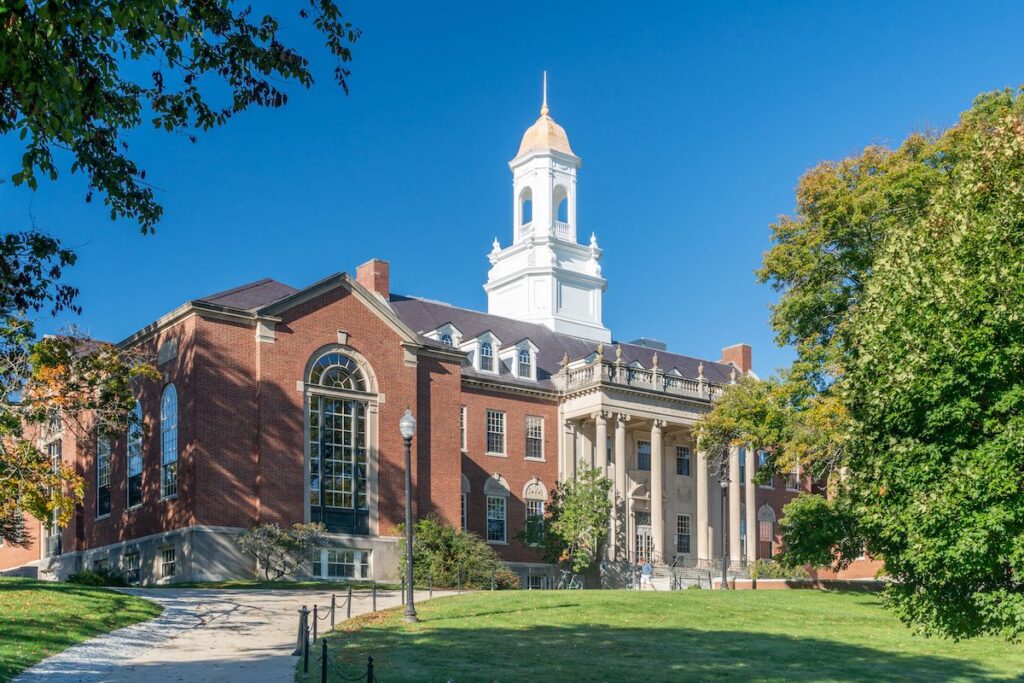 1,000 Huskies led a climate strike on campus in 2019, demanding the institution take faster climate action. Talk about dedication, right? The university president Katsouleas responded by forming a climate board of trustees to research and accelerate campus sustainability projects.
UConn also created a Climate Action Plan to reduce carbon emissions and achieve carbon neutrality by 2040. Their newer Sustainability Framework Plan seeks to establish energy use targets and expand on current green projects.
Some initiatives involve transitioning to 100% renewable energy, LED Gold-rated lighting, water reclamation, and Green Restaurant certified dining halls across campus. They have such an extensive carbon offset program that the entire campus is carbon neutral.
Honorable Mentions Of Green Colleges With Strong Sustainability Practices
Emory University
State University of New York College of Environmental Science and Forestry
The University of California at Merced
The University of North Carolina at Chapel Hill
Williams College
Please note that many rating systems rely on self-reporting. Additionally, some survey questions are subjective.
What Can College Students Do To Be More Environmentally Friendly?
College students play a major role in driving green campus initiatives and climate action. Plus, the most significant impact you can have is often right in your own community. Consider joining an eco-friendly campus group or changing your spending habits. Focus on renewable products and avoid single-use plastics.
Join your student government to influence higher education policy. Propose outreach events focused on recycling, energy use, and ethical food sourcing. A growing number of colleges, not just these top green schools, offer eco-focused programs and events. Or you could pursue courses related to conservation, such as marine or environmental science, sustainable agriculture, or renewable energy.
Frequently Asked Questions
What are the top 5 greenest universities?
The top 5 greenest universities are Stanford University, Arizona State University, University of California at Berkeley, Colorado State University, and University of Connecticut.
Why are these universities considered the most sustainable universities?
These universities have implemented several initiatives to reduce their environmental impact. These comprise reducing energy consumption, investing in renewable energy, promoting sustainable transportation, and creating green spaces on campus.
What rating system should be used to compare green universities?
There are a few options, but the STAR green rating system is arguably the most well-known in the United States. STAR stands for Sustainable Transformation Assessment Rating. It compares green universities based on their sustainability initiatives, environmental impact, academics, student engagement, and operations. For this report, we looked at the leading rating systems and data to bring you the absolute best green colleges.
How Can I Reduce My Carbon Footprint – Even If I'm Not In College?
Great question. It's quite simple.
Come back and visit our Energy Choice Resource Center or join our member mailing list for easy ways to save energy and money simultaneously!
We hope this article was informative about the leading environmental projects and programs happening at the top green universities in 2023.