Advertiser Disclosure: At ElectricityRates.com, our number one goal is to help you make better energy decisions. We adhere to strict editorial guidelines, however this post may include references to products offered from our partners.
In March of 2017, renewable electricity generation from utility-scale sources surpassed nuclear generation for the first time since 1984. This is due to both seasonal trends and the growth of renewable energy sources in the last 10 years.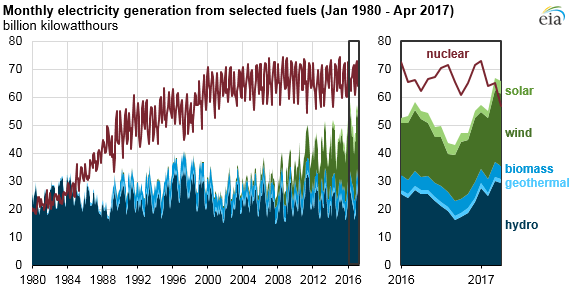 As detailed in the graph above, hydroelectric electricity generation has seen growth and decline in the last 30+ years. However, record wind and solar generation in the last 10 years account for how renewable electricity generation was able to surpass nuclear this past March and April.
While renewable electricity generation is on the raise, seasonal nuclear trends also play a factor. Nuclear plants often schedule maintenance during spring and fall when energy demand is at its lowest and spikes again in the summer and winter. This means that nuclear plants aren't typically at full capacity in the spring and fall.
So, while this is a significant accomplishment for renewables, many sources predict that when they get the data back that nuclear electricity generation will again surpass renewables in the summer of 2017. They also predict that total nuclear electricity generation for 2017 will be higher than renewable generation.
Hydroelectric electricity generation is still the highest electricity producing renewable energy source. Due to technology improvements and climate factors, hydroelectric generation is expected to be 14% higher this year over last year.
Between March 2016 to 2017, wind generation increased 16% while solar generation increased 65%. Nuclear power generation has remained relatively flat for the past 20 years with the retirement of a few plants.
Many are expecting to see this trend continue as more renewable energy projects come online and more nuclear power plants are retired in coming years. For more information on renewable energy, visit our renewable energy page.