When choosing the right electricity provider in Dallas, many tools are at your disposal. One of these potentially helpful tools is Power to Choose, which is available in Dallas and the surrounding area.
Power to Choose is a great resource for comparing electric rates in Texas. However, while their website is a great resource, there might be better tools out there that can be more beneficial.
What is Power to Choose Dallas?
Power to Choose Dallas is the "Dallas" version of the Public Utility Commission of Texas' Power to Choose Tool. It's the same tool used in other parts of the state but specific to Dallas. You can access Power to Choose Dallas by going to the Power to Choose website and entering your ZIP Code. If it's a Dallas ZIP Code, all of the Dallas electricity companies in your area will pop up, and you can then compare power companies, rates, and plans.
Power to Choose Dallas aims to make it as easy as possible to choose your Dallas electricity provider. Power to Choose is a comparison tool to compare top rates and plans in your area. Whether or not the "top" plans are the best is for you to determine. It will not, however, select your electricity plan for you, which is what some other comparison tools do.
How Does Electricity Get to Your Home?
The power to choose is also a concept and an idea. The power to choose in Dallas refers to the fact that you can select your electricity plan and provider. You have this ability because Dallas has a deregulated energy market, meaning that gas and electricity are commodities bought and sold. Here's a quick rundown of how it works.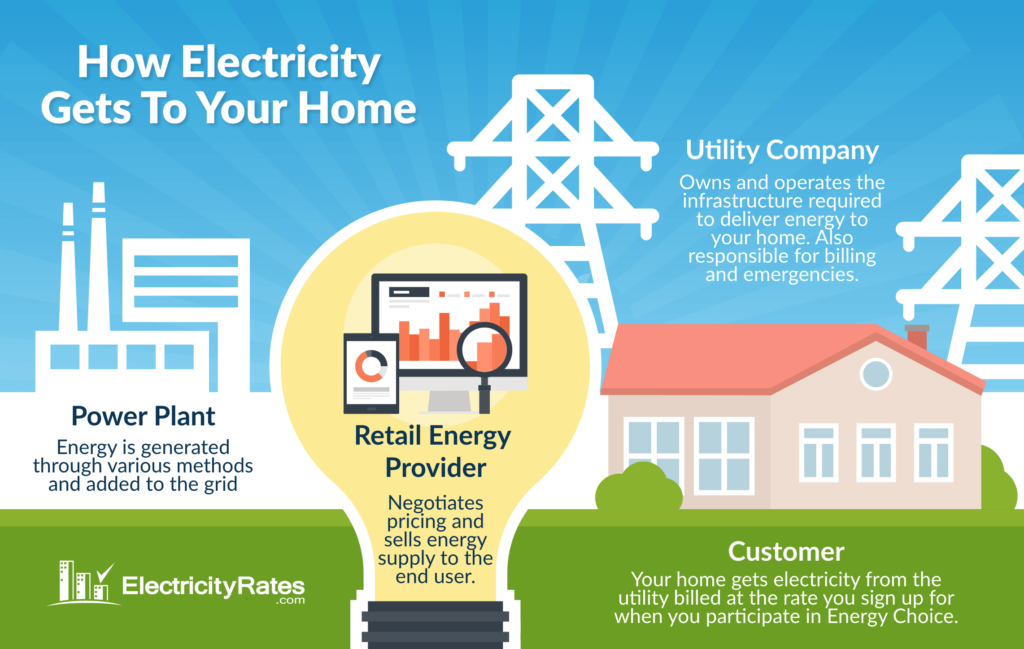 Electricity gets created by power-generating plants in Dallas. They do this by taking fossil fuels or renewable resources and converting them into electricity.
These power-generating plants then sell the electricity they've just created to retail electric providers (REPs).
REPs purchase electricity at wholesale value and resell it to homes and businesses throughout Dallas at retail value.
While REPs buy and sell Dallas electricity, they don't actually physically pick it up and deliver it to your home. Instead, they act as a middleman and work with local Dallas utility companies to that effect.
Your utility company manages the lines, cables, poles, meters, and transformers that take electricity from the power plant to your home or business.
Your REP works with the power-generating plant and utility company to ensure there's no disruption in power and that you get electricity when you need it.
You pay your monthly electric bill to the REP, and they compensate the utility company and power-generating plant for their efforts.
All this is thanks to the power to choose in Dallas. Without it, most of these tasks would be completed by a single company, and you wouldn't be able to choose the best provider and plan for your needs.
How Can Power to Choose in Dallas Help Me?
The fact that you have the power to choose in Dallas is a huge advantage. Before deregulation in 2002, people were forced to enroll in a plan with whatever power company happened to serve their area. This led to overpaying and the inability to choose a plan specific to your needs.
However, while the power to choose is certainly a good thing and has led to a competitive electricity market in Dallas, there's no doubt that it makes it harder to choose your electricity plan. Now, thanks to a flooded electricity market, you have the potential to save money, but it takes hours of research.
That is, unless you enter your ZIP Code into the free rate comparison tool at the top of the page. When you do, ElectricityRates.com will display all of your area's top Dallas electricity plans and companies. From there, you can easily choose the best one for your needs and sign up immediately.
How to Choose the Best Electricity Provider in Dallas
If you're looking for a new electricity provider in Dallas, the best way to compare rates and plans is with ElectricityRates.com. While Power to Choose Dallas is a good option, the website isn't as comprehensive or easy to navigate as our marketplace. We believe you know your electricity needs better than anyone, so we want to provide you with all the details you need to make an informed decision. Here's how the process works.
Our intuitive search engine shops for the best rates based on your exact home address, location, home size, and actual usage.
A list of all the electricity companies in your area will pop up, giving you a personalized list of plans tailored to your home.
You can go through the list of plans and check things such as the listed rate, the tiered rates based on usage, your estimated bill, the REPs reputation, hidden fees, perks and benefits, and anything else you need to know about the plan.
Once you find the plan you like, you can select it and enroll immediately.
There won't be any service interruptions while we switch you from your old plan to the new one.
When choosing the best electricity plan in Dallas, ElectricityRates.com is the way to do it. All you need to do is enter your ZIP Code into the free rate comparison tool at the top of the page to see all the top plans in your area quickly. From there, you can choose the right Dallas REP in minutes rather than hours or days.
ElectricityRates.com Dallas, TX Location
Address: 2919 Commerce St, Dallas, TX 75226
Phone: (972) 585-7858