Compare Eversource Energy (PSNH) Electricity Rates
As a resident of New Hampshire and an Eversource Energy customer, you have the ability to shop and switch to a lower electricity supply rate than what Eversource Energy offers. Below you will find Eversource Energy's "Price to Compare" as well as competing rates available in your area. Switching is 100% free and can be done in just minutes.
Public Service Company of New Hampshire History
Serving more than 400,000 New Hampshire residents and businesses, PSNH is the largest utility in New Hampshire. Founded in 1926, it has since grown to own 3 fossil-fuel plants and 9 hydroelectric plants in the state. They employ more than 1,500 employees and serves nearly of the state of New Hampshire. In 2015, PSNH was acquired and rebranded as Eversource Energy along with Connecticut Power & Light and NStar.
Eversource Energy(PSNH) Service Area
Eversource Energy, formerly PSNH, serves over 70% of the state's geographical areas. These areas include urban cities and suburbs in southern NHand rural northern New Hampshire townships. In total, Eversource Energy serves 211 towns and over 5,600 square miles in NH.
Eversource Energy serves most of the northern region of New Hampshire with service in nearly all towns except Odell, Dixville and Second College.
Most of the capital of Concord, NH is served by Unitil Corporation
Eversource competes with Liberty Utilities for parts of southern and western NH.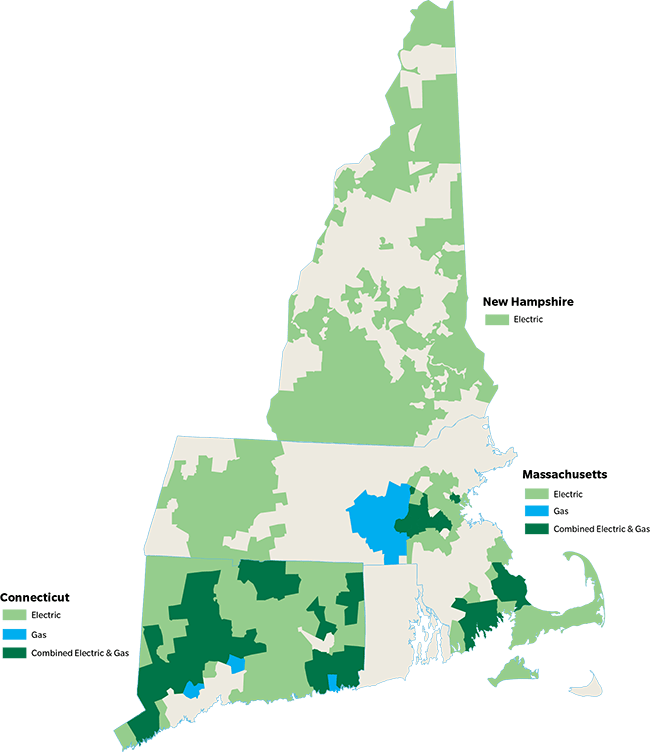 Eversource Energy (PSNH) Rates
After PSNH was forced to restructure in 2002 in order to accommodate energy deregulation, it has since had to compete with retail energy providers moving into the state. Since energy deregulation is still relatively new in New Hampshire, many residents and businesses still are not aware they can shop electricity rates from different providers.
Not only can you potentially find a better rate, but many providers also offer incentives to sign up like gift cards, discounts, and point-based bonus programs. It's important to note that if you do switch to an independent retail energy provider, your energy generation, energy bill and maintenance of electrical wires and poles will still come from Eversource Energy. There will be no change in energy reliability or service interruptions. The only change will be the new supply rate from your chosen provider.
Switching Eversource Energy (PSNH) Rates
At ElectricityRates.com, we make shopping and comparing retail energy provider rates with your current provider's rate easy and fast. All you need to do is plug in your ZIP Code into our shop and compare tool below and you can view all the rates for your area. We also provide you our "Top Pick" rate and our "Best Green" energy plan if you are looking for a renewable energy plan.
Make sure you have your current Eversource Energy bill handy so you can compare rates. Then once you find a better rate, all you need to do is plug in a few bits of information and your current account number and we take care of the rest. We will notify Eversource Energy and your new retail provider of the switch and you will see your new provider rate show up on your energy bill within one to two billing cycles. Remember, the energy bill will still come from Eversource Energy and they will still charge a generation and delivery fee as they do with all customers.