Advertiser Disclosure: At ElectricityRates.com, our number one goal is to help you make better energy decisions. We adhere to strict editorial guidelines, however this post may include references to products offered from our partners.
PPL Electric is a utility that services more than 1.4 million homes and businesses in Pennsylvania. As Pennsylvania is a deregulated state for electricity, if you are a PPL Customer you have the right to choose your provider and an electric supply plan. See below for a step by step guide to see how you can choose a new electric supply rate today:
Step 1.Enter your ZIP Code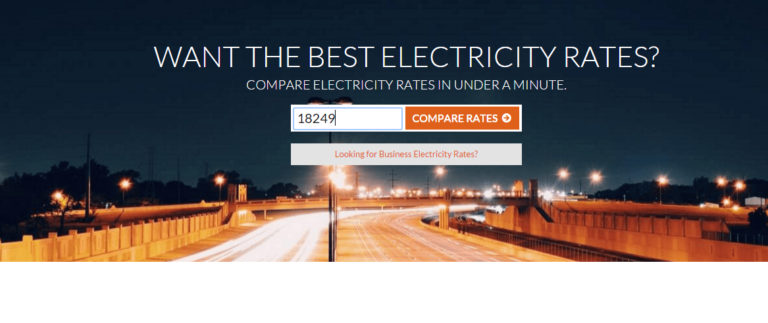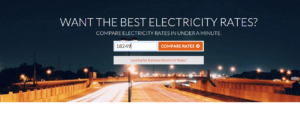 At ElectricityRates.com we try to make this process as simple as possible for you to find a new electricity provider and plan. First all you have to do is enter your ZIP Code. Once that is completed, be sure PPL Electricis selected as your utility and then you should be all set for step 2.
Step 2. Review your Electricity Plan Options and the Price to Compare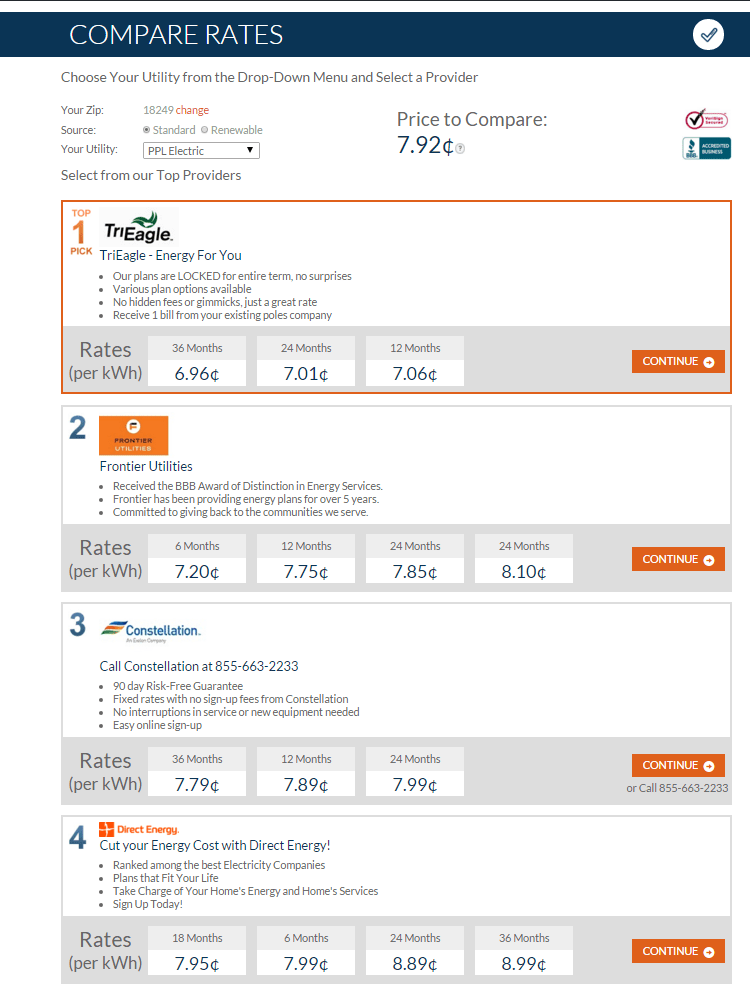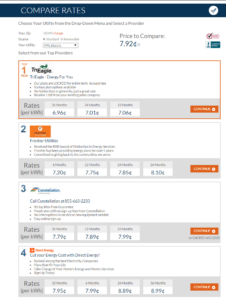 Currently PPL Electric has a Price to Compare of 7.92 cents per kWh. This price is PPL Electric's current price for electric supply and should be used to compare against the providers plans.
The current providers for this utility are TriEagle, Frontier Utilities, Constellation, Direct Energy ConEdison Solutions and Verde Energy. When selecting a plan from one of these providers their are two major items to take into consideration, price and length. Currently our lowest electricity rate for PPL for January is with TriEagle; a 36 month plan at a 6.96 cents/kWh rate. If you are looking for something that is a shorter term, TriEagle also offers a 12 month 7.06 cents/kWh plan.
Step 3. Select your Plan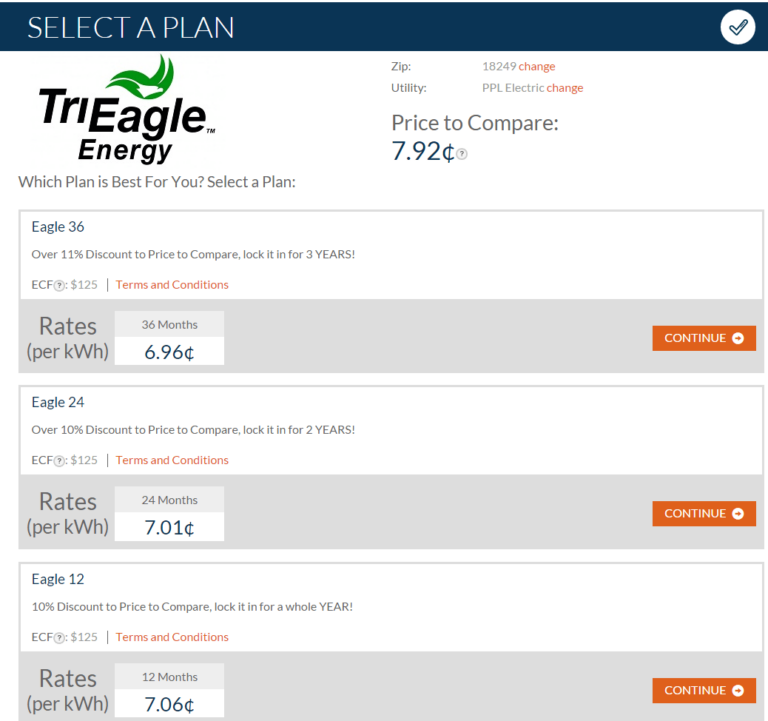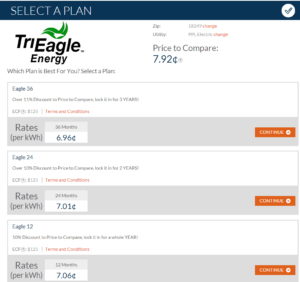 After choosing which provider works best for you, click "continue" and then choose the plan within that electricity provider that you would like to enroll in. Some items to be reviewed here are the Early Cancellation Fee (ECF), and the terms and conditions that go along with the plan. Once you have decided on a plan, click "continue" to move on to step 4.
Step 4. Enter your Contact Information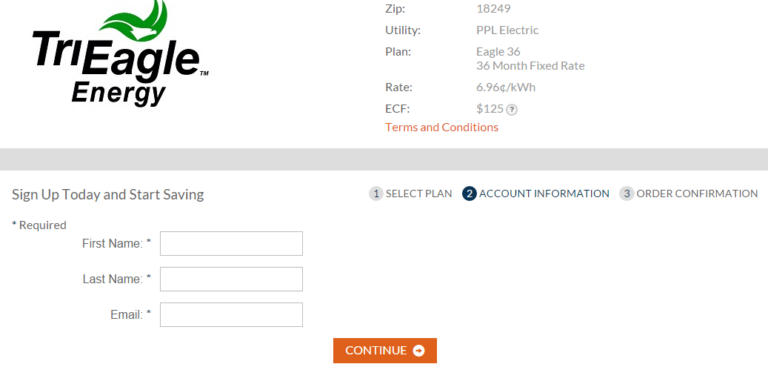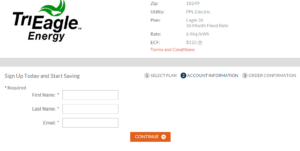 To start signing up for the electricity plan that you want, we first need some contact information. Enter your First Name, Last Name, and Email and then click the orange "continue" button.
Step 5. Enter your Account Information
To make the actual switch, TriEagle will also need your PPL Account Information. Enter your address, city, SSN and account number (this may already be populated if your address is recognized). The last four digits of your SSN are needed merely as an identifier by TriEagle. Also if you are having trouble finding your PPL Account Number on your bill, it is the 10 digit number highlighted in the bill image above. Once all this information is entered, click the orange "continue" button.
Step 6. Sit Back, Relax and Enjoy your Savings
You are now all set! The provider you selected will reach out to PPL directly to notify them of the change. PPL Electric will remain your utility and you will still recieve the same bill every month. You should see your new electricity supply rate on your bill in 1-2 billing cycles.