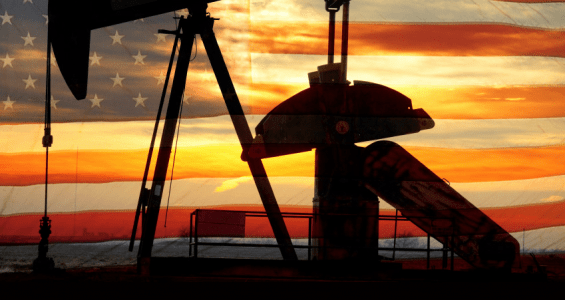 Advertiser Disclosure: At ElectricityRates.com, our number one goal is to help you make better energy decisions. We adhere to strict editorial guidelines, however this post may include references to products offered from our partners.
With over 300 million people in the US, there is no doubt that we consume a lot of energy. Whether it's powering our homes, businesses, or transportation, America is one of the top energy consumers in the entire world.
But, how much energy do we produce? Which states consume and produce the most energy? What type of energy power plants are in the US? How much is renewable energy really growing? These are questions many people have about the US energy industry. We sought out to answer those questions.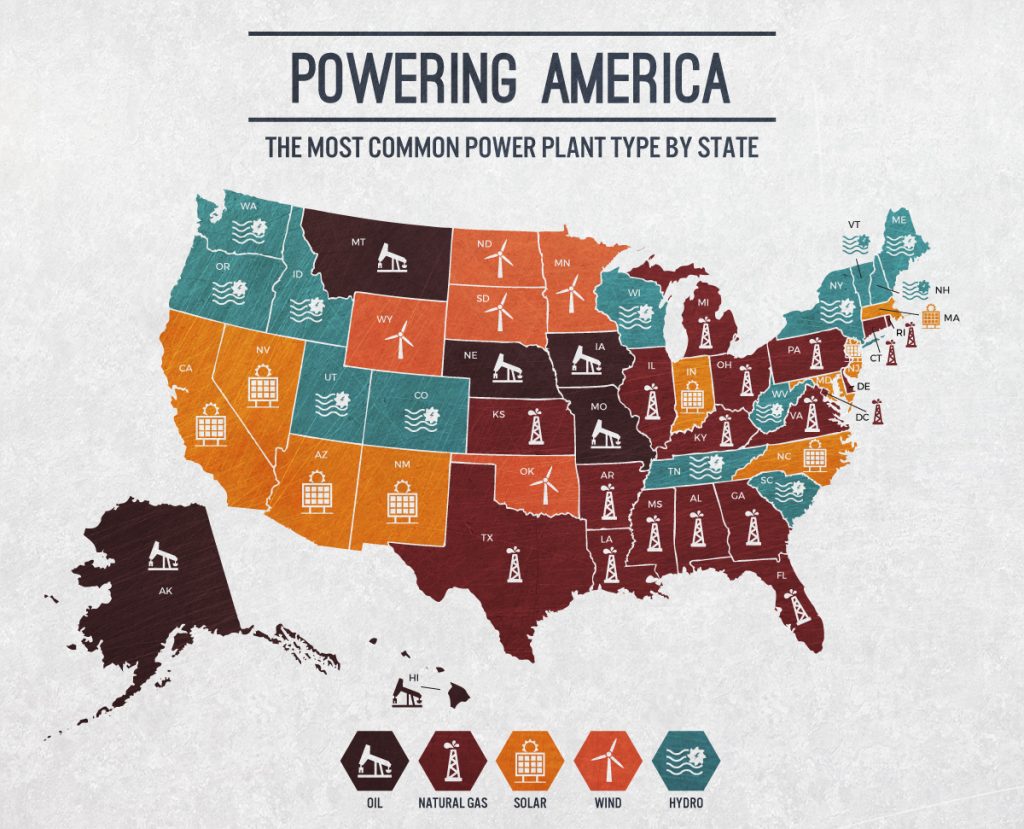 Overall, natural gas is the most popular power plant type across America with these plants being the majority power plant type in 16 states. Coming in second are hydroelectric plants with 13 states using these types of plants the most.
It's no surprise that in the sunny west coast states solar power plants reign supreme and America seems to be saying goodbye to oil also with oil-fueled power plants being the least popular with only five states having them as the majority power plant type.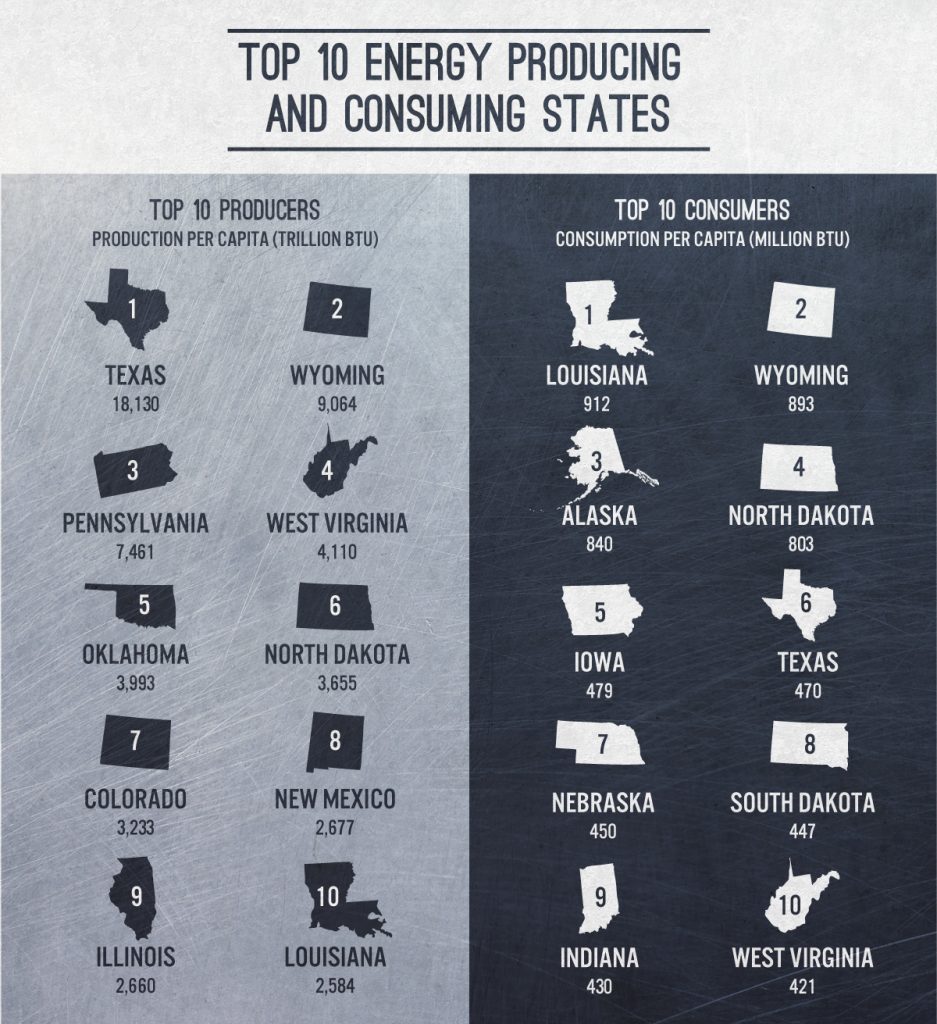 In terms of energy generation per capita, Texasdominates all the rest of the states generating an astounding 18,130 trillion BTUs. One of the main reasons is the wealth of resources in Texas including coal, oil, natural gas, and wind energy.
For energy consumption per capita, amazingly, Louisiana comes in as the top consumer. States with smaller populations like Wyoming, Alaska, North Dakota, and Iowa follow Louisana on the list. Texas comes in 6th with its warm and humid summers.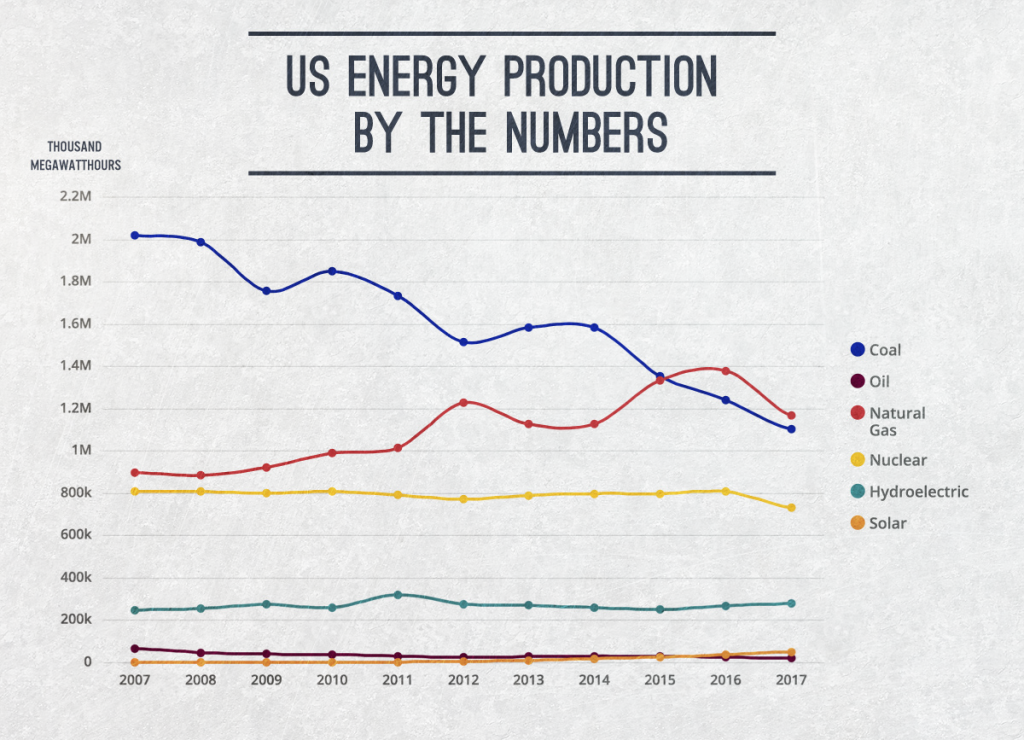 The US has relied on coal, oil, natural gas, and nuclear energy for most of its energy. However, coal has been on the decline since 2007 and we now produce more natural gas energy than coal fire. You can see in the last 2 years that most of the fossil fuels have been declining as renewable energy is starting to increase.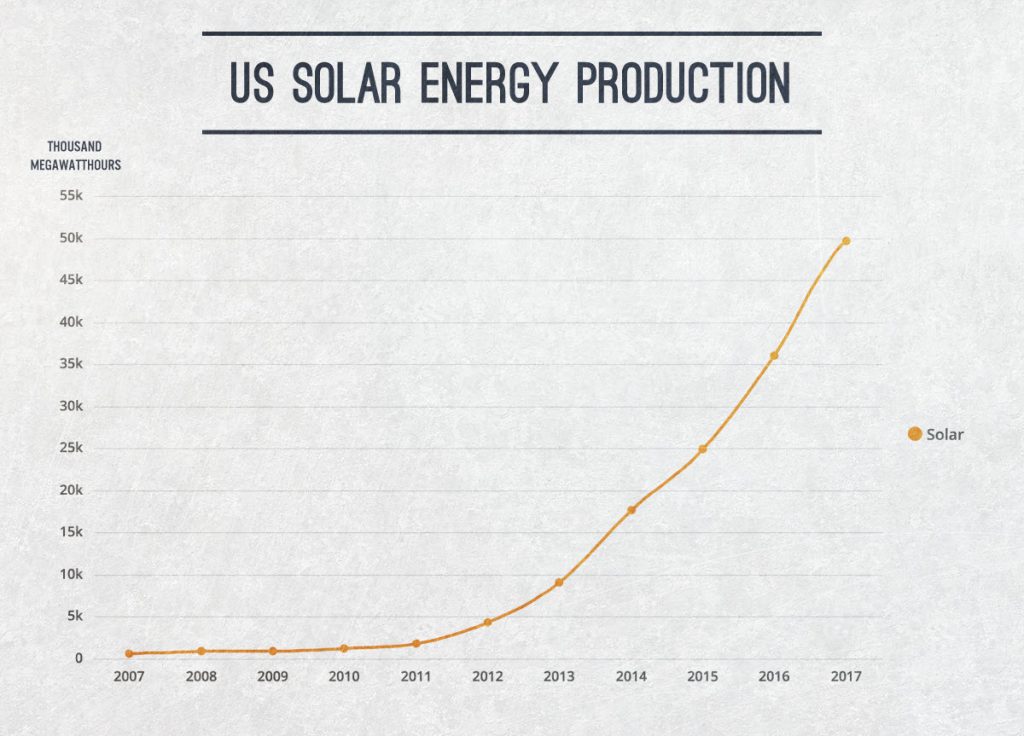 American solar energy production has grown significantlysince 2011. We produce over 10x more solar power than we did just 7 years ago. Many experts believe this trend will continue as we develophigher capacity solar panels and the technology for them becomes cheaper.
So, there you have it. A quick snapshot of the US energy industry. Natural gas is now the leading energy producer in the US. It also makes up the majority of power plant types in America. Texas is our leading energy producer and is a top 10 energy consumer per capita. And, while solar energy has grown significantly in the past 7 years, it still has a long way to go before it out-produces any fossil fuels.
Source: Crescent Electric Supply Company