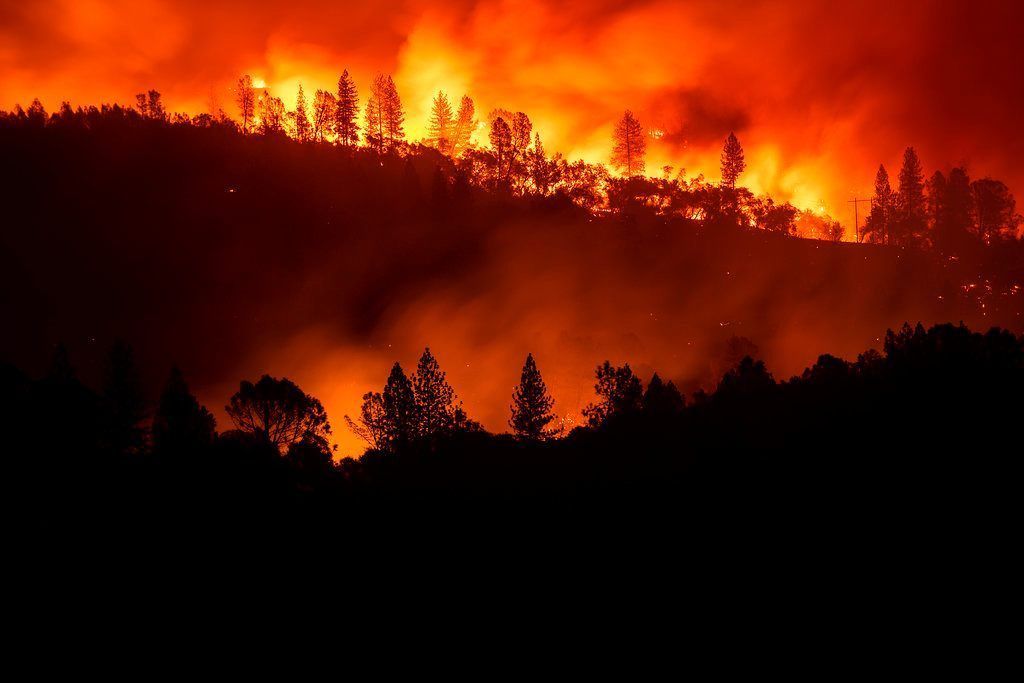 Advertiser Disclosure: At ElectricityRates.com, our number one goal is to help you make better energy decisions. We adhere to strict editorial guidelines, however this post may include references to products offered from our partners.
California utility PG&E revealed in an SEC filing Wednesday that a pre-dawn outage on the Caribou-Palermo 115 kilovolt transmission line in Butte County on November 8 may have sparked the Camp Fire, which has since killedat least 56,destroyed more than 16,000 homes and buildings, and continues to burn. An attorney for victimsreportedly saidthere are witnesses who saw the fire start on a power line.
Investors are assuming the worst. PG&E shares, at $18.70, dropped 20% Wednesday and are down another 27% Thursday. According to Bloomberg data the yield on PG&E senior notes blew out to 7.09% Wednesday, from 5.40% a month ago. The company has about $18 billion in long-term debt outstanding (out of $50 billion in total liabilities) against $71 billion in total assets.
The utility's market cap is now $9.5 billion, but it's hard to see how the equity ends up with any value unless the company can convince regulators to stick ratepayers with the cost. Already analysts from Citigroup, JPMorgan and Mizuho have ventured that the regulated utility will be looking at liabilities on the order of $15 billion for the Camp Fire. That's on top of another $15 billion or so in damages from 2017's fires in wine country thatkilled more than 50. PG&E said its insurance coverage for the Camp Fire was only about $1.4 billion.
Already, PG&E has drawn down its $3 billion in credit lines, which is what companies do when they figure their borrowing base is about to shrink. Paul Fremont at Mizuho Securities notes that $3.5 billion in cash at PG&E's parent company can cover $800 million in bond maturities through February. After that things might get dicey. Will the company be able to keep funding its $6 billion annual construction budget?
This is far from PG&E's first disaster. In 2010 an explosion on its gas line in San Bruno, south of San Francisco, killed 8. The company was found at fault and reportedly paid some $1.5 billion. This year, California fire investigators found that PG&E equipment had caused more than a dozen fires in 2017 that killed 18. Most of the casesinvolved tree limbs.Victims of the Camp Fire have already broughtnegligence claimsagainst PG&E in San Francisco County Court.