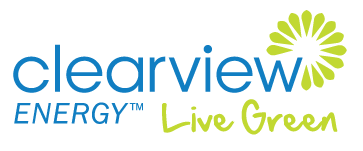 Clearview Energy
Looking to go green? Clearview Energy is the leading retail provider of 100% green energy and serves over 100,000 residential and business customers across the United States.  Clearview Energy has experienced substantial growth since it was founded in 2006. The Dallas, TX based company was named #3 Fastest-Growing Energy Company and #39 Fastest Growing Company in the US by Inc. Magazine 500 List.
Relationships with their customers is a top priority as they received an "A" from the Better Business Bureau for superior customer service. They have had an active relationship with the Arbor Day Foundation to promote eco-awareness as a way of giving back to our planet.
Fast Facts
Clearview Energy Headquarters- Dallas, TX
Company Founded – 2006
Clearview Energy Plans
Clearview Energy provides energy options to residential and business customers in the areas they serve. As the leading green energy provider in the United States, they offer a wide variety of rate plans that include fixed, variable and green energy plans. By signing up with Clearview, you know that your energy comes from 100% renewable resources.
How to Compare Clearview Energy Rates
Electricityrates.com makes it easy to compare rates, and potentially save you some money by lowering your electric bill. To start comparing, simply type your zip code into our free Rate Comparison Tool found at the top of the page. After clicking the 'Get Rates' button, you will be able to compare Clearview Energy rates and a number of different electricity providers for your current utility.
Contact Information