Traditionally, Pennsylvania has lagged behind most other states regarding solar, wind, and renewable energy production in general.
But, to borrow a quote from the late great Bob Dylan, "The times, they are a-changing."
In recent years, thanks to action by environmental protection organizations, legislators, and Pennsylvanians just like you, there are more renewable energy provider options available than ever before. Even better, with the drop in renewable energy generation and transmission costs, many renewable options are just as competitive as traditional fossil fuel options.
There are now a number of different renewable energy providers who service Pennsylvania, and as the state continues to grow and develop its renewable energy infrastructure, it's important to understand what exactly your options are so you can choose the best provider for your needs.
What To Look For When Shopping 100% Renewable Energy Plans In Pennsylvania
Switching is easy and only takes a few minutes. Plus you will experience no disruptions in your electricity service. And the best part? You do not need to pay for any expensive equipment to go green and make a difference.
Simply find your Pennsylvania utility below to see 100% renewable energy plans in your area.
Top Renewable Energy Companies In Pennsylvania
In PA, many electricity providers offer renewable energy plan options. Here at ElectricityRates.com, we understand that deciding between so many companies can feel burdensome. That's why providers featured on our site are pre-vetted, so you can trust you are seeing the best electricity plans and services available in your local area.
Service Areas
CT, GA, IL, OH, MA, MD, NJ, PA, TX
Provider Bio
Constellation is the nation's leading provider of carbon-free energy with a commitment to be 100% carbon-free by 2040. They serve over 2.5 million residential and business customers across the United States.
Service Areas
CT, IL, MA, NJ, NY, PA & TX
Provider Bio
Spark Energy was found in 1999 in Houston, Texas and was an early pioneer in the retail energy market. Spark Energy prides itself on 3 specialties that set them apart from the rest: energy savings knowledge, customer service and community support.
Service Areas
PA, NJ, MD, OH, TX
Provider Bio
Tomorrow Energy is a retail electricity and natural gas supplier with a mission of creating a positive impact in the world by giving customers more clean Energy Choices. Their electricity plans are backed by 100% National Wind Renewable Energy Certificates. All natural gas plans are backed by 100% carbon offsets.
Service Areas
CT, IL, MA, MD, NH, NJ, NY, OH, PA, TX, DC
Provider Bio
Serving nearly 4 million residential customers, Direct Energy is one of the largest electricity, natural gas and home services providers in North America. They are also one of the largest commercial and industrial electricity with over 240,000 business electricity customers.
Service Areas
TX, NJ, PA & OH
Provider Bio
Headquartered in Houston, Texas, Frontier Utilities has been providing affordable energy plans to its customers for over a decade. Frontier's mission is to create superior value and service for its customers, employees, communities and investors through the sale and supply of energy and related services.
How PA Renewable Energy Electric Plans Work
It's a common misconception that people believe you must purchase solar energy panels, energy home packs, or other expensive equipment to use renewable energy. This could not be further from the truth!
When you sign up for a renewable energy plan with an electric company, they will source renewable energy credits (RECs) on your behalf. One REC equals to 1 megawatt-hour (MWh) of renewable energy that has been produced and delivered to the electric grid.
In other words, when you switch to a renewable energy plan, your electricity usage will continue to be powered by the same electric grid. But, the big difference is that your purchase increases the demand for renewable energy, which will be sourced to account for your electricity usage.
How Renewable Energy Credits (RECs) Work In PA
The renewable energy credits (RECs) that you pay for are sourced on your behalf and then retired. This process ensures that there is a 1:1 match between the renewable energy being produced and the renewable energy being consumed.
In other words, when you pay for RECs you are increasing the amount of renewable energy created and added to the grid, thus driving more renewable energy production and reducing your carbon footprint immensely.
What Are The Renewable Energy Sources In Pennsylvania? According to the PA Public Utilities Commission, the renewable energy sources in Pennsylvania are solar, wind, biomass, and hydropower.
The Future Of Renewable Energy
The United States is in the midst of a rapid energy transformation. According to recent reports, America produced almost four times as much renewable electricity in 2020 as in 2011. Additionally, if wind, solar and geothermal generation continue growing at the same 15% annual rate, renewables could meet the nation's electricity needs by 2035!
For more information about nonrenewable energy progress in Pennsylvania and to hear amazing stories about the positive impact green energy has on PA's local economy and communities go here.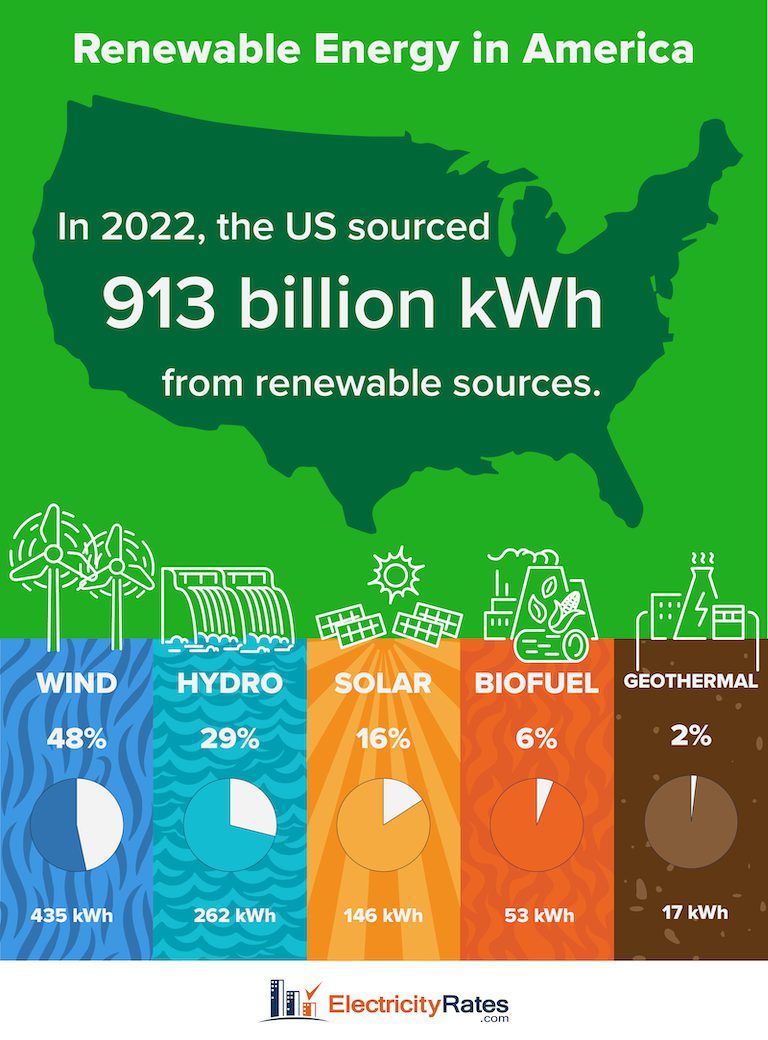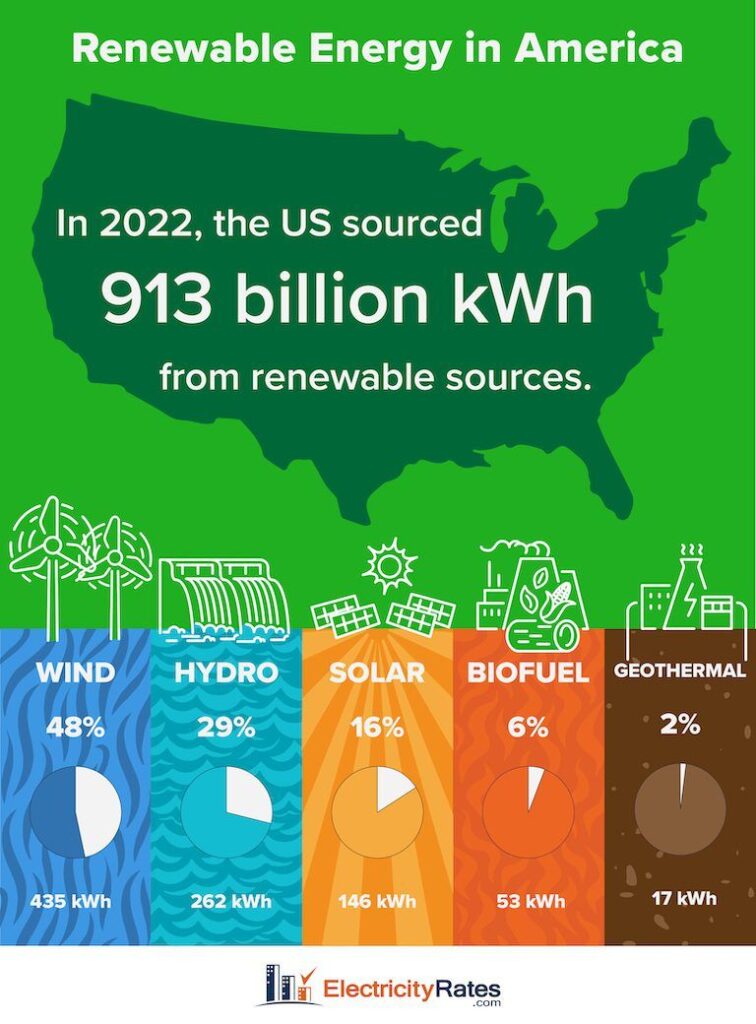 Source: U.S. Energy Information Administration
Learn More About Choosing Your Electricity Plan In Pennsylvania
If you live in Pennsylvania and want to learn more about picking the right electricity plan, check out our comprehensive page on choosing PA electricity rates. The page provides detailed information on the importance of understanding your electricity usage and the types of plans available, as well as how your energy bill is broken down.
With this knowledge, you can make an informed decision concerning your provider.