How to Choose an Electricity Provider
Learn how to take advantage of your Energy Choice by choosing the best electricity provider. This page will not only teach you how to choose the best provider; it will also teach you all the factors you need to consider to be confident in your decision.
Key Takeaways
Customers in areas with Energy Choice have a wide range of providers to choose from
Knowing how to choose the right electricity provider is important to make sure you aren't stuck in a bad contract
When comparing providers, consider their reputation, rate terms and other factors in addition to finding the lowest rate
How to Choose the Best Electricity Provider
If you are lucky enough to live in an area with Energy Choice, then you have the option to choose your electricity provider and the supply rate that you pay.
However, this decision can become overwhelming if you don't understand the process. 
Our job at ElectricityRates.com is to take out any of the confusion and make it easy to switch suppliers and plans.  We do that with our compare and switch tool, which is a simple three-step process. 


Enter Your ZIP Code: Find the Rate Comparison Tool at the top of the page and enter your ZIP Code to see electricity providers in your area.
Compare Providers: Compare electricity providers and choose the best rate and plan terms for you.
Switch and Save: Select the plan that works best and switch your electricity provider, it only takes a few minutes.
That's it! After you make the switch your new electricity provider will take care of the rest and your new plan will start in 1-2 billing cycles.
Compare Leading Electricity Providers
On ElectricityRates.com, you'll only find great rates from leading electricity providers. We carefully select who gets featured in the Marketplace so that you can rest assured you're making the best choice no matter which plan you choose.
Here is a list of featured electricity providers. Click on each below to learn more.
Comparing Electricity Provider Rates

When you are deciding between electricity providers, the rate is probably one of the first things that you will think about. To compare your current electricity rate to what you could be saving, check your most recent electricity bill. Your current rate will be listed there.
When choosing an electricity supplier, they will often give you the choice between a fixed rate or a variable rate.
A fixed-rate means that the rate advertised is locked in for the length of the plan.
A variable-rate can increase or decrease by the month and does not have to stay at the advertised rate.
At ElectricityRates.com we only offer fixed-rate plans. We do this because fixed rates protect you from surprise rate increases (variable-rate plans are often guilty of this). It also protects you from the general electricity increases that happen every year in the US.
Finding the Best Plan Length

The length of the plan is the length of your contract. If you are on a fixed-rate plan, this is the length of time your rate is locked in for.
At the end of your plan, most suppliers switch you over to a month-to-month variable-rate plan.
If you don't want to go to a month-to-month variable-rate plan, you can negotiate another fixed-rate contract with the supplier, or switch to a fixed-rate contract with a different supplier here at ElectricityRates.com.
Be Aware Of Cancellation Fees
Many contracts will have cancellation fees that you have to be on the lookout for. Sometimes there are no cancellation fees, while other times they can go up to $250.
A cancellation fee is charged if you cancel your plan before the specified plan length you agreed to.
Most of the time, you can find the cancellation fee in the "Plan Details" section.

If it is not there, you will likely find it in the terms and conditions.
Smart Home Bundles and Other Incentives
Some electricity plans offer sign-up bonuses, like this one from Constellation.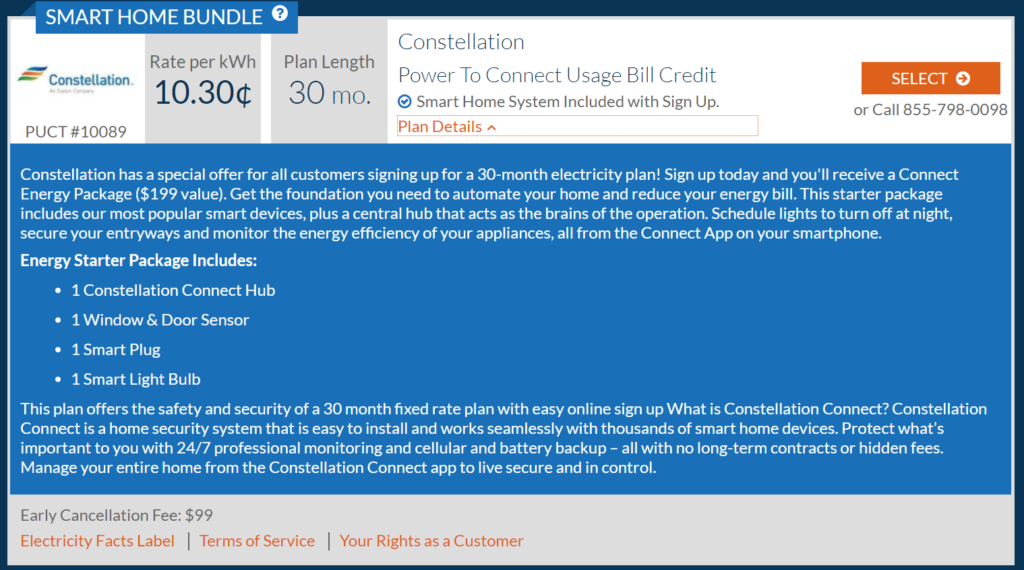 They are offering a Connect Energy Package to anyone who signs up for a 30-month plan. A Connect Energy Package can be used to schedule lights to turn off at night, secure entryways, and monitor the energy efficiency of your appliances. This package includes:
1 Constellation Connect Hub
1 Window & Door Sensor
1 Smart Plug
1 Smart Light Bulb
Other suppliers offer sign-up bonuses as well, so be sure to check them out! You may find the deal that works perfectly for you.
100% Renewable Electricity Providers
When you're comparing electricity providers, you have the option to choose a plan with 100% renewable sources.
When you sign up for a green power plan, your electricity provider will purchase Renewable Energy Credits (REC's) on your behalf to offset your energy use and increase the amount of renewable energy entering the electric grid.
This is a great option if you care about the environment and want to show it with your electricity provider choice! When comparing plans in the Marketplace on ElectricityRates.com, look for the 100% renewable sources label.

Even if you are not going for 100% renewable energy, many suppliers will have breakdowns of where their energy is sourced in a document in the "Plan Details" section.